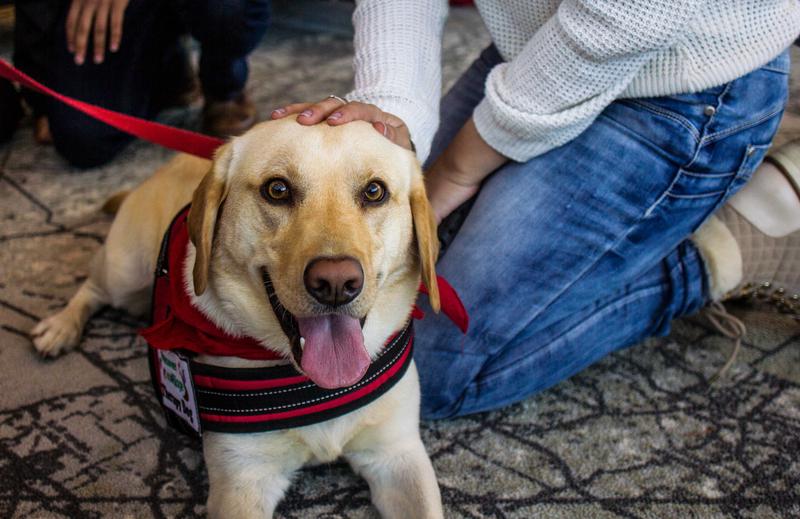 #33 – Spend an hour staring longingly at the campus doggos
I posted up on Main Mall on the benches across from Sauder. All I had to do was look at dogs; this would be easy. At 3:30 p.m. I began my observations. Students, in varying degrees of stress, shuffled by, headphones in and eyes down. Not the kind of people that are dogs. But the main stretch of UBC was surprisingly barren of our barky little canine friends. My mission was to stare longingly at doggos and I wasn't going to stop until I did, God damnit.
I strolled up and down Main Mall looking for one of those beautiful creatures, but my search was fruitless. I began to wonder that maybe students, in a way, are dogs. We bare a lot of similarities: we're excited by free food, we love being told we're good at things and we both will shit in public.
My attention was piqued at precisely 3:53 p.m. I saw one — a beautiful, tiny boy. His elegant white coat was streaked with grey and his slender yellow legs spoke to me. He was eating a discarded cracker with no owner in sight. I couldn't help myself — I approached to pet him but he flew away. It was a seagull and I had just wasted twelve minutes.
At last, I spotted a shining retriever attached to its owner by a stunning yellow leash. His fur was the colour of a toasted marshmallow and it draped ravishingly over his svelte figure. He strutted along Main Mall, the walk confidently answering the immortal question: "Who's walking who?" Soon they were out of sight — oh yes, I stared longingly.
Oh yes, it was a good doggo.
#34 – Wonder why you don't have a dog
Yeah, why don't I? I would be the most sick-ass owner. Me and my dog would crash sportscars and party on yachts all day. We'd wear sunglasses and have chilli dogs on the beach, and at night we'd hold each other close and eat dog food. Man, why don't I have a dog?
#36 – Look up dog-friendly apartments in Vancouver
Oh right, that's why.