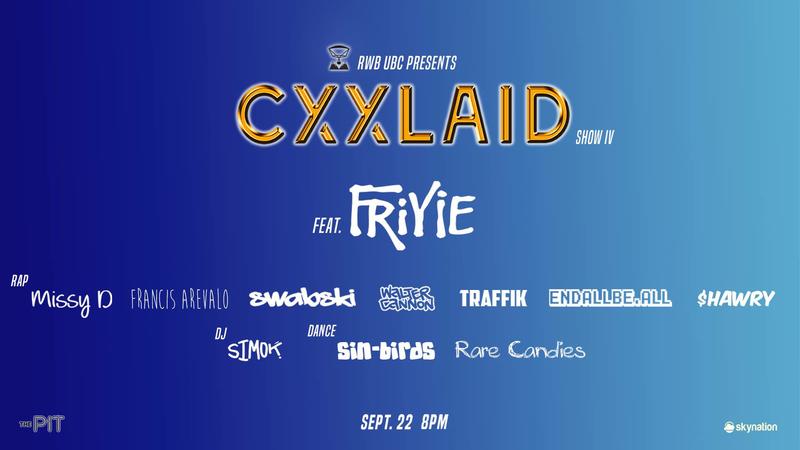 Rappers without Borders UBC is no stranger to throwing events in the Pit, but their upcoming show this Friday just might be one of their most noteworthy gigs yet.
The humanitarian hip-hop club has teamed up with the urban showcase project Cxxlaid — pronounced like "Kool-Aid" — to host Cxxlaid UBC, a jam-packed hip-hop concert in the Pit featuring eight rap performances, two dance crews and a DJ. The main headliner is Friyie, an up-and-coming rapper from Toronto whose single "Money Team" played at Floyd Mayweather's press conferences during a promotional tour for his fight against Conor McGregor.
Vancouver rapper-slash-R&B-singer Missy D is co-headlining the show. Other rappers and rap groups slated to perform include Francis Arevalo, Swabski, Walter Cannon, Traffik, endallbe.all and $hawry. The two dance acts are Rare Candies and Sin-Birds, while simok will perform a DJ set.
Missy D and Francis Arevalo are UBC alumni and the other supporting acts are from Rappers without Borders.
According to Ken Chi, who works as Rappers without Borders' events coordinator and will be performing as Swabski, attendees can expect to see a very diverse show.
"Music has no boundaries — it's both words and also expression, and it brings people together [over] whatever language barriers or cultural barriers there are," Chi says. "There's a lot of different types of hip hop — there's conscious rap, there's trap, there's gonna be a little of R&B elements. So you're gonna see a little bit of everything in terms of performances."
Chi particularly praised Missy D, who released her debut album last year.
"I think she's really dope," Chi says. "She's definitely representing all the female rappers out there. I think she's really the essence of Vancouver hip hop."
The event is the latest installment of Cxxlaid, a hip-hop showcase that curates rap concerts throughout Vancouver and operates under the wing of Skynation, a digital management company. Though they started out by organizing shows at Fortune Sound Club, they've recently started to export their brand around the city. For instance, they organized a concert at the Rickshaw Theatre back in April that featured possible-secret-Drake-ghostwriter Quentin Miller as a headliner. They're also hosting a second show out at SFU on Saturday, although Friyie is the only act performing at both campuses.
"We both saw eye-to-eye on establishing Hip-Hop culture in Vancouver and at the same time being able to have a positive impact on society through music," says Chi.