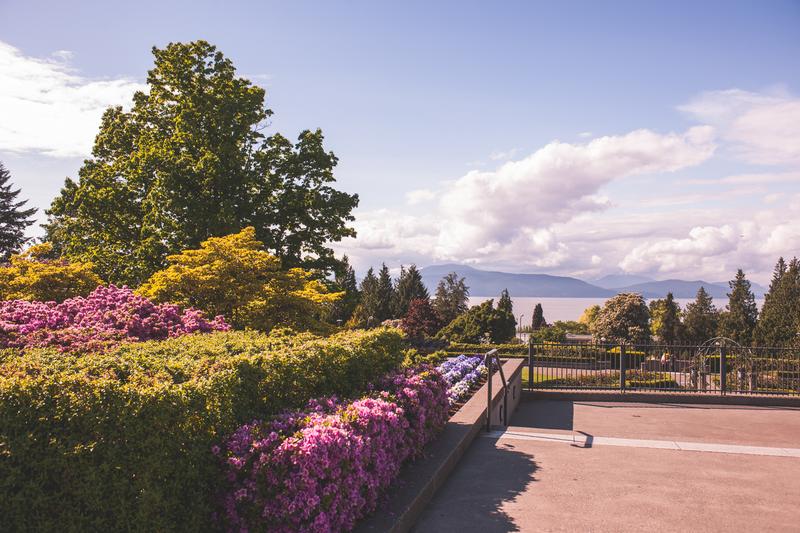 Summer is here and after a year of assignments, tests and all the other joys of learning, it's a welcome relief to finally not be spending five days a week on campus.
If you don't have that luxury and are stuck on campus for work, summer school or year round residence commitments, then don't let the school atmosphere get you down. Campus in the summer is a completely different experience, full of things to enjoy that you might not be able to do once winter semester comes around.
Walk/bike/skateboard freely down Main Mall without literally running into anyone
During winter semester the 10 minutes between class changes on Main Mall are the busiest times that stretch of campus sees. If you've tried to make back-to-back classes from Buchanan to EOSC, you know how difficult it can be to navigate through the crowded masses of students looking down at their phones without running into anyone. But in the summer when the crowds have cleared it's a pretty nice place to take a stroll or remember what it's like to bike or skateboard at full speed without waiting for people to move out of the way.
Get naked at Wreck Beach without fear of awkwardly running into someone you did a project with in first year
It's summer, so expect to see an increase in the amount of people going commando on Wreck, but with most of the students returning home or gone on vacation there's less of a chance you'll run into someone you did a project with in first year. So, embrace the hippie culture and go for it.
Relish in the fact there are no lines at any of the coffee shops
There are a great variety of coffee shops on campus from five Starbucks' scattered across campus to a differently named, but strangely similar, UBC-run shop in almost every faculty building. On winter mornings before 10 a.m. classes start, you'll be hard-pressed to find one that doesn't have a line out the door. But, in the summer, not so much! Take in the joy of being able to walk right up to the counter and order before it's gone.
Finally get a table in IKB
Once syllabus week passes and midterm studying begins, IKB turns into an overcrowded mess of people camping out there all day and night. But in the summer the peaceful ambience of a library returns. Curl up on one of the couches and remember what it's like to read for fun.
See how empty The Pit can really get on summer Wednesday nights
If you thought The Pit was dead during the school year, even on Wednesdays, check it out during the summer and see how empty it can really get. Go with a group of friends and turn the empty dance floor into your own private party. Maybe at least with fewer people you'll be able to convince the DJ to play your request for Toto's "Africa" every eight minutes.
Go to one of the museums/gardens you can get into for free but haven't gotten around to yet
If you haven't been to Nitobe or the Museum of Anthropology yet then you're not taking full advantage of your student card. It can be difficult to find time during the school year to visit the museums or see the sights UBC has to offer, so do it this summer. Visit the Botanical Gardens while they're in full bloom. Figure out where the Pacific Museum of the Earth is and check out what it has on display. Soak up the campus culture while you can!