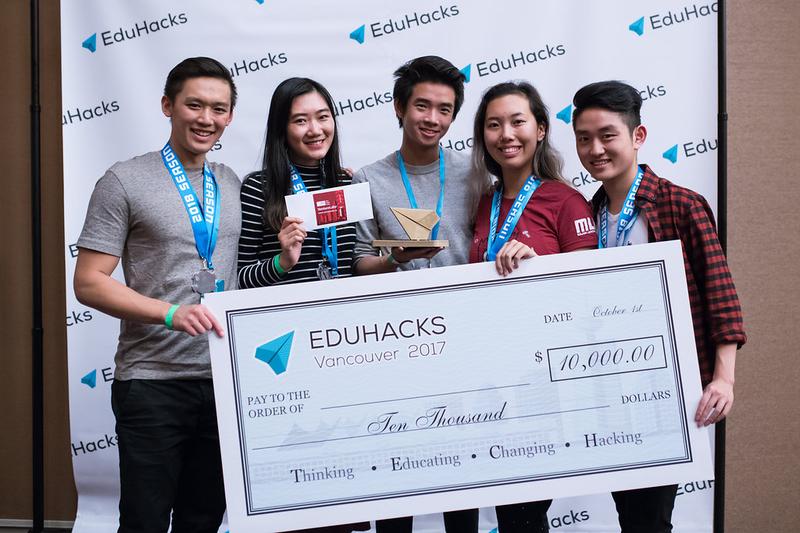 Over the weekend, the first hackathon hosted by Hackhub was held at the Vancouver Convention Centre.
Out of 1200 applicants, 500 students from schools all over the lower mainland including UBC, SFU, BCIT and Red Academy were selected to participate in the hackathon, forming teams of 4-5 with the goal of integrating technology into design for educational learning experiences. There were also students from India, Seattle and Chicago as well.
Participants were provided the opportunity to work with designers, mentors and engineers in creating their own technological platform, with the chance of winning $10,000 as the grand prize.
The participants came from an array of backgrounds including engineering, computer science and UX (User Experience) design who all had the common goal of putting theory into practice and connecting with passionate peers and industry professionals.
Within a limit of 24 hours, participants had to design and code their own programs. By the end, the space was filled with caffeine-fuelled bodies and beta projects ready to be introduced to the tech world. What was cool for these students was having the idea in mind and actually creating it.
Augmented reality, virtual reality and artificial intelligence were popular themes used to advance education and create immersive learning. Many projects were mobile friendly, as well as Google Home or Amazon Echo compatible as well.
Every group presented their projects to 3-5 mentors who would grade their work. Then, the five groups with the highest points and were provided the chance to present their beta projects to a panel of leading entrepreneurs and startup advisors in Vancouver.
The grading criteria consisted of level of innovation, design and aesthetic, level of difficulty and level of completion.
First prize was awarded to a team of five UBC students in their second year:
Matthew Zheng, materials engineering
Cynthia Zhou, computer engineering
Ethan Tam, business and computer science
Ariel Cao, computer science and visual arts
Steven Zhao, business and computer science
Together, they created Dashview.org, an interactive dashboard which has everything you want in one centralized hub just a tap away.
Tired of opening a new tab just to find that course syllabus? Through DashView, users can view their class schedule, syllabus, to-do list and Spotify playlist all in one window.
It's easily customizable, efficient and mobile compatible. It even has a running clock, bus schedule, assignment deadlines all working in real time — ideal for the student on the go. Even cooler, users could hook up their Google Home to the website, utilizing voice activation to note events onto the dashboard.
Messy desktop, say no more— the idea of DashView was formed by addressing common problems students face.
"[It's] tailored for student's need," Ethan Tam, one of the five team members, described.
As for Dashview, the application is currently unavailable to the public as it's still in the works as a beta project. The team is working to improve and adapt new features to it, making it as functional and efficient for its future users.
"Our team is a diverse group of people with one common goal: to make our lives easier and to make cool shit," Ariel Cao and Steven Zhao, two of the other team members, said.
The future of tech at UBC is looking bright. Fingers crossed that we will be able to use Dashview very soon!