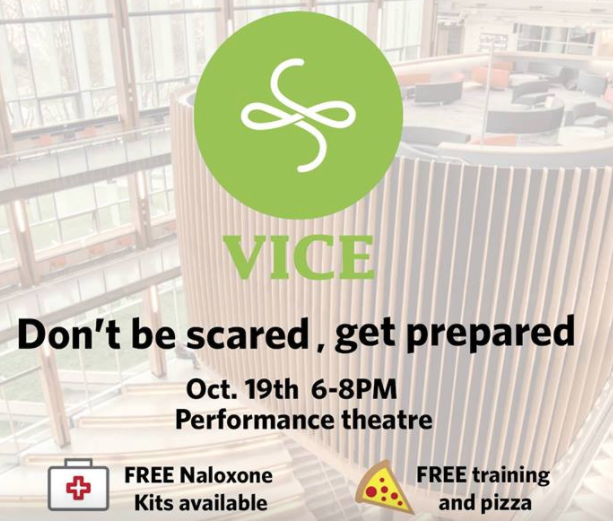 VICE — a substance-use support service hosted by the AMS — is throwing a Naloxone Training Party on October 19 to train students how to use Naloxone, a medication that counters the effects of an opioid overdose. Some participants will also be given free Naloxone kits, which can cost around $50 at a pharmacy.
The event is an example of VICE's harm reduction-based approach to drug use. By focusing on directly treating overdoses instead of promoting abstinence from drug use, the event takes a non-judgmental approach toward drug use that puts the safety of users first.
"In a test done by a local Vancouver clinic, 40 per cent [sic] of cocaine samples contained fentanyl," reads the event's Facebook page. "A similar level of fentanyl was detected in MDMA in a Victoria pharmacy. We want to help equip the UBC community with the necessary know-how of having a safe, and fun party experience, while connecting them to available resources that will help them such as Naloxone kits."
However, the unexpectedly-high amount of people who signed up for the event means that VICE has had to organize a host list to ensure that Naloxone kits will primarily be given to members of high-risk communities. Students who participate in Residence Life, Greek Life, raves, art events, underground concerts or any other community that has a high amount of drug use will be prioritized when VICE gives out the kits. If extras are available, VICE will be organizing a waitlist for students not on the host-list who want to receive any unclaimed kits.
Likewise, the limited size of the event's venue — the Nest Performance Centre, also known as "the egg" on the Nest's second floor — has created capacity issues for VICE. Confirmation emails have been sent to those who signed before before Friday at 6 p.m. but those who signed up after that might be out of luck.
"Because we've had over 350 sign-ups, but can only host 120 participants, some people who signed up will not be able to be served," reads a post on their Facebook page. "We apologize for this and will be looking into raising funds to host another training party!"
In other words, if you're interested in the event but you've only just heard about it now, you'll probably have to wait for the next one.