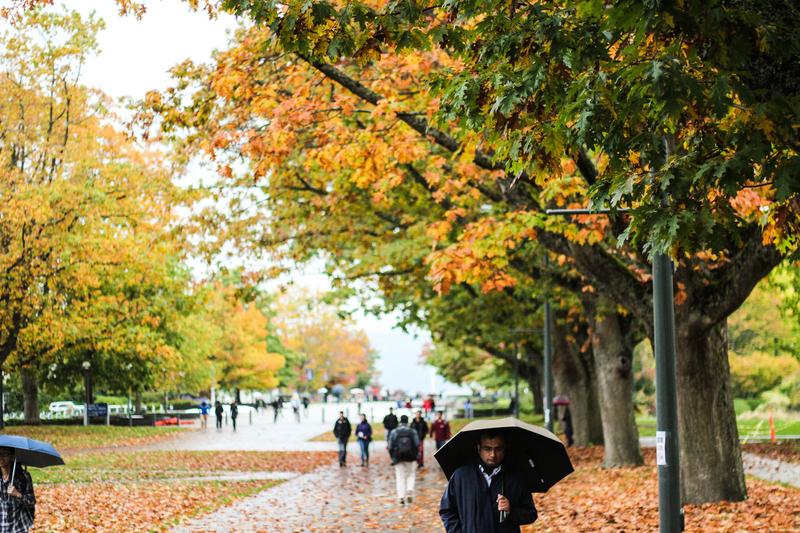 Fall in Vancouver is a lot fun, with the multicoloured leaves and delicious cozy array of drinks available at cafes. However, this is also when we'll be hit with the rain at max level, so you might be looking for some activities or places to check out around the city during the season for both the rainy and pretty days.
Get farming
For the people who like the outdoors, and perhaps don't mind the occasional drizzle, there are some beautiful pumpkin patches to check out ahead of Halloween and Thanksgiving. The Pumpkin Patch at Richmond Country Farms and the Southlands Heritage Farm are both great options. You can also check out this list for more pumpkin patches in the Greater Vancouver area.
How do you like them apples?
Another cute option is the Apple Festival, which is taking place right here at the UBC Botanical Garden on October 19 and 20, from 11 a.m. to 4 p.m. The event involves tasting a wide variety of apples, as well as other great snacks and drinks, and enjoyable activities and games.
Have some laughs
For days when the weather isn't being as cooperative and you want a warm and hilarious evening, head to Granville Island and check out the Improv Centre over there. They frequently have really great shows running and details about show themes and tickets are available on their website, www.vtsl.com. Pro Tip: arrive earlier than the show starts to check out the other adorable speciality shops in Granville Island, and grab a bite to eat in their Dining area (they have so many incredible options!)
Get Farming (Market)
The Main Street Farmers Market is open until October 2 this year, so you still have a couple of weeks to head up there and grab some goodies and have a cute afternoon with your friends (perhaps while sipping on a delicious cozy warm apple cider).
Family fun
Don't forget to check out the "all-ages autumn adventure", Harvestland, happening at PNE, from Friday October 11th to Monday October 14th, and Wednesday October 16th - Sunday October 20th. Harvestland is going to be packed with rides, attractions, performers and of course, delicious food. Check out the website for more details.