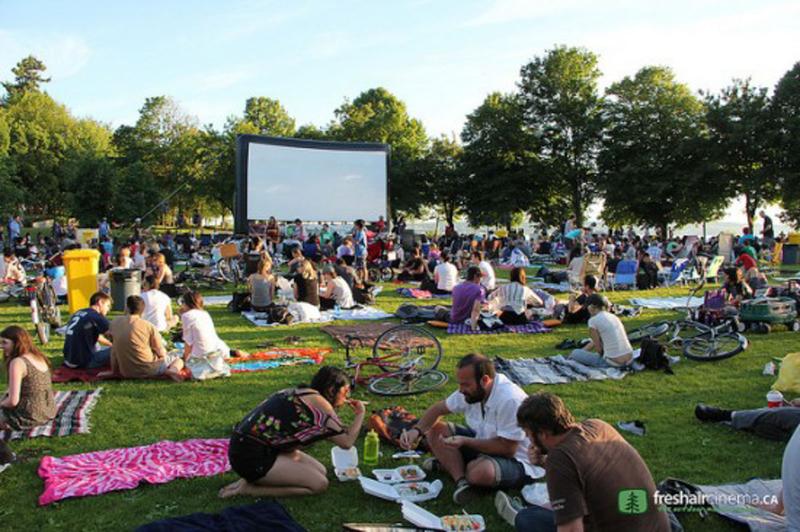 Stanley Park is a massive space with so much room for activities. Despite having just one month of summer left, there are several events organized around the world's best park that demand to be squeezed into your schedule.
Outdoor movies at Ceperley Meadow (Second Beach)
Fresh Air Cinemas presents an outdoor movie theatre with free screenings every Tuesday. You can check out Space Jam on August 2, Labyrinth on August 9, Purple Rain on August 16 and Dirty Dancing on August 23. Get there early and bring a blanket or two – the shows start when the sun sets.
Theatre Under the Stars at Malkin Bowl
Starting with Beauty and the Beast on August 1 and West Side Story on August 2, Theatre Under the Stars will be putting on nightly performances until August 20. The two shows alternate, so they are performed every second day at 8 p.m. Depending on seating, prices can range from $20-$45.
Vancouver's Largest Water Fight at Lumberman's Arch
On August 6 at 1 p.m., hundreds of Vancouverites will engage in battle with strangers using only water guns and balloons. There are a few guidelines to follow – like no terrorizing the public or bringing water pistols that look like real guns – but it should be a good time. It's also free, which makes it even better.
After Hours at the Vancouver Aquarium
On August 18 from 6:30-10 p.m., adults 19+ are invited to attend the Vancouver Aquarium for some guest lectures, dolphin demonstrations and a 4D film screening — all while sipping on a cocktail. Entry costs $31 and must be bought in advance. Food, beer and wine are also available for purchase at the venue.
If you're looking for more from the Vancouver Aquarium, you can attend live Ocean Wise cooking demonstrations at Fin to Tail or the aquarium's Rockfish Identification Workshop. The Rockfish Workshop is $20 from 6-9 p.m. on August 23 and Fin to Tail is $90 at 7 p.m. on August 11. All proceeds directly support ocean conservation programs at the aquarium.