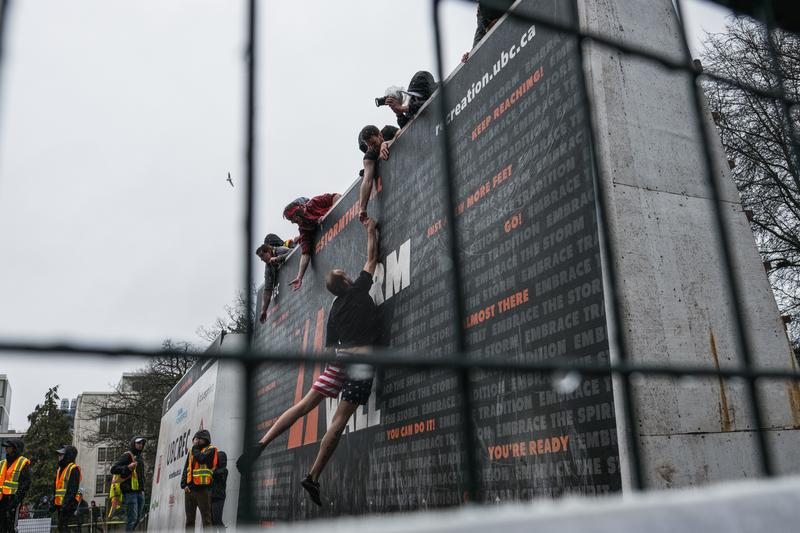 Spring is in the air at UBC. The sun is shining, school is almost over and a giant wall is blocking your path to class. Whether you're storming the wall yourself, or happily watching from afar, UBC Rec's Storm the Wall is one tradition you can't miss and one of the best parts are the creative, punny team names people come up with.
Wall themed
42 WALLa-be (in my) way
Ain't No Wallaback Girl
Oh My God They Were Wallmates
Paul Blart Wall Cop
Perks of Being a WALL Climber
Slap the Wall at 3275.95MPH
What's better than bike, run, swim?
Improvise. Adapt. Overcome.
Sweat, Regret and Oxygen Debt
Sweat, Tears & Gainz
Run, Ruhn, Run
Storming Norming Performing
Faculty themed
Chemists Against Titrations
KINcredibles 2
LFS Nut Crunchers
Lord Have MRSA
Mighty Chondrias
Only doing this to avoid CHEM 211
Shoutout your teammate
Alex's Bowling Team
Megan Will Pay For It
Amber and her friends
Apprentices of the Great Harris Sheldon
The Fearsome Four and Bridget
Tom and some other people
Other good ones
Doing our best
Easier Said Than Run
I'm from Alberta so this isn't cold
I still don't want to do it
Just Let Me Graduate
Not Fast, Just Furious
5"2 Girl vs 12" Wall: Who will win?
The Caravan
2005 3rd Grade Readers of the Week
Warm the Stall
We Met on Tinder
Border patrol