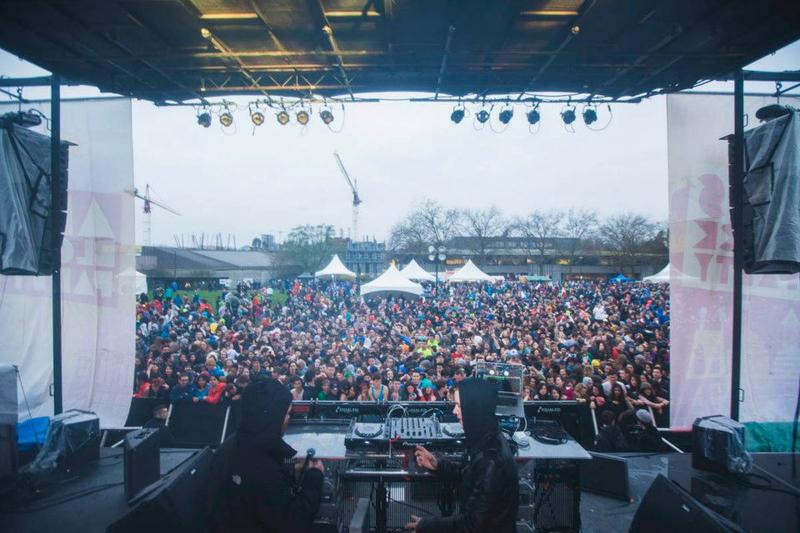 Here's a roundup of what some of the post-secondary schools are doing for LDOC, what kind of musical acts they get and -- if we could get the data -- the artist budget they have to play with.
UBC-Vancouver
This year AMS got Tokyo Police Club, Chromeo (just as a DJ set) and Yukon Blonde, along with Sincerely Hana and MGH! on their artist budget of $74,250. Altogether, the AMS is budgeted to spend $196,707.
AMS Events and Programming Manager Anna Hilliar says the goal is always to break even but based on this year's numbers for Block Party, the AMS is likely going to be out $51,497.
Notable acts: In the past, we've had Mother Mother (2012), K'Naan (2013) Adventure Club and Dan Mangan + Blacksmith (2014)
UBC-Okanagan
Little sister UBC-O is having their second annual Recess, their version of Block Party, which features Fozzie-inspired rapper Waka Flocka Flame and electro duo Zeds Dead. Tickets are $15 to $40. Last year's inaugural Recess had rap-rock band Down with Webster headlining.
University of Toronto
U of T does not hold an official year end party. University of Toronto Students' Union (UTSU) VP Campus Life Zijian Yang says the last day of classes are generally like every other day, except students are already starting to stress about exams.
"We don't really have a general end of the year party, but ... we host a lot of exam de-stresser events to make up for it."
Their flagship event would be UTSU Fest/Orientations, where they usually get a big name artist to headline their concerts. Yang says the artist budget varies from year to year, but it is roughly $20,000 for Orientations and $10,000 for Frost Week, their January welcome back. For Orientations 2014, they also had Tokyo Police Club and spent a bit over budget to get froyo-loving Lights for Frost Week. Both concerts are free for students.
Notable acts: previous UTSU Fests headliners include Lupe Fiasco (2013), Kardinal Offishall, Sam Roberts Band and Metric.
University of Alberta
The Student Union puts on a Year End Bash, where different student groups and clubs put on activities and programming around campus, ranging from a bouncy castle in the quad to beer tasting. They also have a Headphone Disco: a silent dance party where with the $5 admission, students are given a headset and can choose the frequency of the DJ they like most.
Notable acts: For their Week of Welcome, they had a three-day concert that featured Shad, July Talk and Lights, among others. It was all free for students. The artist budget for that was around $30,000, and the bands they get depends on who's available, says Nicholas Diaz, VP student life of the U of A Student Union.
McGill
OAP, or Open Air Pub, is an annual outdoor concert series held at the start of the year. To close off the year, they have the smaller version, OAP Lite. Hosted by their Engineering Undergraduate Society, OAP Lite runs for two days near the end of exam season. Like our Block Party, there's plenty of booze, burgers and bands, but unlike us, their musical lineup focuses on hyperlocal musical acts, many of them being current or former McGill students. Also: it's free.
University of Victoria
Classes for them ended on April 2 and UVic celebrated by having a Last Day of Classes Bash at Felicitas, their campus pub. They had bands from the Victoria music scene, such as Boomshack, The Leaks, New Souls and the Funkee Wadd.
AMERICA
Schools across the border don't go through the same cycle of CanCon that we get and tend to go for much bigger names.
Duke
Duke is serious about the last day of classes. Their year end party is simply named LDOC, and there's even a Buzzfeed quiz (albeit a community post) that tells you which former LDOC artist you are (I'm Macklemore, circa LDOC 2012). This year they have autotune-friendly T-Pain and "Birthday Sex" Jeremih. The best part? It's free.
Notable acts: Dillon Francis (who played at Block Party 2013) in 2014 and king Kendrick Lamar in 2013.
Harvard
The Primo Ivy Leaguer has Yardfest, their annual spring concert. This year they have one third of the "Bang Bang" trio, British singer Jessie J.
Notable acts: Wu-Tang Clan, Janelle Monae, Ratatat. In 2013, their decision to have rapper Tyga perform was controversial as some students led boycotts and protested against his misogynist lyrics. The Boston Globe reported that he was the most famous act the organizers could get on their $40,000 artist budget.
Yale
Right after Jessie J is done in Boston she goes to Connecticut to headline Yale's Spring Fling, along with indie band St. Lucia and house performer Klingande.
Notable acts: In 2013, Yale got Macklemore and Ryan Lewis, which was a "steal" at $27,500 since they booked him before Thrift Shop blew up.
For both of these Ivy League schools, the concerts are free and part of their student activity fees (around $75/year for both Yale and Harvard)
Costs
For the American schools and for many of the Canadian schools like U of T and U of A who can get big-name bands, the concerts are free for students. U of T's VP campus life says it is because their student union membership fees cover it.
U of T's student union membership fees of $34.50/semester and U of A's $38/term are twice our AMS membership fee of $38.13/year.
Hilliar says tickets to Block Party are already subsidized. A typical concert with bands of this quality would be $50-60 per ticket.
"It just depends on different schools divvying up their money in different ways," said Hilliar. "Some schools have less services than we do and some schools have way less clubs than we do. It really just depends on how the student societies where they're going to put their dollars into."
"We just try to keep [the tickets] as reasonable as possible."
Conclusion
Compared with the rest of Canada, we have it pretty good here at UBC, LDOC-wise. The tradition of a banging party on the last day of classes remains despite the death of the Arts County Fair (RIP). So instead of worrying about exams on April 10, we can have the reverie of Block Party before holing up in Irving in subsequent days. We still have to pay for our concerts but no one seems to be complaining as tickets sold out in two days. And for those still bummed about the lineup (not enough rap, not enough EDM, not enough Drake, etc), let's be honest: it's the day-drinking with friends of future past that matters here.