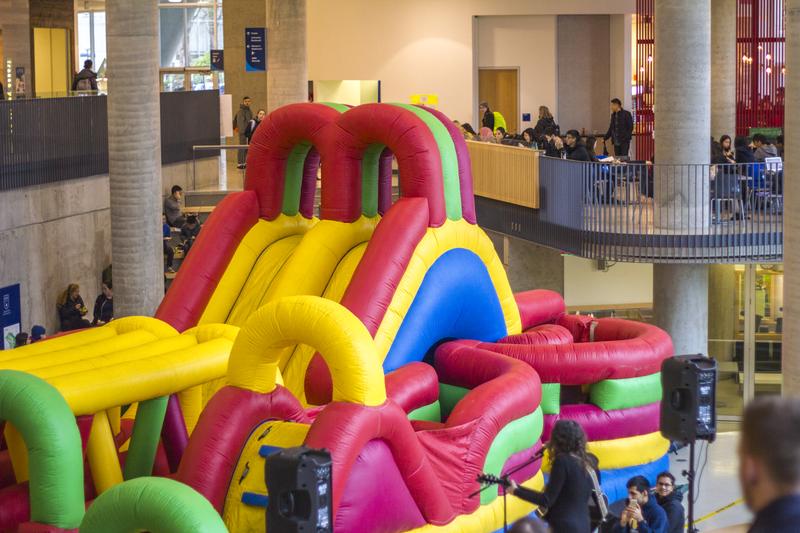 UBC is hosting their Faculty Cup Tournament in the Nest. With an inflatable obstacle course, a mechanical bull and live music, the Cup is in full swing.
AMS's Student Life and Communications Committee and UBC Recreation organized the Faculty Cup. It is open to all students from every faculty and school across campus with the goal to bring different faculties together with the help of a little competitive nature.
There are two parts to this competition: the Tournament and the Fair. The Tournament is taking place all day with opening and closing ceremonies in the Nest and a big event taking place in War Memorial Gym from 3 p.m. to 7 p.m. The Fair is all the free activities taking place in the SUB taking place from 11 a.m. to 3 p.m.
While this is a friendly competition, people were racing hard against their friends in different faculties in the obstacle course and hanging on for dear life on the mechanical bull — check out some live videos on our snapchat (TheUbyssey).
Many clubs are setting up booths in the Nest as a part of the competition including Blank Vinyl Project, who were putting on live performances for students to enjoy during lunch. Rebecca Hope, a second-year UBC student, was belting out some sing-alongs and killing it on the guitar.
In addition to the main events in the Nest, there is also access to free Zumba and Burlesque classes, rock climbing, bubble soccer, monster pong and more throughout the building. Any participation includes a free lunch from FlipSide!
Students participating in the either the Tournament or the Fair register with their faculty and the faculty bringing in the most wins at the end of the day will take home the Faculty Cup.
After all the fun and games are finished, go celebrate with your faculty at The Pit at 9 p.m. tonight for the afterparty!