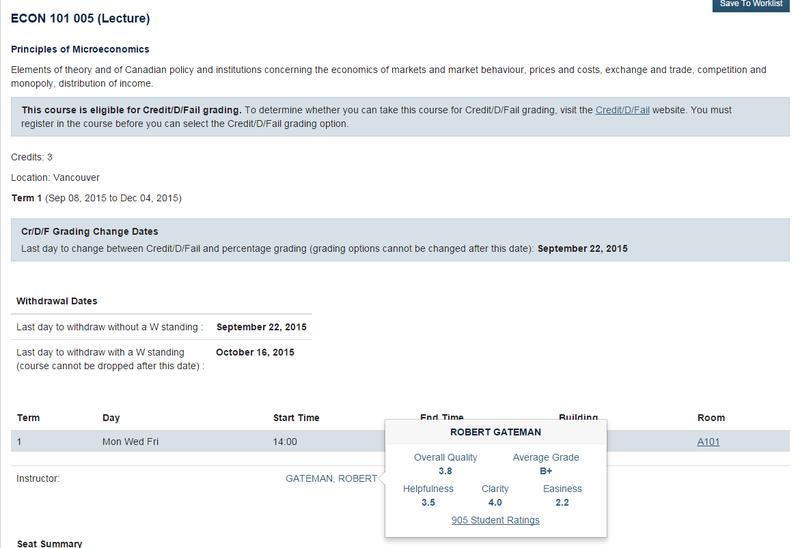 Do you use Google Chrome? Are you too lazy to type ratemyprofessors.com into the search bar just to input your prospective prof's name into more search bars? Good news — there's an extension for you.
Created by UBC computer engineering graduate Tejbir Singh, Check My Prof enables Chrome to show RateMyProf's ratings right on the spot by hovering your cursor over a prof's name while browsing courses on the SSC. If you're still skeptical of the results, the extension also provides a link straight to the prof's respective review page with more details. We've already tried it ourselves and, so far, everything works as it should, unless your class is being instructed by someone without reviews yet.
"I was thinking along the lines of making something easier for myself and for everybody as well. When you're signing up for courses nowadays, we want more data before we make a decision. So I thought, instead of having to go to these separate places … I'd like to make [the data] more accessible," said Singh, who implores anybody else in his field to do something similar. "If you're planning something simple to make your life more convenient, just go and pursue it. It actually makes a big difference."
The extension is also available for Kwantlen University, SFU and UFV, but Singh said that UBC's SSC is the primary focus of the app. He wouldn't talk about any additional features he has in store for it, nor any other new extensions he has planned for the future. Hopefully, it's nothing that involves revealing our GPAs quicker to future employers who hover their cursors over our Facebook profiles.