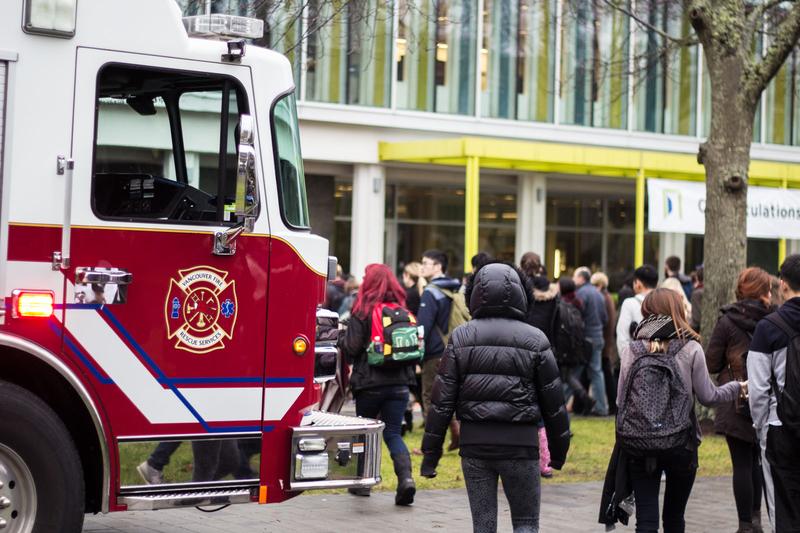 Thursday, November 4 — 1:33 a.m.
There it is. That little red box, overflowing with power and allure. I go to it, shaking with anticipation. I rip down the white bar, and the passive-aggressive clang of the Orchard Commons fire alarm rises to greet me.
A spurt of blue paint erupts from under the alarm, coating my hands and jacket. I raise one hand to my mouth and run my tongue across the blue liquid. Elation. I make for the staircase just in time to avoid the first wave of residents. Who am I?
I am no one's friend. I work alone in the night. I am the world's greatest comedian. I am the puller.
I was a mere 17 years old when my mother abandoned me on the stoop of a fire station. That initial pain only exacerbated my love for firefighting and such related objects — specifically fire alarms and Dalmatians. The steel ring of red bells in harmony with the chorus of depressed students bemoaning their 8 a.m. classes is to me what I imagine Mozart is to old people.
Last week I went to another Degenerates Anonymous meeting. I had only listened until that point, but today I felt safe enough to share. I told them how I would sleep until two or three in the morning on a Sunday, then wake up, pull the fire alarm and go back to sleep. I have it down to a science, efficiency befitting my unrivalled comedic genius.
Vandalism Bob told me I was a disgusting animal. Truancy Steve vomited. I felt myself recede back into my shell, and this time, I would never come out again. I never said it was easy — it is a friendless, thankless, gratuitous, unnecessary job.
Sometimes I wonder why I do it. But then I see all the people file out of the their buildings, in tears with frustration and helplessness, and I fall in love with it all over again. It stirs the dust from my clammy heart, and I run into the night cackling, hoping that it will be enough to convince a frat to accept me this time.
My unimpressive personality by day is a cover for my disturbing activities by night. I am nothing. I am nobody. I am the puller.
The Dingbat is The Ubyssey's humour section. You can send pitches or completed pieces to blog@ubyssey.ca.