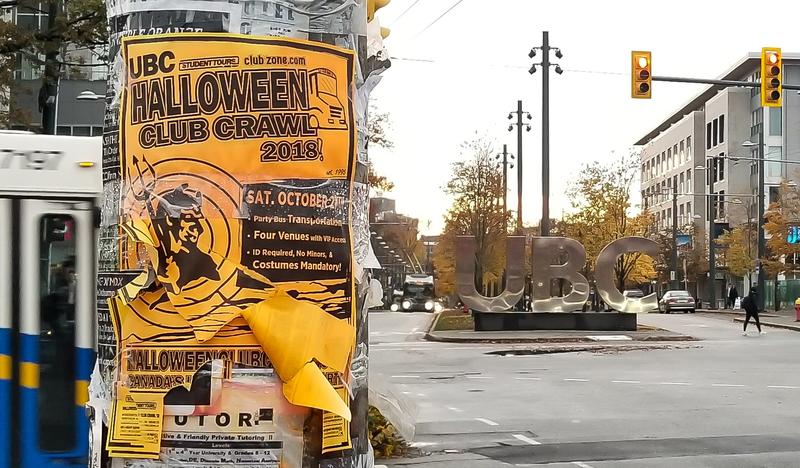 I don't know about you, but when I first saw the orange Halloween Club Crawl flyers, I expected a night of ghouls, spookings and Shane and Ryan from Buzzfeed Unsolved — not another reason to go club hopping and getting blackout drunk.
So if you're like me, I have taken the mightily important job of event planner and come up with a classic ghostly Halloween crawl including events in Vancouver that you can actually attend as well as a few that I, an aspiring Halloween party planner, wish existed.
First things first — costumes!
If you've paid any attention to the orange flyers, you'd see that costumes are mandatory — as they should be. Spend the entire weekend in a costume; go to class in costume; go on the bus in costume; sit by the fountain in costume; do a cool Spice Girls group costume or a creepy Annabelle costume or maybe go as a moth and a lamp with your significant other.
Forbidden Vancouver Tours
These Halloween special tours include "The Lost Souls of Gastown" and "Secrets of Stanley Park." Explore murder mysteries, secret cemeteries and the Great Fire of Gastown with professional storytellers.
Vancouver Mysteries
Think escape room, but better. Team up with your friends and satisfy your dreams of being a homicide detective by signing up with Vancouver Mysteries for Halloween Mystery Nights in Gastown between October 13 and 31.
Horror Movie Screenings
These are happening all over UBC and Vancouver this month! UBC FilmSoc is screening Martin and A Girl Walks Home Alone At Night on the 31, so go for a community spooking experience!
Spooky Stories at Wreck Beach
Go down past midnight with some Halloween candy and a torch and share some spine-tingling local legends with your friends, even though sometimes Wreck Beach in broad daylight is scarier than any other time of day.
Halloween Dance Marathon
I suggest having a 24-hour dance marathon outside the Nest with the likes of "Psycho Killer" and "This Is Halloween" instead of EDM. Whoever wins this marathon, I expect you to run around the fountain with a jack-o-lantern on your head.
And if all else fails and you just want to spend the night in, plug in your earphones and watch a Buzzfeed Unsolved Supernatural marathon with the Ghoul Boys.