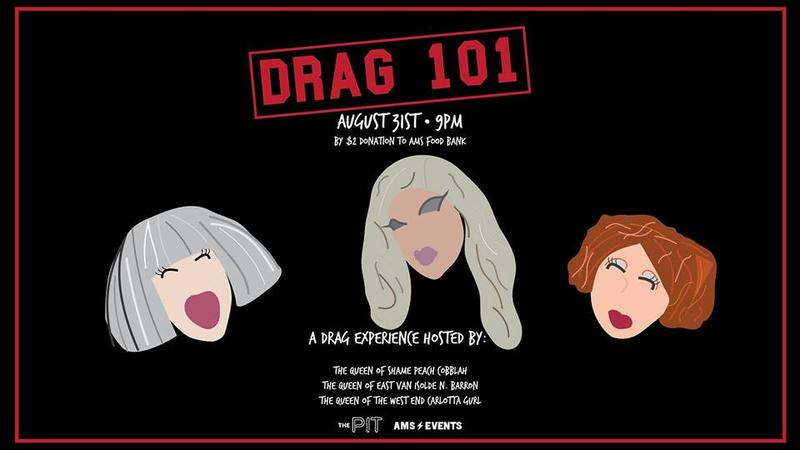 Start your engines because this Thursday the AMS is hosting UBC's first-ever drag show in the Pit.
For those not in the know, drag shows feature performers elaborately dressing up as the opposite sex while putting on a show that can feature singing, dancing, lip-syncing, impersonations, humorous monologues and a variety of other camp-fuelled shenanigans. Drag queens — men dressing up as women — are the most common performers, although drag kings make appearances as well.
For their first-ever drag event, Drag 101, the AMS managed to snag three well-established Vancouver drag queens — Peach Cobblah, the Queen of Shame; Isolde N. Barron, the Queen of East Van; and Carlotta Gurl, the Queen of the West End — who each perform at weekly shows throughout Vancouver. For example, Carlotta Gurl performs every Saturday night at her Absolutely Dragulous show at Junction, in which she deep throats microphones, smears lipsticks onto audience members' faces and shouts "WHAT'S UP BITCHES" as she walks on stage. She also co-stars in The Barron Gurl Show at Junction with Isolde N. Barron, which features antics ranging from group musical numbers to stripping audience members on stage.
Likewise, Peach Cobblah hosts the Shame Spiral at 1181 on Tuesday nights, where she lip syncs songs chosen by the audience and invites fellow drag queens on stage to share embarrassing stories. She also reportedly sweats so much that one writer designated the front row of her performance as the "Splash zone."
So are we going to see similar antics such as these in the Pit on Thursday? Let's damn well hope so because it would make for a fun night.
Cover is $2 at the door and all proceeds go to the AMS food bank.