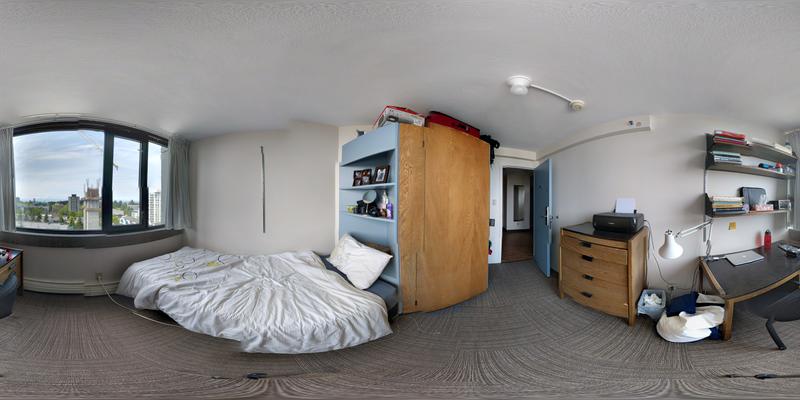 For a short girl, a studio at Tallwood House is an ideal living space. The sink is the perfect height, there's just enough space to workout (which I totally do...not), and the compact kitchen-bedroom-living room just feels cozy to me. Now, for my tall boyfriend, our studio feels like a shoebox. The sinks are too low, the shower feels like a coffin and what I perceive as "cozy" feels cramped to him.
So whether you identify in stature like me or my boyfriend, I feel it's my duty to pass on what I've learned about making the best of your small living space.
Rearrange the furniture to maximize space
The first thing you should do is figure out what can and can't be moved. When my boyfriend and I moved into Tallwood, we were able to push the bed and desk against the wall which helped open up the space. The next thing we did was move the dresser into the closet, rather than leave it out. It may not seem like a lot, but having those extra few feet really made a difference.
Get a humidifier
This applies to all apartments that like to crank the building's heat up during winter. I started noticing how dry the air was compared to my parent's place in Coquitlam and how parched my skin felt. Despite our thermostat being set to zero, the building itself has its own set point. While I certainly appreciate the warmth, it also sucks all the moisture out of the air. I recommend getting a humidifier (the internet has plenty of budget-friendly options). It keeps the apartment a little less dry and your skin a little more hydrated.
Take a 5-pronged approach to eliminate and prevent cooking odours
Everything in your apartment will smell like what you cooked. Our sheets, clothes, carpets, pens and printer smell like an Indian and Chinese restaurant collided, then rolled around in oil together.
If you want to avoid this, try these:
Light Candles. Especially vanilla scented ones! They're supposed to help eliminate all the cooking smells.
Turn on the stove fan. I know, it's incredibly loud. But it helps to suck up all the smoke.
Ventilate like crazy. Open up your windows and if you have an air purifier, turn it on high!
Close your closet doors! I once made the mistake of cooking with onions, garlic, oil, and soy sauce with our clothes hanging in the closet exposed. Huge mistake. Your clothes will smell for days.
Boil lemon juice, coffee, and/or vanilla extract to nip those last oil and onion smells in the bud.
Do all these things before, during, and for a little while after cooking
If you're living with someone, you better love the heck outta them
Our studio feels like a shoebox. There are no separate rooms, except for the bathroom. We see each other 24/7. Literally. You can't exist in our studio without hearing, seeing or smelling each other. When I go back to my parent's place on the weekends, my childhood home feels like a mansion. Downstairs and upstairs? Two bathrooms? An actual living room? My advice for those of you contemplating moving into a studio with someone, be sure your love for them is greater than your love of personal space. Fortunately in my case, it is.
As our residence contract and degrees come to an end, I find myself reminiscing about the past three years I've spent at my UBC home. I couldn't be sadder to leave. Our little apartment has seen countless all-nighters, Netflix marathons, relationship ups and downs, and where-is-my-life-going meltdowns. If you're fortunate enough to live in a studio, cherish these times. I know it's cramped, but it also represents a unique time in your life that'll be over before you know it.