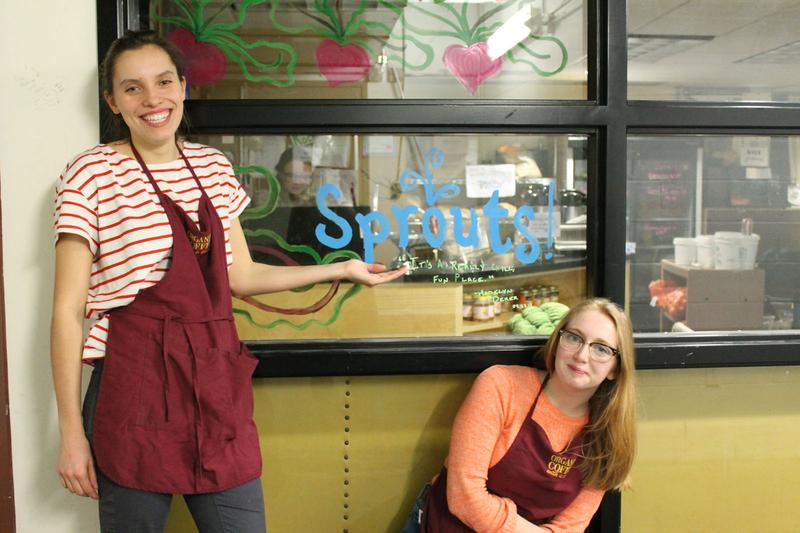 Note: the couples featured got in touch with The Ubyssey after an open call. This article is not meant to be representative of all relationships on UBC's diverse campus.
In celebration of Valentine's Day, we talked to some couples around campus about their favourite memories and how it all started for them! Read on for unlimited feels and cuteness.
Aaron Myales (fourth-year, anthropology) and Marissa MacDonald (fourth-year, French)
How did you meet?
In band class in grade nine!
How long have you been together?
Seven years in April.
What is your favourite thing about the other person?
M: He's one of the kindest and most passionate people I know. You can ask anyone and they'll tell you how nice of a person he is. He takes on so much and between school, work, his fraternity and being an RA. I am incredibly proud of him!
A: My favourite thing about her is that once she gets set on something, she really goes for it. That although she runs into trouble and beats herself up a little, she is always determined to see it through.
What's one of your favourite memories together?
M: For our fifth anniversary, we decided to bring out our inner children and we drove to Langley, singing Disney songs the whole time. We went to Olive Garden and then went laser tagging where we ended up being the only ones in there.
A: We were going on a band trip and the night before we had started the 30 Hour Famine. We ended up being stuck on a bus with nearly everyone around us eating breakfast and lunch on the way down. I clearly remember Marissa and I joking around and motivating each other to power through until our 30 hours were up. What stands out well is the expression of joy on her face when she finally got to eat a granola bar.
Madelyn Dekerf (fourth-year, environment and sustainability) and Renee Proulx (fifth-year, environment and Sustainability and international relations)
How did you meet?
M: We met through mutual friends from volunteering at Sprouts a couple of times, but never talked much until we both ended up at the same party. She was killing it at Cards Against Humanity. It's attractive when someone can make the room laugh. A couple of friends may have told me she thought I was cute before that, so that didn't hurt either.
R: We met at a Sprouts volunteer social. I say met, but I don't remember if we actually spoke. I just thought she was the most beautiful girl ever. I guess we really met at a party a few months later. I wasn't even going to go since I worked the next day, but found out she was going to be there. This entire story makes me seem crazy, but it was worth it in the end.
How long have you been together?
8 months.
What's your favourite thing about the other person?
M: She knows how to make a dank**** breakfast.
R: She feeds me.
What's one of your favourite memories together?
M: A swim at 3 a.m. after a walk home from Gastown.
R: This one time when we were camping, I watched her eat an entire jar of pasta sauce.
Troy Johnson (third-year, art history) and Matt King (third-year, English literature)
How did you meet?
We met after an Earl Sweatshirt concert on Halloween in first year.
How long have you been together?
Two years.
What's your favourite thing about the other person?
T: His Teenage Mutant Ninja Turtles fleece pyjamas.
M: She's the world's biggest sweetheart and she can sing R. Kelly almost flawlessly.
What's one of your favourite memories with the other person?
T: Every summer I visit him in Ontario and some of my best memories are from those trips. One day in Toronto, we walked around the city for hours and then stopped to lie on the grass in front of King's College. It doesn't sound like anything crazy when I explain it, but it was definitely one of those days that I would relive about a thousand times if I could.
M: I don't think I have a single favourite memory. She visited me in my hometown, Dundas, ON, the past two summers and those were some absolutely blessed weeks!
Julia Pinnock (first-year, arts) and Kero Dowd (second-year, kinesiology)
How did you meet?
We went to high school together and were friends for a few years before we started dating.
How long have you been together?
A year and eight months.
What's your favourite thing about the other person?
J: His ambition — constantly spending time with someone who is always working hard towards their goals has made me more focused and helped me strive towards what it is that I really want, so in that way he makes me better.
K: How positive and cheerful she is all the time.
What's one of your favourite memories together?
J: One Friday in October, we woke up and decided it was too nice out to be responsible. So we rented a scooter, drove around the city in the sunshine, ate Rocky Mountain Fudge and had so much fun that my cheeks hurt that night from smiling so much. It was a perfect day.
K: Renting a moped in Stanley Park and downtown in the middle of autumn.
Morgan Lee (fourth-year, political science and philosophy) and Connor Edinger (fourth-year, commerce)
How did you meet?
We met on our first day at UBC. We were moving into dorms across the hall from each other in Totem.
How long have you been together?
For almost three years now. Since April 26 of our first year, the day she flew back to Ontario. I drove her to her flight. When it finally hit me that she was actually leaving, I knew that I needed to be with her and I was willing to do whatever I could to make it possible.
What's your favourite thing about the other person?
M: I guess I would have to say his positivity. He's the happiest person I know, even at times of extreme stress or when things haven't gone quite his way. I really admire that as I have a habit of dwelling on the little things while he sees the good in almost every situation. It's pretty contagious. I can't tell you how many times he's woken me up by laughing in his sleep.
C: It's impossible to choose one thing, but I honestly can't believe how much she cares about me. I love that she's my biggest supporter no matter what it is I'm trying. She treats me like I can literally do anything and I believe her because she's such an amazing person herself.
What's one of your favourite memories together?
C: "One day last summer, the two of us went up to do the Joffre Lakes hike near Pemberton. We were worried about not getting a parking spot, so we woke up just after 3 a.m., hopped in Morgan's car and got on the road. We missed a turnoff on the way and had an almost hour and a half detour. Still, we were the first ones to the top and clearly left way too early.
M: "For our six-month anniversary, he told me he was taking me out to dinner. When he came to pick me up, he said he'd forgotten his coat at home so we had to go back before going to the restaurant. When we drove up to his house, one of his roommates was standing on the curb dressed in a suit and tie, acting as a valet. Connor walked me inside where another of his roommates took my coat and brought us to their dining room where there was a set table complete with rose petals, candles and wine. The two of them served us dinner and dessert. He's done a lot of really thoughtful things over the years, but this is definitely one of my favourites and it shows how great his friends are.
Kieran and Kate (residence advisors in Totem Park)
How did you meet?
We met residence advisor orientation at UBC Okanagan. Once we got there, we were all in line to get our room keys.
Kate's key didn't work, so they were like, "Go stand to the side and wait."
And I was like, "Ha-ha."
But then my key didn't work either, so I had to stand to the side too. And then we were standing together and started talking. It was chill. I thought she was cute.
(Anonymous)
How did you meet?
In bustle of drunk university students, I was being your typical avoider of assignments and midterms and enjoying my Friday night. I showed up at Psi­U's door, wearing my tank and bikini top, fully prepared to pretend that it wasn't winter at their annual Full Moon Party.
Once in the house, I noticed that tall, dark and handsome (not to be a cliché, but it's true) boy from my program. We had barely ever spoken, but I did that thing that all those posts on Yik Yak tell you to do.
I talked to him.
I opened up by teasing him for the giant wine stain down his shirt and after some harmless flirting, we ended up making out on the dance floor. I offered for us to get out of there, taking home my first boy, ever.
Once back at Totem Park, I stupidly realized that my roommate was the key­holder that evening. We sat in the lobby of Haida, watching the frat dwellers return and the Dominos ordering begin. We ended up talking­ a lot. We also ended up in my bed, although whisky dick took its toll. Needless to say, after a classic (albeit­ not very smooth) first-year evening, this same tall, dark and handsome boy is my boyfriend a whole year later.
Thanks, Psi­U.
Sam and Lisha
How did you meet?
L: We met during Jumpstart, UBC orientation for international students. Sam is from the Philippines, while I'm from Hong Kong. I was originally with a group of friends from my residence while Sam joined in at a later stage through a common friend. I didn't really notice Sam at first because he's rather quiet amongst the group.
One night, a friend brought his guitar and taught Sam how to play a tune. I have always loved the guitar so I sat down and watched them play. Afterwards, I asked Sam to teach me the chords. Patiently, he began teaching me chord by chord, moving my fingers to the right strings and bars, that's when we started to get to know each other.
A few days later, a couple of us went bouldering. Sam was not a huge fan of the sport, while I enjoyed it immensely. Others got bored and went exploring the premises while Sam continued to watch me climb, offering me a hand when I fell.
Next day, our group went to watch the movie Brave when we sat next to each other. At the end of the movie I saw tears falling from his face.
"Did you cry?" I smirked.
"No," he retorted, wiping tears away quickly. I smiled. He knew I saw.
Later that night whilst others were playing a card game, we sat at the sidelines chatting. It was weird because, for a person that quiet, we had a lot to talk about — books, movies, music, family. We laughed at each other's funny stupid little incidents and sympathized at each other's difficult encounters. It felt as if it could go on forever. The ease of it all was none like other and we both felt it. A friend looked up from the card game at us and nudged the others.
"Does anyone have food?"
"I have some in my room," I replied. I got up. He followed. We continued our conversation in my room until one point there was silence. He looked at me and asked. I said yes.