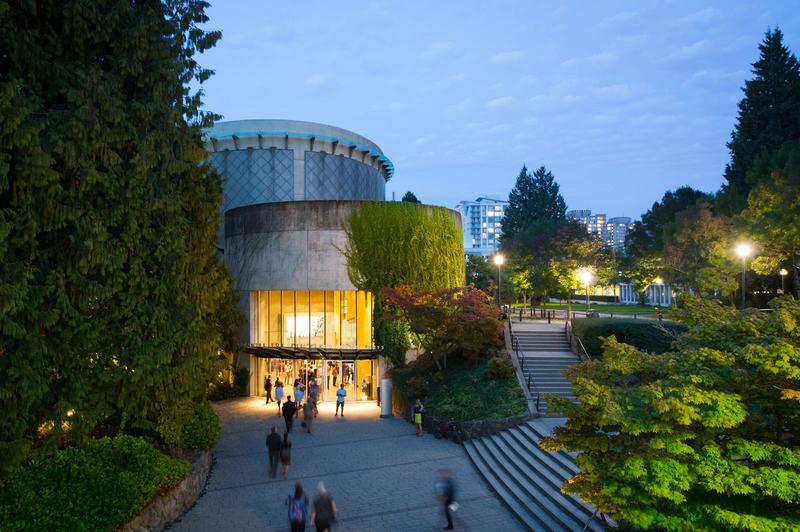 The Chan Shun Concert Hall is shaped like a cello.
Did you know that the Chan Shun Concert Hall's cello-like shape creates an even distribution of sound, allowing the instruments and voices onstage to flow through and fill up the space? Inspired by a shoe box, the shape of the hall makes for a consistent listening experience for every seat in the house.
The Beaty Museum's Big Blue Whale is 26 metres long.
The Beaty Museum is home to the largest blue whale skeleton in Canada. Measuring at precisely 26-metre-long, the female blue whale named Big Blue hails from the Northwestern Shore of Prince Edward Island. The whale was found in 1987 and the excavation and recovery of Big Blue began in 2007. Visit her and you'll have a whale of a time!
Somerset Studio's namesake was an actress turned UBC French professor.
Ever wonder about the namesake of the production studio on campus? Who exactly was the elusive Dorothy Somerset? Dorothy Somerset was a leading lady of the Vancouver stage in the 1920s. While pursuing her acting endeavours, she began teaching French at UBC. She later acted as the supervisor of drama in the fancy-shmancy "Dept. of Extension." In this role, she helped make acting an accepted and celebrate academic discipline at the university — bravo!
Frederic Wood Theatre used to be a Coffee Bar.
In 1951, it was decided that the Totem Coffee Bar would be repurposed and redesigned to be a centre on campus for theatre and academics. In 1952, it re-opened as the Frederic Wood Theatre. At the time, Frederic Wood was Vancouver's only legitimate. Today, with a fly-tower, traps and built-in revolve, the Theatre is the heart of UBC's drama department.
The Main Mall Fairy Lights are here to brighten up our winter.
Ever wonder what those lights along Main Mall are all about? This initiative started a few years ago with the aim of brightening up Point Grey campus during those dark and dreary winter months. The project was started by the UBC Community Development and Campus Experience. From December to March, these LED-powered and energy efficient, artsy dorm room lights are strewn across Main Mall. Let there be light!
Thunderbird Stadium was designed by a Yugoslavian-polyglot-world-champion-athlete.
Ever wondered who was behind our beloved stadium? Who came up with those sweet, sweet semi-circle rafters and delicate concrete overhang? None other than Vladimir Plavsic, an award-winning Yugoslavian-born architectural student at UBC. Plavsic could speak five different languages, was a world champion swimmer and water polo player, and not to mention a renowned sailor who won Canada's first international racing trophies.