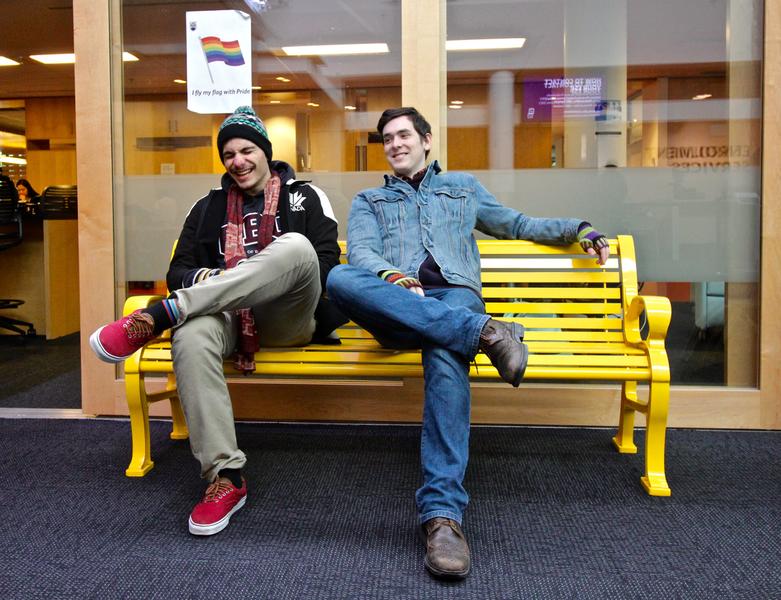 We've all heard of friendship bracelets, friendship necklaces, best friend handshakes, secret languages… but how about a friendship bench? On November 23, say hello to a little yellow bench coming to you somewhere on the UBC Vancouver campus.
With the campaign slogan of #yellowisforhello, the shockingly bright yellow bench itself is meant to be "a physical reminder to sit, breathe and talk (or think) about mental health, and to support members in our community who may be facing challenges," according to the Friendship Bench's Facebook page.
Founded in 2014, the The Lucas Fiorella Friendship Bench was created in memory of Lucas Fiorella, a student at Carleton University in Ottawa who took his own life after living with untreated depression. As a tribute to him, as well as a symbol for awareness of hidden mental health issues, the Friendship Bench aims to "[raise] awareness of the escalating rate of suicide among college and university students," as stated on their website. These benches have been popping up everywhere like at Trent University, Vancouver Island University and several other high schools across Canada.
Although the Facebook page may be vague, it has been confirmed through Thrive at UBC that the ceremony will be taking place from 12 to 1:30 p.m. in front of the Brock Hall Concourse. That being said, it shouldn't be hard to miss a bright yellow bench in the middle of campus.
There is a free lunch involved with RSVP, as well as a very official-sounding unveiling ceremony with an opportunity to "chat with UBC peer and support groups, hear stories and speeches in support of student mental health." Go out and sit for a great cause!