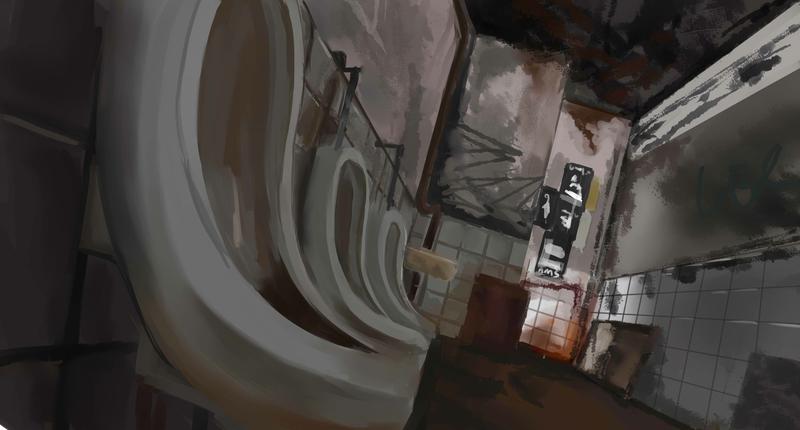 It's unavoidable that in the time you spend at UBC you'll have to use some of the washroom facilities available on campus. Why not make sure you're not wasting your time in some mediocre stall? Here's a guide to the best and worst washrooms on campus.
The AMS Nest
With four floors of blindingly brightly coloured washrooms, there's a lot of choice in The Nest. My vote for best washrooms goes to the ones on the basement level. They're clean and almost always vacant, making it a great place to pee in peace or cry alone after failing two midterms. The washrooms of the upper levels are also usually empty, but you won't catch me trying to scale that hellish ladder they call a staircase. The only washroom I'd avoid is the one on the main level; massive lines and unsavoury smells make this washroom one of my least favourite. Also, I may be alone in this, but whenever I go to the main floor one there's an unaccompanied child there. That's weird right?
The Sauder School of Business
The crisp, clean and boring architecture of the Sauder building reflects the quality of washrooms you'll find in there. Most of the washrooms are pristine and come with those fun high-tech Dyson hand-dryers. However, the one dark cloud hanging over the building is its basement washroom. It has little privacy, messes that are rarely cleaned up and no Dyson hand-dryer. This three-stall travesty does not live up to the gleaming reputation of the other Sauder washrooms and frankly I'm appalled.
The Buchanan Complex
Honestly, what did I expect from one of my least favourite buildings on campus? There are consistently long line-ups and a general lack of cleanliness. The Buchanan washrooms are just as bad as Buchanan itself.
Irving K. Barber Learning Centre
What a disappointment. What complete and utter garbage. These washrooms are disgusting to look at and disgusting to be in. Hair on the seats, foul smells and constantly not-from-water wet floors. The only redeeming quality is the doors come with a cool foot handle, so you can open the door with your foot. That's neat, I guess.
The UBC Life Building
Under a veneer of loud yellow walls that stab your eyes with their brightness is an oasis of a washroom. The main floor washrooms are gender neutral, single stalls that are usually pretty clean, which are really the only things we're asking of UBC. If you pick your stall wisely, it may even have a sink of its own in there, allowing your complete washroom experience to be in privacy. In addition, the washrooms on the second floor give you a whole other experience. The entrance begin as that familiar yellow colour, but soon the walls transform into a luxurious charcoal black. If you're one of the brave souls who takes mirror selfies in public washrooms, this is the place to do it.