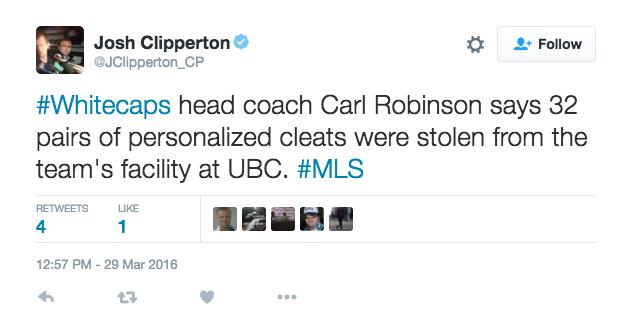 Last night, 32 pairs of personalized cleats belonging to the Vancouver Whitecaps FC were stolen from their training facility here at UBC. Right now, the team doesn't know who's responsible for the act and requests anyone with information to assist them.
While our beloved city football club contemplates playing the game barefoot like their ancestors, our investigative division here at The Ubyssey has done what we do best — brainstorm a handful of crackpot theories about something that doesn't really matter.
The Portland Timbers and Seattle Sounders have banded together and hid the shoes to get under the Whitecaps' skin.
UBC fraternities are trying to promote the importance of less harmful hazing across North America.
The cleats were never there in the first place and are still in the process of being shipped. The club's treasurer made a large clerical error and formulated a wild excuse to hide the blunder.
A very obsessed student fan needed them to complete their dorm room shrine dedicated to David Ousted. On that note, Ousted should probably take stock of his used underwear and clipped toenails as well.
The cleats have gained sentience. Rise of the Planet of the Feet is in motion.
The Batman V. Superman: Dawn of Justice marketing team is getting desperate. Superman will descend onto the playing field in their next game and return the footwear stolen by Lex Luthor.
The cleats were a metaphor for friendship the whole time.
Hopefully the culprit's next step does not involve scattering LEGO pieces across the field in their next training session.
Kidding aside, the boots were apparently very sentimental to a lot of the players. The Whitecaps head coach's statement says it all: