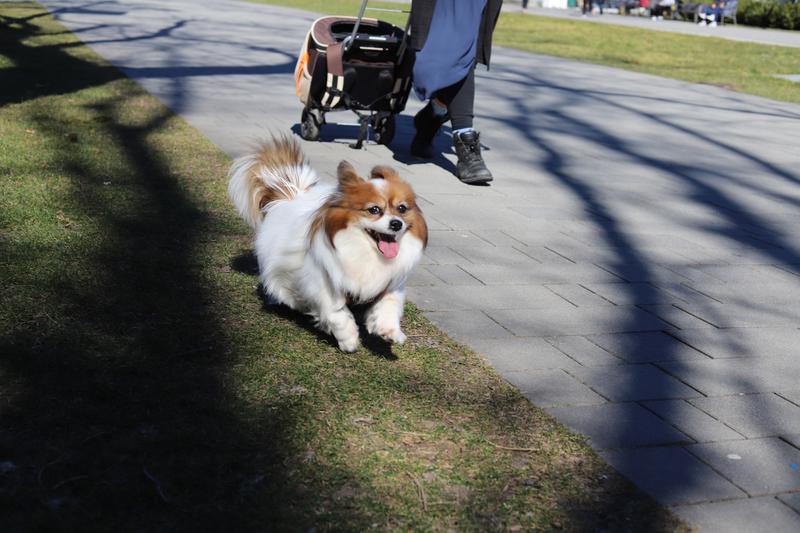 Finals are approaching their end and Vancouver is raining. But fear not: The Ubyssey has some photos of campus doggos to help you procrastinate, from when life was simple and exams were a mere blip on the horizon of Term 2. Keep an eye out for these good bois through your teary eyes when crawling to and from the library this month.
Cotton and Teddy
Local legends Cotton and Teddy enjoying a walk before their training class. Rare spot without their usual cosy costumes!
Pudding
Pudding the papillon-Pomeranian mix making the most of the hot weather and enjoying lots of pats from students on Main Mall.
Princess Sophie
Princess Sophie the golden retriever greeting students outside the Bookstore whilst enjoying the sun in her backyard, our UBC Point Grey campus.
Roger
Roger the standard poodle, who features rare shadow colouring, receiving lots of pats outside Triple O's.
Crosby
Crosby, a golden and duck tolling retriever mix, is a therapy dog. He will be attending events around campus especially for stressed students like you, so give him lots of pats! 11/10 supportive boi
Loki
Loki the seven month old Bernese, husky and poodle mix sitting nicely for his photograph. Loki enjoys rolling around in the grass and long walks around campus!
Lucy
Lucy the labrador and border collie mutt is a mascot for her mom's mugshare programme at UBC. Go sustainability pup!
Adoba
Adoba was rescued by her lovely owner all the way from the Phillipines and brought to Canada for a new life. Adoba normally hangs out at the Biodiversity Research Centre, assisting staff with snuggles and licks.