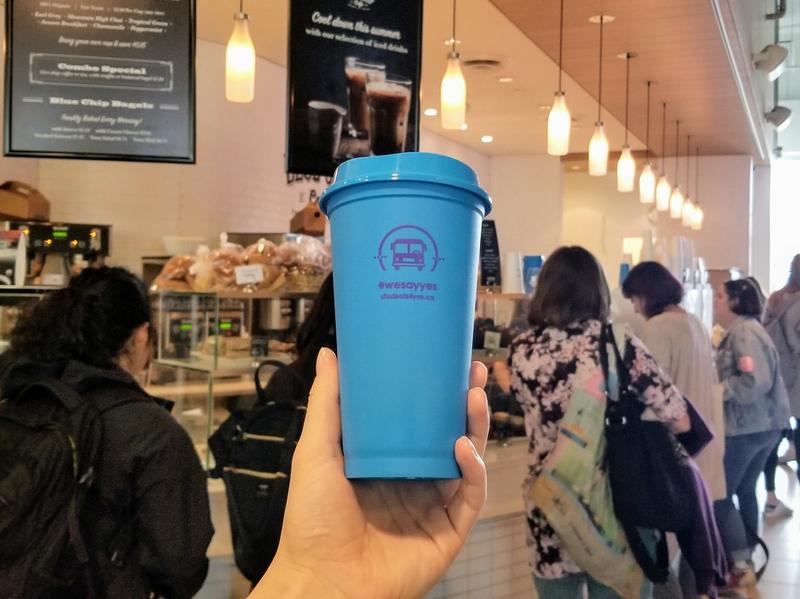 Blue Chip Cafe, the campus staple for soul-nourishing cookies and coffee, has just partnered with Common Energy to launch their own MugShare program.
Blue Chip's MugShare is part of a larger initiative with Common Energy. There are similar programs at JJ Bean, Seedlings Cafe and Agora Eats Cafe. The other cafes require you to sign up and pay a membership fee, but Blue Chip is operated on a deposit-based program that is a little more flexible.
The way it works at Blue Chip is you just ask for one of the blue mugs with your order and make a $2 deposit. Take it with you to your classes or for your all day study sesh. Then bring the mug back before they close to get your $2 back.
If you're looking for a traveller to add to your collection, you can also keep it and skip the seemingly never-ending line, which is convenient for when you need to get your caffeine fix before rushing off to class.
MugShare is ideal for when you want to be environmentally friendly but keep forgetting to bring your reusable mug along with the thousands of other things you have to remember. It's also great if you hate washing dishes because if you bring it back to Blue Chip, they'll do it for you!
Do your part in helping reduce the almost 250,000 coffee cups thrown away at Blue Chip every year and grab one of your own blue mugs next time you're in line for a cuppa.