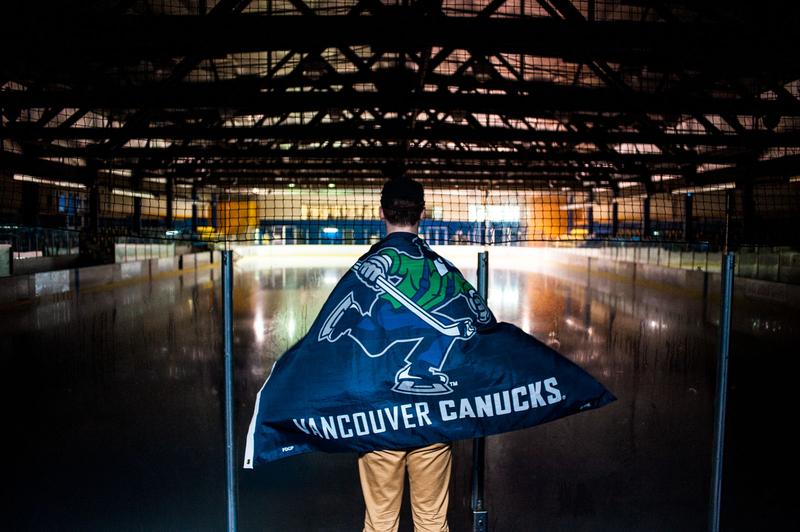 Vancouver loves hockey.
Maybe your coworkers are ranting about the playoffs; maybe you're not sure whether your girlfriend cares more about you or a 35 year-old Swedish man you've never heard of; regardless, it's good to have some knowledge in the bank. As a student at UBC and resident of this city, you'll probably run into a few conversations each year about the team, and it might be awkward if you have no idea what they're talking about.
Without further ado, here is The Ubyssey's absolute beginner's guide to the Vancouver Canucks:
Setting the stage
The Canucks entered the NHL in 1970 alongside the Buffalo Sabres, bringing the total number of teams in the league from 12 to 14. They have been in three Stanley Cup Finals: 1982, in which they lost the best-of-seven series in four games against the New York Islanders; 1994, in which they lost in seven games to the New York Rangers; and 2011, in which they lost in seven games to the Boston Bruins.
Ask any Canucks fan about 2011 and you'll immediately notice a slew of emotions cross their face: excitement, loss, joy, anger, joy again, crushing sadness. We were unstoppable. Our top players were in their prime. We finished the regular season 10 points ahead of the second-place team. When things got tight, the players rallied. By the time we got to the finals, there wasn't a doubt in anyone's mind that we would take it. But we didn't.
And then some more bad stuff happened.
There's no two ways about it: the Canucks aren't as good as they were in 2011. Despite making the playoffs every year but one, the team hasn't made it out of the first round since. This past year, they were eliminated by longtime rival, the Calgary Flames, in six games. The Canucks' core is getting older, and a lot of players present in 2011 aren't here anymore.
The bright side? This league works in cycles. The 2006 Pittsburgh Penguins were the laughingstock of the league. In 2007 they made the playoffs, and in 2009 they won the Stanley Cup. This was a quick turnaround by NHL standards, but because of a loser-picks-first draft and the unstable nature of professional hockey in general, no team is stuck in their place forever.
The Canucks are still a good team, and with a bright crop of prospects peeking over the horizon, things are looking up. We'll talk more about that once we go over the basics, starting with...
Names you should know
(C) Henrik and (LW) Daniel Sedin (suh-DEEN)
"Hank and Dank" are the heart and soul of this team. Henrik is the captain, and his twin brother Daniel is an alternate (meaning he fills in when Henrik's not around). They've been here since 2000, and one of them has lead the team in points every year since '07. Henrik likes to pass and Daniel likes to score, which makes for some incredible plays -- commonly referred to as "Sedinery."
(RW) Alexandre Burrows
"Burr" usually makes up the rest of the three-man line with the Sedins. A scrappy winger who was never officially drafted onto the team, he's the definition of work ethic. He's also incredibly annoying to play against; fans and players of every other team hate him. It doesn't help that he has a penchant for important goals.
(RW) Radim Vrbata (RA-dim ver-BAT-uh)
A talented winger, Vrbata also plays with the Sedins quite a bit. He joined the team at the beginning of last season and instantly became important, leading the team with 31 goals. He's fun to watch.
(C) Bo Horvat
Horvat played his rookie season last year and impressed everyone, scoring 13 goals and displaying some serious speed and work ethic. His goals usually aren't pretty, but he gets the job done. People are excited about this kid.
(D) Dan Hamhuis (HAM-hyoose)
A stay-at-home, defensive defenceman, "Hammer" is a big part of the Canucks' back end. He plays against the opponent's top players every night, and although his main focus is breaking up offensive plays, he's not afraid to get physical if necessary.
(D) Alexander Edler
Edler is a smooth-skating Swede who enjoys throwing his weight around. He's one of our more offensive-minded defencemen, and enjoys chipping in when he can.
(G) Ryan Miller
A former Olympian and All-Star, the Canucks signed the veteran goaltender last year to give their crease some stability after they traded goalies Roberto Luongo and Cory Schneider. Miller had an okay season last year, and is expected to start again this year. He'll be in a mentorship role with promising young backup Jacob Markstrom -- hopefully he can teach him some moves like this one.
(G) Jacob Markstrom
The American Hockey League's (AHL) best goaltender last year, Markstrom has only played a couple of games in the NHL, and has suffered from nerves each time. It doesn't help that Vancouver has been nicknamed the Goalie Graveyard for their high hopes and poor treatment of goaltenders over the years. Regardless, we're all really hoping he pans out, because if he can do stuff like this in the big league, the Canucks will be in good shape.
(President) Trevor Linden
Arguably the most important figure in Canucks history, and certainly one of the most beloved, Trevor Linden played 19 seasons from 1988-2008, 15 of them with Vancouver, holding the franchise record for games played at 1,140. He was named captain when he was 21, one of the youngest in NHL history, and led the way to the Canucks' 1994 Finals appearance; they were considered heavy underdogs against the powerhouse New York Rangers, but they pushed the series to the full seven games. Vancouver lost in game seven, 3-2 -- Linden scored both, despite suffering from broken ribs during the last four games, worsened by a vicious hit from Mark Messier, which lead to Jim Robson's famous call: "He will play. You know he'll play. He'll play on crutches!"
Off the ice, Linden is famous for his constant charity work and dedication to making Vancouver a better place to live. He is affectionately referred to as "Captain Canuck" due to his immense impression on the team and city. The tribute video that played during his retirement ceremony speaks volumes. In 2014, Linden was named President of Hockey Operations for the Canucks.
Names you should know (past)
(RW) Stan Smyl (SMEEL) | Canuck from 1978-1991
Standing at 5'8", "Steamer" didn't have the size to be an NHLer, but he fought harder than anyone to land a spot on the Canucks. He quickly became a fan favourite by playing a bigger game than he had any right to. He was named captain in 1982 and served until 1990. His number 12 has been retired by the Canucks.
(LW) Tiger Williams | Canuck from 1980-1984
The NHL's all-time leader in penalty minutes, Dave "Tiger" Williams took nearly every opportunity to fight, but was also a talented scorer, even leading the Canucks in goals in 1981. For all his brawn and skill, though, Tiger's insane celebrations might be the most entertaining part of his game.
(Coach) Roger Neilson | Canuck from 1982-1984
More important than his name is what he started: in a 1982 playoff series against Chicago, Neilson was fed up with terrible officiating and waved a white towel on the end of a stick as a sign of mock surrender. The players on the bench did the same, and by the next game thousands of fans were waving white towels, a tradition that has spread throughout the NHL and other sports leagues (skip to 1:08).
(G) Kirk McLean | Canuck from 1987-1998
"Captain Kirk" was another player integral to the team's '94 run. He set various records in games played, wins and shutouts, but is most notably remembered for what has become known as "The Save" -- an overtime stacked-pads stop against the Calgary Flames' Robert Reichel in game seven of the opening round, which set the stage for Pavel Bure's double overtime winner.
(RW) Pavel Bure | Canuck from 1991-1998
The most exciting player to ever wear a Canucks uniform, "The Russian Rocket" played seven seasons with Vancouver. Possessing a natural talent that was basically impossible to defend, he was famous for his flashy goals and blinding speed. He was a major part of the Cup run in '94, and his number 10 has been retired by the team. Arguably the greatest moment in Canucks history was his double overtime goal against Calgary in game seven of the first round of the '94 playoffs, capping off three straight OT wins after Vancouver was down 3-1 in the best-of-seven series.
(C) Mark Messier | Canuck from 1997-2000
It is customary to spit on the ground when The Hated One's name is uttered. This short, while nearly as unbearable as Messier's time as a Canuck, accurately reflects fans' attitudes toward one of the worst human beings to play the greatest game on earth.
(LW) Markus Naslund (NAZ-lund) | Canuck from 1995-2008
"Nazzy" captained the team from 2000-2008 and played on the infamous "West Coast Express" line alongside Brendan Morrison and Todd Bertuzzi. Until recently, he was the Canucks' all-time leading scorer (since surpassed by Henrik Sedin). His years of skill and leadership have earned his jersey a place in the rafters. Here's a fun clip of a four-goal game against the Pittsburgh Penguins in 2003:
(RW) Todd Bertuzzi | Canuck from 1997-2006
An extremely talented power forward, Bertuzzi made up the right side of the "West Coast Express" and was integral to the team's core in the early 2000s. His career has been marred by a game in 2004, in which he sucker punched Colorado Avalanche forward Steve Moore as payback for Moore's hit on Naslund in a previous game. This video shows both incidents.
The future
Though the Canucks haven't had much success in the playoffs since 2011, a talented group of prospects and young players (Google these names: Jared McCann, Cole Cassels, Dane Fox, Brendan Gaunce, Sven Baertschi, Brandon Sutter, Thatcher Demko, Brock Boeser, Jake Virtanen, Andrey Pedan, Jordan Subban, Nikita Tryamkin) mean that the future looks bright. Our best players still have a few more years left in them, and by the time they've slowed down, the next group of Canucks should be ready to take their place.
The Canucks are no longer a dominant force in the NHL, but most are in agreement that we're still a playoff team. And considering the upside that's coming in the next few years, now's not a bad time to jump on the bandwagon.
How to watch
Reading about them is fun and all, but actually catching a game is where it's at. If you have cable, here's the schedule for this season. If not, you'll either have to shell out for Rogers GameCentre, Hockey Streams, or get creative and find a free stream online.
Of course, as the old saying goes, a friend with cable is a friend indeed.