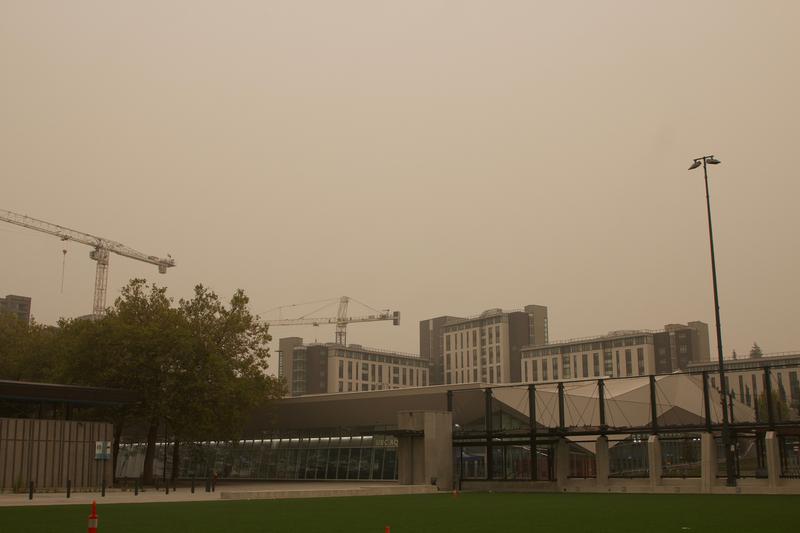 A UBC student is feeling relieved after learning that the wildfire smoke she was protecting her lungs from actually cleared over a month ago.
Mary (whose name has been changed for fear of being completely roasted by her peers) had mistaken the fog condensating on her glasses from her cotton mask for wildfire smoke that had previously blown in from Oregon and California.
"My friends kept commenting on how they couldn't see the sky because of all the smoke, but I haven't seen the sky since I started wearing a mask in March," said Mary.
When the news first broke that Vancouver had some of the worst-rated air quality on the planet mid-September, Mary shut herself in her dorm in an effort to protect her lungs. She has stayed inside with her windows shut and 25 air purifiers "absolutely blasting" for 38 days straight.
"It's actually been kind of nice," said Mary. "I've really gotten to know my DoorDash delivery guy. Finn, if you're reading this, sometimes I order two donairs a day just to see your smile."
Mary first realized something was up when on one of her rare ventures outside, she was forced to clean her glasses after they were splashed with bong water from a particularly careless forestry student ripping by on a skateboard. While wiping them off on her shirt, she noticed that the sky was a bright blue, instead of the all-encompassing grey she had grown used to.
"After that, I asked one of my closest friends with 20/20 vision if the wildfire smoke had cleared yet, and he just kind of laughed so I played it off as a joke," said Mary. "I finally checked Vancouver's air quality rating and I was a little embarrassed I hadn't done that earlier."
Even though she views this as a minor setback, Mary says she's mostly just happy she can open her windows again.
"I've been taking self-isolating and the wildfire smoke both pretty seriously, so my dorm room's been starting to get pretty rank from all the stagnant air," she said.
"I'm just really excited to be outside and not see anything properly again."