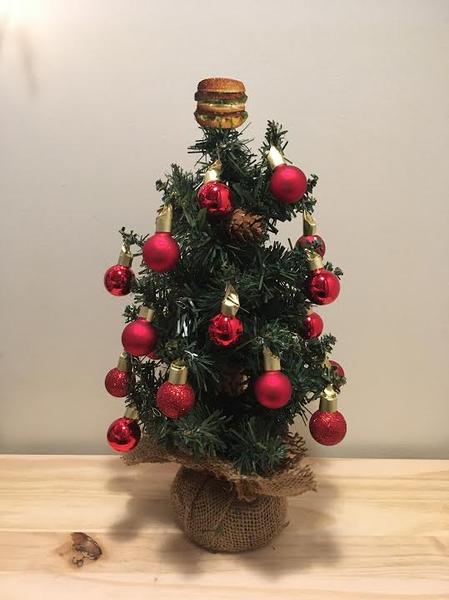 It's the holiday season and that means it's time to listen to ridiculous music and revel in the festive atmosphere. Unfortunately, it also means that the days are getting darker and shorter. Even worse, final exams and papers are looming. As tired, broke and stressed-out students, many of you may be looking sadly at your recycling bins and wondering if empty cans of Palm Bay can be assembled into a makeshift tree. Don't worry — there is a better way. Here are some simple and inexpensive ways to transform your tiny room into a cozy holiday den:
Holiday scents
The easiest (and least flammable) way to create a festive-smelling room is through the magic of essential oil diffusers. There are a few kinds of these and they all have their selling points:
Plug-in diffusers are a good entry point in terms of both price and convenience.
Candle diffusers require you to be careful. These ones are flammable, but they do look elegant.
Reed diffusers are completely heat-free, so good for those who fear setting their dorm room on fire.
Ultrasonic diffusers are the priciest option — these can also double as mini-humidifiers and sometimes have fun coloured lights.
Diffusers are easily found at Saje, Whole Foods and similar stores. Once you have one, you'll need essential oils! Some good holiday scents include any type of mint, tree scents like fir or pine, and spices like cinnamon and clove. You can experiment by mixing them or use them individually. Saje also sells pre-formulated diffuser blends, but they can get pricey.
The tree
Leave those empty cans in the recycling where they belong — you have options! If you want a real tree, you can get one from Aunt Leah's Place. Aunt Leah's sells a variety of trees starting at interior douglas firs for $6 per foot, with the shortest one being two feet. You can order them online and pick them up at the tree lot, or have them delivered if you're really pressed for time. Warning: delivery is a steep $40.
Buying a tree here will also make you feel charitable — Aunt Leah's works with at-risk youth, and was rated one of Charity Intelligence's Top Picks in 2012. Many people are morally opposed to fake trees, but students on a budget should consider them — they're festive, affordable, you can use them year after year and they're impossible to kill. If you decide to go this route, Michael's is an excellent choice. They have aisles and aisles filled with trees of all sizes. They usually have great holiday sales, so be sure to check the Michael's website for coupons.
Tree ornaments
Ornaments can easily be found at Michael's. They even come in mini sizes for your mini-tree! I recommend also picking up some wire, pipe cleaners or ornament hooks while you're there in order to hang them on the tree — you can also use dental floss if you're desperate. If you're really on a budget, you can make your own ornaments out of cardboard, tinfoil and whatever else you have lying around. A tree-topper can easily be made by taping or gluing whatever you want — a tinfoil star, a photo of yourself, the picture of the Big Mac, etc.
Other decorations
There's a good chance you already have twinkle lights in your room, but if you don't, rest assured they are plentiful this time of year. String them up near the top of the walls to give the illusion that your room isn't tiny. Smaller decorations can include ribbons tied around those twinkle lights for an extra-festive touch and some paper snowflakes made from course syllabi.
Finally, complete the scene with a virtual fireplace. Netflix has many options — Fireplace For Your Home, Fireplace For Your Home: Birchwood Edition, Slow TV: National Firewood Night and more. If you're using your laptop to study, Shaw offers a mobile version.