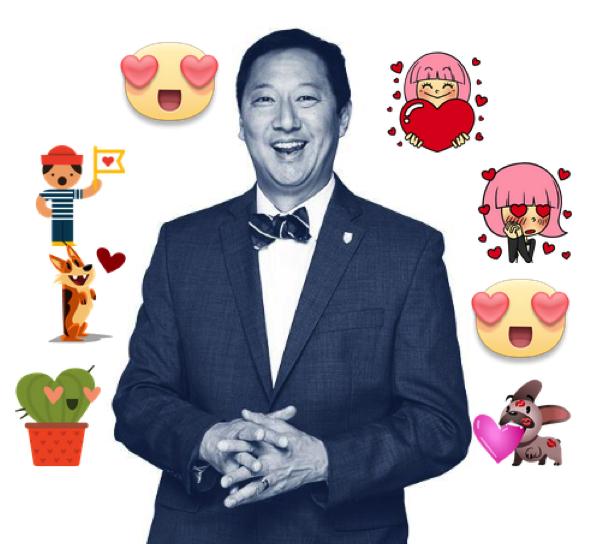 In his first year as president at UBC, Santa Ono has taken social media by storm. From Instagram to Twitter, Ono updates his pages dozens of times per day and has attracted quite a loyal following.
More recently, Ono has taken to YouTube to build his social media empire with a daily vlog and it is impossible to watch without smiling. It is clear to see how he engages with students and faculty across campus in a way that some may refer to as fatherly. With his selfies, background music and commentary, it is endearing to watch Ono discover UBC.
Here are five of my personal favourites of Ono's vlogs that make me wonder whether or not he actually has an office or if he just roams around all day trying to gain more online followers:
#5 "Asking UBC Okanagan students what they think about Tim Horton's Donuts"
There are no donuts featured in this vlog, but it will definitely leave you craving one.
#4 "Christmas Lights in Vancouver December 25, 2016"
This vlog looks like it was meant to be a photo and Ono moved the camera just a few centimetres for a whole minute to give viewers an in-depth view of one tree.
#3 "Coming home to YVR. Quite the nice transition from -20 in Montreal to +11. March 12, 2017"
Ono's job requires a lot of travel so he must spend a decent amount of time at the airport, but it doesn't stop him from appreciating the efficiency and beauty of YVR whenever he visits.
#2 "VLOG. Finally a day off! Sunshine and a walk to the beach. March 18, 2017"
Ono's music choice and commentary is definitely what made me smile initially, but it is his send-off, "peace out guys," that made this vlog so dad-like.
#1 "Dollorama Candy Section, Montreal"
Our president is the classic kid in a candy shop. If you get through this vlog without smiling, you are truly heartless.
You can watch the rest of Ono's vlogs here.