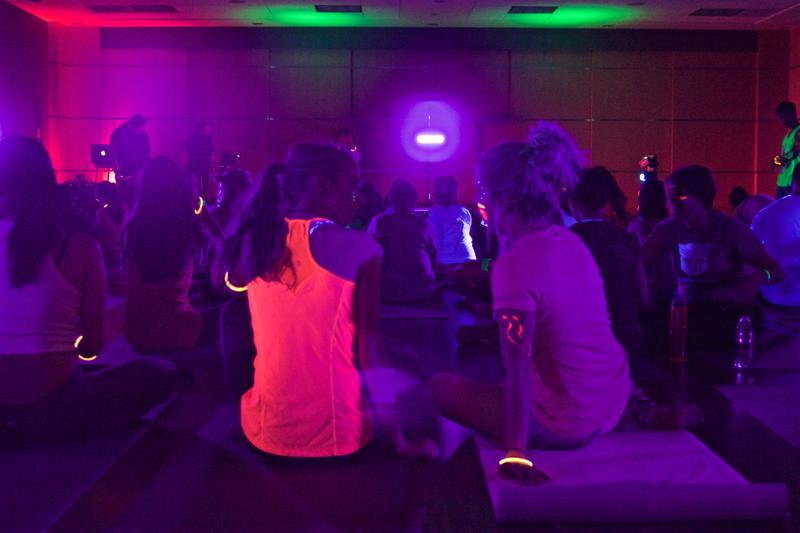 On February 3, UBC Recreation and the Live Active Outreach program put together a Yoga Rave in Walter Gage Residence. Campbell Drohan, student director of Live Active Outreach, pitched the idea to UBC Recreation in September of 2015 and has been organizing the event since.
"I have seen similar events happening all over Vancouver and I thought it would be an exciting and different activity to bring to UBC," said Drohan.
Around 200 students were lined up outside the Izzy Mac Ballroom to secure one of the 75 spots that the room can accommodate.
"People have been lining up since 4:30 p.m," added Drohan.
While students waited in line, dressed in their most colourful rave clothing, UBC Recreation staff and volunteers handed out glow sticks, as well as glow-in-the-dark body paint. The entire ballroom is pitch black with different coloured lights. But for the most part, the glow-in-the-dark aspect is what makes this class different than the average one.
Hanne Vieira, a Kundalini yoga instructor, led the class through the movements with DJ Gordon Patrick, a Rec member. Vieira teaches both yoga and Pilates in the Student Recreation Centre Wednesday through Friday.
"Not all of these students come to SRC yoga. With this event, we are focused on movement and energy. We want more people moving in a cool and fun way for the students," said Physical Activity Manager Suzanne Jolly.
Due to the success of the event, Jolly and Drohan are positive that this is going to become an annual event and are hoping to upgrade the size of location in the future so more people can attend.
Jolly also notes that the Rec volunteers were vital in planning and running the event and would like to extend a big "thank you" to all of them.
A previous version of this article incorrectly stated that Suzanne Jolly was director of live active outreach. The Ubyssey regrets this error.