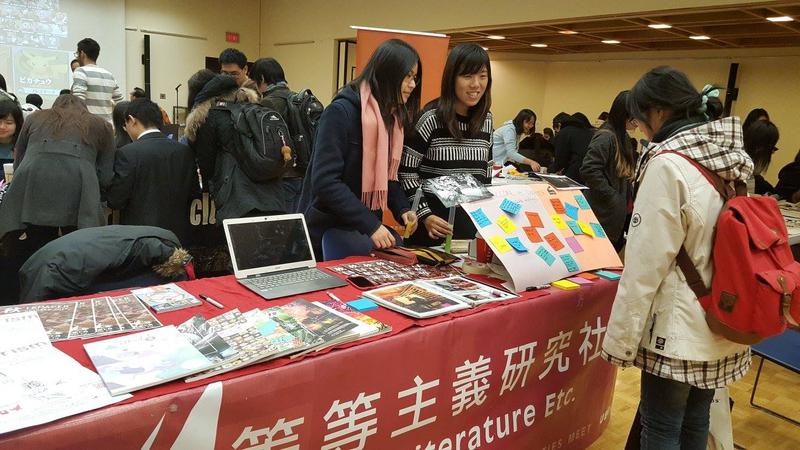 On Thursday, November 26, UBC's Asian Student Interest Association (ASIA) held their very first Asian Night Market event. The main focus was to bring various Asian clubs together, creating and collaborating with one another to set up different booths, enjoy some games and eat traditional Asian food.
"The event was inspired by our desire to showcase a multitude of different aspects of Asian cultures at the same time," said Milly Zhu, president of UBC ASIA. "We decided that the best way to do that was to host a large cultural event similar to the night market at Richmond with food and games."
In attendance were the UBC Kababayan Filipino Students' Association, the UBC Mahjong Club, UBC Literature, the UBC Formosa Reality Club, the UBC Origami Club, the UBC Japan Association, the UBC Calligraphy Club and the UBC Persian Club.
Each club had their own booth set up, ranging from sushi eating, to origami making, calligraphy crafting and more. The booths were set up in the Asian Centre Auditorium and were open to all club members and anyone who wanted to partake in the activities for only two dollars.
"We want to welcome a diverse group of people from campus," said Jennifer Ahn, treasurer of UBC ASIA. "Everyone promotes their clubs and it allows for networking."
Each club brought something unique to their region's culture. Around 150 people attended the event and members were interacting with each other at all the different booths. Among the most popular was the Super Smash Bros. tournament put on by the UBC Japanese Association.
"Our intention is to represent the video game side of Japan," said Brendan Ha, cultural executive of the UBC Japanese Association.
Taking a more educational route was the Persian Club, who were writing guests' names in Farsi for them and teaching them how to say simple phrases.
"Salam, man [insert name] hastam, chetori?" translates to, "Hi, my name is [insert name], how are you?" — a common Farsi expression being taught throughout the night by Hasti Amini and Roya Aminfard, volunteer and vice-president, respectively.
With about a dozen booths in total, the two-hour event passed quickly. "I am overwhelmed with the overall success of the event," added Zhu. "The UBC ASIA team worked around the clock to bring this event to life and so did all the collaborating clubs."
With such a successful first run, UBC ASIA is confident that this will expand over the next few years with more clubs and booths to become an annual event that everyone can enjoy.
Check out the club's Facebook gallery of the night here.