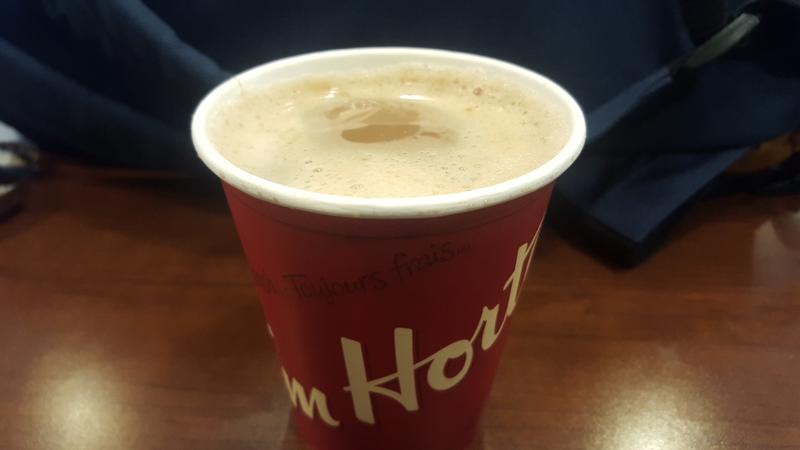 Reddit user neilrp's Q&A session on the UBC subreddit blew up yesterday — presumably because with a headline like "I work at Tim Hortons in the Forest Sciences Centre! AMA!" (AMA meaning "ask me anything"). Folks couldn't help but wonder what really goes on behind the counters of Canada's favourite donut shop.
How do I get you to like me?
Have your order ready when you approach the cashier. We don't want to stand around waiting for you to decide between a muffin or a doughnut.
Take your earphones out and listen for the order number. Seriously, yelling out the same order number over and over again sucks for everyone.
If you do these two simple things, you're a good guy in our books.
When is the best time to visit?
The night is definitely the best time to visit. Often, there's no line-up and we can really take the time to make your order the best that we can. Other than that, any time that ends with 30 is the best.
How fresh is the coffee?
The coffee is always fresh! We throw out coffee that's been sitting around, but we usually sell it before it comes time to toss it.
How much do you make?
I make $11.35/hr-ish
Will you take me on a coffee date?
I don't drink coffee and I don't want to make myself known on this sub! [Harsh.]
How's the ice coffee?
We no longer sell iced coffee :(
What are the customers like?
The customers are generally really nice! Some people take a little while to order, others don't take out their earphones, but I've never gotten yelled at before, which is AMAZING!
When will the card machine be fixed?
No plan on fixing it yet.
How are your doughnuts made?
Donuts come frozen and Tims bakers bake them then decorate them/put icing on. I used to do baking shifts at the Tim Hortons I worked at in high school. [Answer courtesy u/kitkatta, but neilrp agreed that this was correct.]
What is the job application process like?
UBC Food Service held a hiring fair in the summer (which I found out about from this sub actually), so I went and got hired on the spot. They didn't take a look at my resume or ask me any challenging interview questions. They also give out free drinks, chips and fruit to everyone who applies if you need extra incentive.