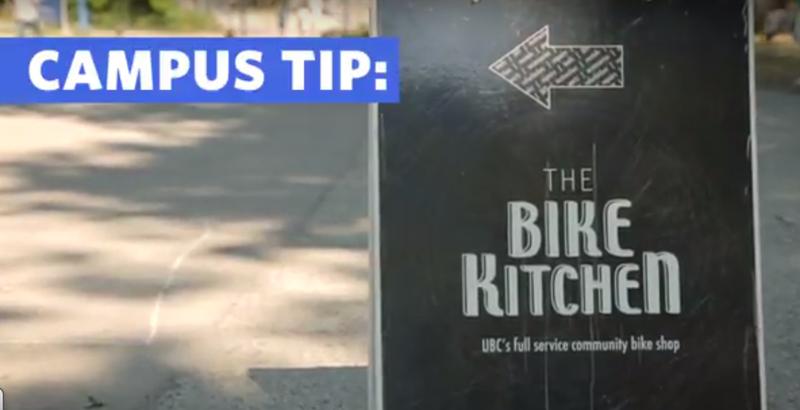 UBC's YouTube channel released 10 new videos today promoting campus tips for new incoming students. In short, one-minute or less videos, the topics range from food hacks to bike locks to quiet study spots.
When Ubyssey coordinating editor Jack Hauen first told me about these videos, he described them as "cheesy but helpful," which, I have to say, is spot-on. Admittedly, I'm going into my fourth and final year out here and even I learned a few things.
I attempted to add a tip of my own for each one. So whether you're going into first year or fifth, check out UBC's videos and my mediocre pointers below:
The Delly also has a Chef's Corner, which used to be "a brand new, reasonably-priced dish every day from 11 a.m. until it was gone," but unfortunately the gourmet creations ceased to exist at the beginning of 2017. However, due to a strongly-worded article written by our Culture editor, Sam, Chef's Corner is back. They seem to be putting it in on sporadically throughout the summer, but one can hope it will come back full-time come next week. If you ever happen to taste the tandoori chicken poutine, you owe Sam your soul.
I don't own a bike, I've just learned to become an expert speed walker, which is also free.
Take your student card to certain places near campus for discounts on food or invest $10 in an SPC card to get discounts at over 120 various retail stores.
To reiterate, learn to speed walk or accept that you will be late to back-to-back classes. Also, become a master in the art of dodging slow walkers or suffer the consequences.
On my very first day of university, I got turned around trying to find the Pharmacology building. Wayfinding at UBC is a great virtual map that will help you find any building on campus.
I had no idea this existed, but it is a great idea when you have an 8:30 a.m. exam and live two hours from campus. It's definitely a better idea than camping out at IKB.
You can download Office 365 here. Many different programs have free or cheap student trials. Especially when looking for internet or cable services, be sure to ask for the student discount — it can save you heaps of money each month.
People get really serious during exam season and half of the student body seems to move into IKB. It's kind of hard to find a seat if you arrive after 10 a.m. or so, but book a study room in advance and hold a study group session with friends.
You can also start your own student-run club with the AMS if you can't find something on campus that you're interested in. You can apply to start your own club here.
This little piece of plastic is just as important as a calculator in a math exam. Take it to each and every quiz, test and exam even if your professor doesn't tell you that you need it to hand in your final.
And for god's sake, don't do what our coordinating editor did and wear a white shirt and silver glasses in front of a white background unless you want to look like some sort of cyber ghost for the next four years.