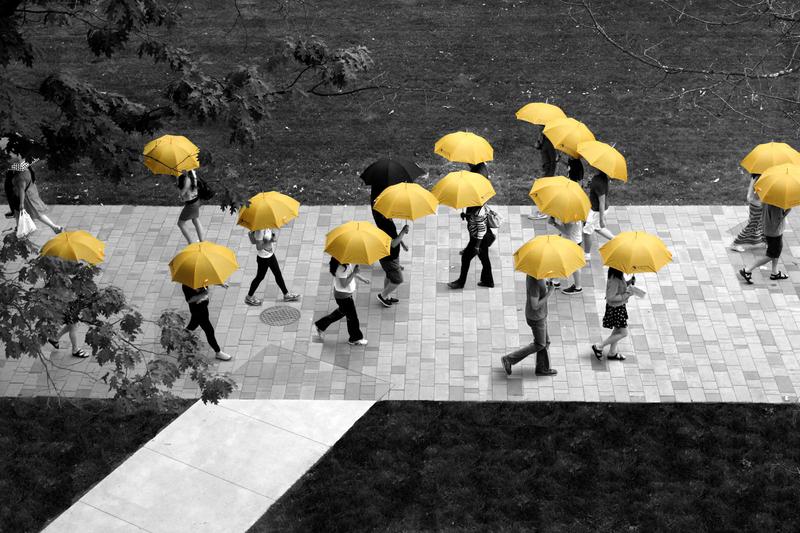 The winter season is fast approaching Vancouver — which means even more rain than usual. Endless clouds and the rise of Hunter boots trotting down Main Mall will be our backdrop.
An umbrella is an important part of the next few months, but the umbrella sharing program run by UmbraCity is here to save your life — or at least your day. Forgot your umbrella at home or lost in on the bus? No umbrella at all? The program positions itself as easy to use and surprisingly, it is. Just swing by one of four on campus locations and pick an umbrella up, then return it in 48 hours or less.
Signup
It would have been easier for me if I knew at all what I was signing up for. I just wanted to get an umbrella. But you do need a credit card and your student card. You can register online, which will make your first time at the kiosk much faster and easier. Just enter your email address, a four-digit pin, school and credit card info, and you're all set up.
There's no signup fee or charges on your card unless you keep the umbrella for longer than 48 hours, after which your card will be charged two dollars a day for 10 days or until you return it — whatever happens first. After 10 days, they assume they are never getting that umbrella back.
Getting your umbrella
Picking up and returning your umbrella is easy after you sign up. Simply select if you're dropping off or picking up and follow the on-screen directions. You'll need to swipe your student card in order to pick an umbrella up and hold the umbrella in a certain section of the kiosk for it to scan, but then you're on your way.
The umbrella itself
Actually, the best part about the whole thing is this umbrella. It's huge and beautiful. A yellow outside layer with a black liner — yes, it has a liner. This free umbrella is nicer than my own. This free umbrella can hold at least two different people under it. I'm actually a little in love with this umbrella. It is an impressive piece of machinery.
The only drawbacks of this umbrella are that there is no automatic pop up button and — in a catch 22 — it's big. I almost hit about seven people on the bus since I'm used to my small compressed umbrella — but if you're used to having one that big, then it won't be an issue.
All in all, UmbraCity has proven itself a decent addition to campus. It's innovative, convenient and it's good to see the AMS supporting it.