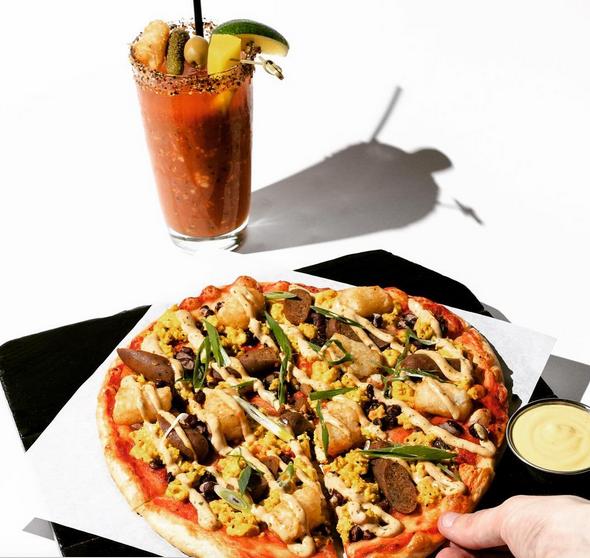 Sick of Mercante's and Pi R Squared? If yes, then you're in luck because a new pizza place is coming to UBC.
Virtuous Pie, the vegan pizza and ice cream restaurant located in Vancouver's Chinatown district, is opening a new location in Wesbrook Village at UBC.
According to the announcement on their website, their new location will feature seating for 60 people indoors, along with 40 additional seats outdoors on their patio. It will open this fall, just in time for classes to return.
Virtuous Pie is a plant-based restaurant that uses locally-sourced vegan ingredients in their handcrafted dishes. Their cheese is made with nut and soy-based ingredients, while their pizza dough is aged three days and hand-stretched. Their ice cream flavours look pretty interesting too — they range from "Coffee + Donuts" to "Hawaiian Vanilla" to "Turmeric + Black Pepper," which has got to be one of the strangest ice cream flavours I've ever heard of, but there's a 100 per cent chance I'm going to eat it anyways.
The official menu for their UBC location hasn't been released yet, but you can check out the full menu for their Chinatown location here.
In terms of cost, the pizzas range from $10 for the margherita to $13 for their more toppings-heavy pizzas, and they're all sized at 10 inches. In contrast, Mercante's pizzas range from $10 to $11 and their pizzas are sized at eight inches. So, like Mercante's, Virtuous Pie costs a pretty penny but you'll get more than enough food out of it.
That being said, if you're tired of all the food in the Nest — which you most certainly will be by midterm season — then the trek out to Wesbrook Village for something new could make for a pretty good treat.