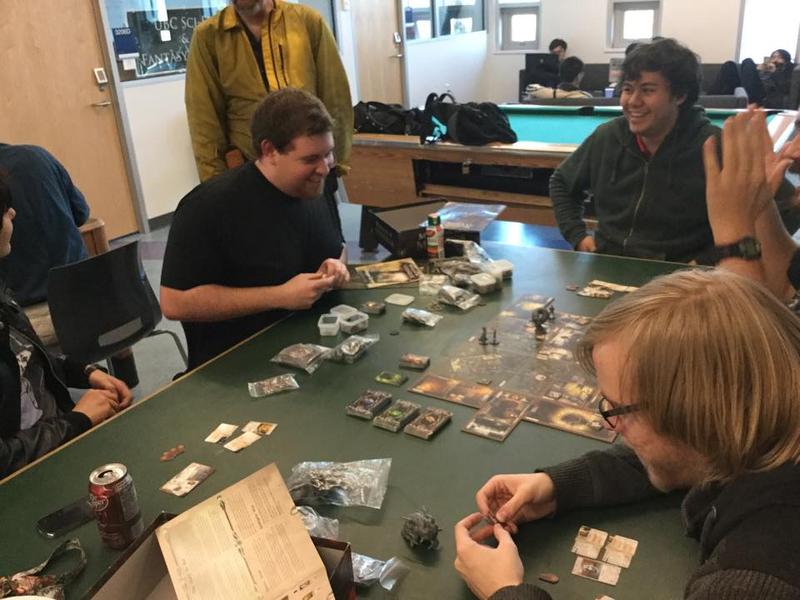 I walked into the new UBC Wargamers Society space in the new SUB for the Wednesday night board game session. Probably looking a little shy, I'm immediately greeted by someone asking me, "Hey! Are you looking to play a game?" My experience is a pretty good example of the club's welcoming "Games before Names" quality that President Mark Egelhoff described.
The club has a lot of games. A holy-shit amount of games. The club has so many games that they have a game librarian. The Wargamers Society started in the '60s and they have been collecting games ever since. What's great about this large collection is that there's going to be something for everybody. They have games that land on every part of the board game spectrum from mechanics heavy to theme heavy. This also includes RPGs like Dungeons and Dragons, Dread, and trading card games like Magic: The Gathering.
"We get that in Magic it's expensive to build up your own deck. So we have decks to lend out to people that want to learn how to play the game," said Egelhoff.
For the most part, it's a casual social club that wants to bring people together and just have a good time playing any and all games. Wargamers has about 40-50 active members that attend every week, but the club is also looking to expand and plan more events for its members this year other than the annual laser tag outing.
You want to play it? They probably have it. You want to learn how to play it? Someone will be happy to teach you. All you have to do is show up.