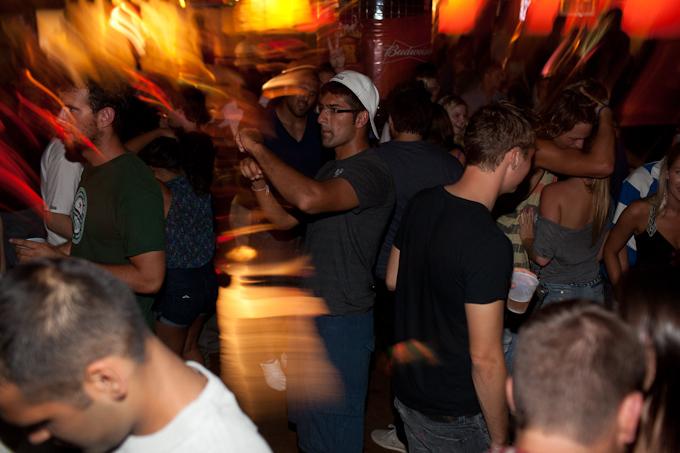 The first two weeks of classes got you down? Still adjusting after that long four-month summer? Looking for some ways to still have summer fun in the midst of stress and homework? Well, look no further than all of these fun events happening from September 4 - September 14.
Week 1
September 4
From September 4 to September 7 at noon, bring your dancin' feet over to listen to Vancouver's own musicians do their thing in front of The Nest. Or in the case that you don't feel like dancing, you can rather listen while you eat lunch instead.
September 5
Start off every weekday from September 5 to September 14 brew-tifully with a free cup of coffee. So begin this year the same as you finished last year — heavily caffeinated.
Grab a group of 2-4 friends and test your knowledge of the UBC campus with this crazy, UBC oriented scavenger hunt.
Is that Britney Spears? Or is it just your past self? Bring out your inner Avril Lavigne at the first Pit Night of the school year. 2000's Music. Cheap Drinks. Let's go.
September 6
Test our your green thumb and plant yourself at this Adopt-A-Plant event! Create a DIY terrarium that you will hopefully not kill in the first two weeks.
Paint your friends, paint yourself, paint strangers and get drenched in color at this pigmented first week event.
Dance the night away with this Toronto based DJ-Producer. He's sure to keep you up and moving as you listen to top 40 songs like "Easy Go."
September 7
There are dogs on campus, and it's for a good cause. Need I say more?
T.G.I.F - Thank Gosh It's Firstweek!
First friday of the new school year, don't sit alone in your bedroom in front of Netflix! Instead, come out to the TGIF party and kick off your first weekend right. There will be busses picking you up in front of the nest at 9:30 and 9:45!
Week 2
September 10
iHop over to the nest in front of Honor Roll today and tomorrow to enjoy a free pancake breakfast.
Stretch out your legs at these free yoga classes to avoid the inevitable cramps you will get from sitting at a desk for the next 8 months. This event is happening on September 10, 11, and 13th!
Head out to these sexual assault awareness and support workshops happening today and tomorrow at 5 pm at the Nest Performance Theatre. It's a great resource for you know you're informed and supported by your AMS Sexual Assault Support Centre.
September 11
Bring out your inner Bob Ross with this relaxing 19+ event. Wine not drink and paint a little bit?
September 12
Learn to impress that special someone with your sweet dance moves taught to you by the UBC Latin Dance Club. Bring your dancin' shoes and learn some smooth moves!
From 9 pm to midnight, get back in the swim of things at the UBC First Week Pool Party at the UBC Aquatic Centre. Make sure to be ready for all the "obstacle courses, inflatables and lots of water" that this night will bring.
A Canadian singer and a Canadian school, what more do you need? The Pit Pub promises to either "have you crying over your ex or ready to dance the night away with [Drake's] best music!"
September 13
Laugh the pain of the impending stress away with UBC's very own improv team. This event starts at 7 pm at Orchard commons, so bring your friends, bring your roommates, bring your floor mates and bring yourself to this laugh-filled event.
We all have questions that need answering. So who better to answer those questions than VICE, AMS's own group dedicated to helping students "find their balance with drugs, alcohol, and tech, through education, group sessions and one-on-one support"?
September 14
The Annual AMS BBQ, with a 19+ Beer Garden, six hours of music, great BBQ food (who doesn't love BBQ?), game booths and "5000 of your closest friends!" Come out and celebrate the end of a great first two weeks of classes, and prepare yourself for the many other more stressful weeks to come!
Have a safe, fun filled, first two weeks!