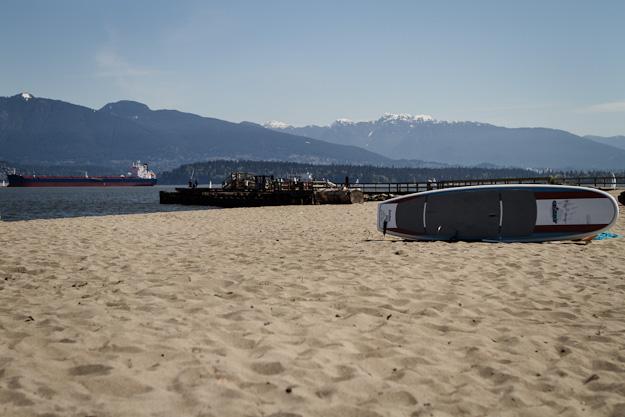 Picnics are undoubtedly one of my favorite parts of summer. Friends, food and great weather — what more could you ask for?
When Wreck Beach is your backyard, there is always an excuse to rally the troops and race down the steps to relish the return of summer.
In an effort to elevate my picnic experience, I scoured the internet for some delicious and easy — emphasis on easy — picnic recipes.
Mediterranean Layer Dip
A fun take on the classic seven-layered bean dip, this no-hassle recipe, courtesy of Ricardo Magazine, is destined to be a crowd-pleaser:
Ingredients:
Avocado yogurt
1 ripe avocado, halved
1 tablespoon lemon juice
3/4 cup Greek yogurt
2 tablespoons fresh chives, chopped
1 small clove garlic, finely chopped
1/4 teaspoon ground cumin
Salt and pepper
Garnish:
1 cup hummus
1 cup diced cucumber
1 tomato seeded and diced
1/2 cup crumbled feta cheese
2 tablespoons chopped black olives
How to make it: Prepare the avocado yogurt by mashing together avocado and lemon juice with a fork. Add remaining ingredients and stir to combine. Season with salt and pepper. Set aside. Assemble the layered dip in a large serving dish. First, spread the hummus and sprinkle with cucumber. Cover with avocado yogurt and garnish with chopped tomato, feta and olives. Cover and refrigerate until ready to serve with your favourite pita or tortilla chips!
Caprese Sandwich
A nod to the beloved caprese salad — this sandwich is unanimous picnic favourite amongst seasoned chefs and home-cooks alike.
Ingredients:
1 fresh large baguette
1/4 cup basil pesto
1 pound fresh mozzarella cheese (equivalent to one package)
4 large, ripe tomatoes, cut into ¼ inch thick slices
8-10 slices turkey breast (optional)1 cup fresh basil leaves
How to make it: Slice bread horizontally. Spread both sides with pesto. Layer half the mozzarella, turkey, tomato and basil on one side. Then repeat the process with the remaining ingredients. If you prefer a warm sandwich, heat the oven to 350ºF and wrap the sandwich in tin foil, before baking it for about 15 minutes or until the cheese has melted. Finally cut the sandwich and wrap them in parchment paper to keep them fresh.
No Cook Lentil and Beet Salad
Grab your can opener and make this healthy, vibrant salad in no time at all. The recipe below brought to you by lifestyle blogger Emily Schuman.
Ingredients:
2 cans of cooked lentils
1 pack of cooked, whole beets
2 packs of cherry tomatoes
1 bundle of parsley
Feta cheese
Olive oil
Red wine vinegar
Salt and pepper
How to make it: Strain and rinse lentils, add to a large bowl. Chop beets and tomatoes into bite sized pieces, finely chop parsley, crumble feta and add everything to the bowl of lentils. Make a basic vinaigrette by drizzling 3/4 cup of oil and 1/4 cup red wine vinegar on top of salad. Toss to mix and season with salt and pepper to taste. You can eat it right away or put it in the fridge for 30-45 minutes to allow the flavours to combine.
Chocolate Stuffed Strawberries
Who doesn't love the classic Nutella and strawberries combo? This simple dessert is sure to satisfy your sweet tooth!
Ingredients:
13-14 hulled strawberries
1/2 cup of Nutella
How to make it: Carefully scoop out the top of the strawberry to create a 1-inch thick mould for the chocolate. Fill your Ziploc bag or pipping bag with Nutella and begin filling the strawberries. Place in the refrigerator for at least 15 minutes or until the chocolate hardens — tip: use an egg-carton to help these sweet treats cool upright in the fridge.