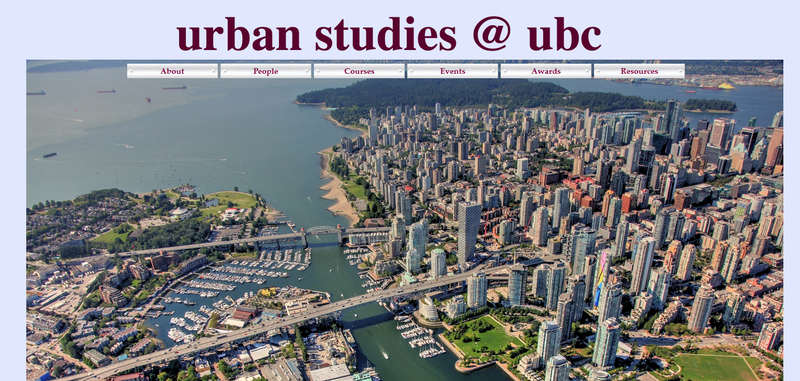 It is 2020: the future. We have state-of-the-art technology in all of our classrooms and sleek website design has been established across the campus. So why does the UBC Urban Studies website look like it was made in two hours in 2003?
The official website for the Urban Studies program here at UBC may be a welcome piece of nostalgia for older internet-goers, but for most of us it is a horrific, dated eyesore that evokes the ear-piercing sound of a dial-up connection.
The website is splattered with unedited, uncropped photos of Vancouver and other miscellaneous cityscapes. Quotes related to the discipline are randomly placed on the too-wide-for-some-screens website with oscillating font sizes in horribly unreadable colours. The eight colours on the home page all vie for your attention, which makes the entire page hurt your eyes, brain and soul. There are images of UBC devoid of context.
If you dare to click one of the metallic-designed headers on the top of the home page, it will open an equally ugly page that doesn't allow you return to the previous home page.
One of the most offensive pages is the "People" page, which has images of professors and students with neon-blue-on-black-text clickable overlays that are bordered with pink.
This website breaks so many cardinal rules of design that it needs an expert to dissect its horrors. Unfortunately, I am not an expert in design, so I asked The Ubyssey's very own design expert, Visuals Editor Lua Presidio, what she thought of the page.
"Why is everything such a different colour and different font?" asked Presidio in stunned confusion. "You should only use three different fonts for anything you do."
She also pointed at how you can obviously tell where the limits and parameters of the HTML were set. "If I can make out that they have this limit in their code, it's probably not a good code."
There came a point where all she could do was scroll and point at things on the page and ask "Why?"
"Why are you blocking things off? Why are these words bigger than everything else? Why is everything such a different colour and such a different font?
"This looks like someone's first website ever and they're just trying out code."
In summation, all Presidio had to say was "What the fuck?"
Why is a pertinent question. Why would a major department at one of Canada's top schools have a website that looks so ugly? It's not like this site has fallen by the wayside, it has been updated in the last two years.
The UBC department of urban studies is perfectly comfortable allowing this to be their face to the world, which is concerning in all too many ways.