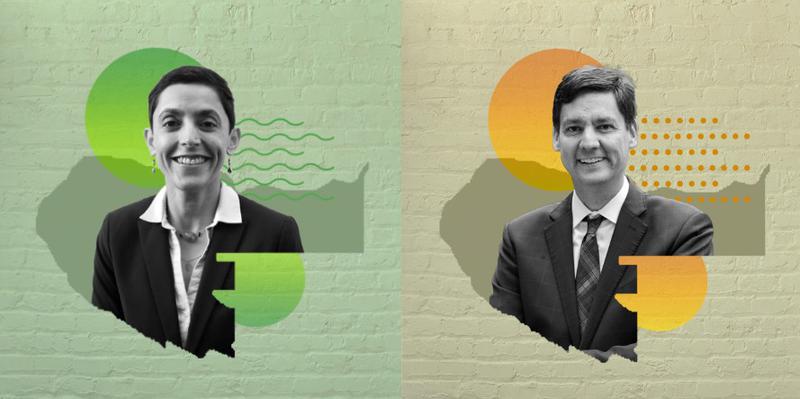 On Wednesday, the AMS and Graduate Student Society hosted a debate between the candidates for MLA running in the Vancouver-Point Grey riding, which UBC is part of. Moderated by our coordinating editor, Pawan Minhas, the night was full of talk between NDP incumbent David Eby and Green candidate Devyani Singh about the environment, policing and housing, and absent was the BC Liberal candidate, Mark Bowen.
But instead of taking a partisan approach to determining the winners and losers of this debate, I'm going to focus on the real winners and losers of this debate.
Winner: Ambience
Singh had very nice plants behind her and a bicycle as well, setting a very cool and green backdrop for her end of the debate. Eby's background featured the sun shining so hard through his window he had to move the camera, which revealed a microwave that later went off. Very good vibes from both candidates' respective debate rooms. Also, moderator Pawan Minhas was using a virtual background of The Ubyssey's office, which is always nice to think about when we're all stuck at home.
Loser: My attention span
I cannot stress how many times I spaced out staring at the screen and forgot what the topic was. I guess this is life now?
Winner: Agreeing on things
Both candidates in attendance agreed on a whole lot. Oftentimes it felt like during the open debate period they used that time to say extremely similar things about their platforms.
Loser: The Zoom Q&A feature
I only saw one person publicly ask a question in that feature, and it was about where Mark Bowen was. People sometimes asked questions in the general chat, which is not what the chat is for. The lonely Q&A feature went neglected despite numerous reminders to the chat from Ubyssey news editor Andrew Ha and that makes me sad.
Winner: The 'future voter' in the background of David Eby's audio
There was the voice of a child yelling in the background whenever Eby spoke, and he referred to them as a "future voter." I wanna hear what this kid has to say!