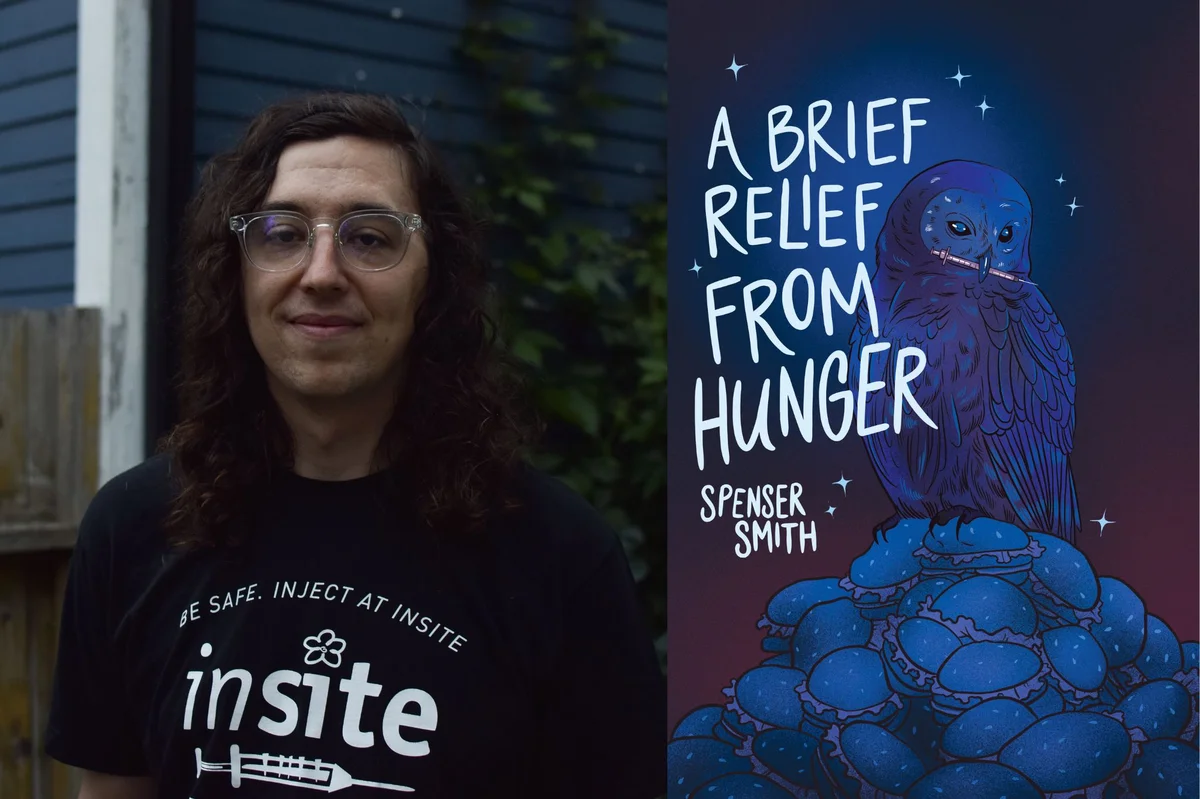 UBC MFA alumnus Spenser Smith invites readers to reflect on British Columbia's toxic drug supply crisis in his new poetry book A Brief Relief from Hunger.
He begins by painting the picture of a childhood in Regina, Saskatchewan, working for his father's roofing company in "Hundreds of Men: A case study."
"He employed a lot of different men… so they were always around me. Going into manhood, I had a lot of different models on what it means to be a man," said Smith.
Because he was surrounded by a more traditional view of masculinity, Smith always felt slightly out of place. He describes "Craving men, unshaven men, men who can't fend, tender men, men who rate women 1 to 10."
Combined with memories of a childhood in Regina are more recent excerpts detailing Smith's struggle with substance abuse. He eloquently weaves together anecdotes from his childhood, vivid imagery of his grandmother making cabbage rolls and his IV drug use.
Smith's writing is a testament to how media misconstrues the lives of drug users, showing that people are more than their addiction. Each moment is a part of his story and has its own right to be told.
"It's not all using under a bridge or in an alley … There is a whole life people are living, I want to explore that and show that."
"I want people to have a piece of literature that represents some of their experiences, especially in the context of the toxic drug crisis in BC. A lot of the stories [currently] surrounding that are not from people who have experienced it."
Many of Smith's poems quote and respond to comments left on CBC News articles regarding homelessness, overdoses and the toxic drug supply crisis — "Eventually the problem should fix itself," a Facebook user writes.
"I felt, to some degree, just hurt by reading these comments. Especially in the context that I was in at the time, being pretty new into recovery and having a lot of people in my life who were [also] trying to recover from addiction. These were really good, lovable people that were supporting me, and I just knew that their lives are worth so much more dignity and respect."
He does not limit his work to personal accounts — he draws connections between his life and the societal issues that surround him, demanding more from those with the most power to create change.
"Small deaths'' is a poem that cleverly points out Vancouver's inaction towards the toxic drug supply crisis, highlighting the casual nature in which the city addresses it. Overdose resulting in death ultimately gets categorized into yet another statistic, minimizing life to a numeric value. Their deaths are viewed as "small," — grieved less than others because of the cause.
"If drug users were listened to, especially in the context of the current crisis, we would have policies in place that respond in more prompt and effective ways."