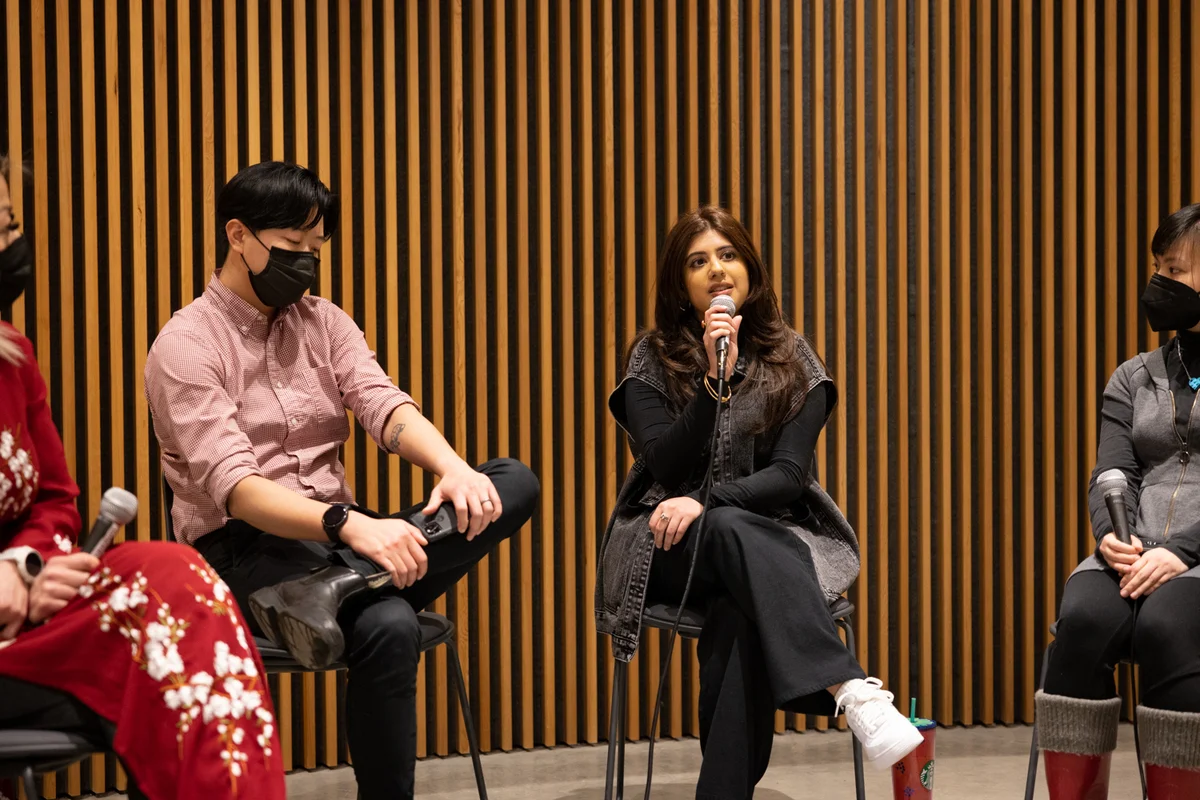 The hua foundation, a Chinatown-based organization that supports local Asian diasporic youth, and UBC's Asian Canadian and Asian Migration Studies (ACAM) program jointly hosted an event titled "Translator Kids" on January 12. It centred on the role that diasporic children often play as translators on behalf of their parents and community.
Translation can be heavy and even traumatic emotional labour that children are often not fully prepared to perform. Despite their superior language skills and cultural understanding, translator kids often lack understanding of the unspoken rules of adult communication, which can lead to misunderstandings, stress and social consequences.
Part dialogue and part workshop, the event featured a moderated panel discussion between three translator kids, who, growing up, were relied upon by their family and wider community to translate between English and their mother tongues. This extended not only to mundane tasks, but to situations as high-stakes and technically challenging as writing resumes and filling out hospital forms — sometimes before they were even teenagers.
Journalist Kaitlyn Fung (​​馮嘉欣) moderated the talk. The panellists consisted of Harpo, a second-generation Punjabi immigrant and director of 5X Fest, a "Surrey"-based organization centred on uplifting South Asian diasporic voices, Brooke Xiang (向伊凡), a self-described "one-and-a-half-generation" Han Chinese immigrant and Anna Nguyen, a Vietnamese researcher.
Since the event's content centred on how public life is so often inaccessible to immigrants and minority cultures, it is fitting that the organizers took clear steps to ensure that the event itself was accessible. They provided face masks, streamed over Zoom, pointed towards the closest gender-neutral washroom and defined the event space as a "fluid space" where attendees were free to non-disruptively satisfy their needs.
Hua foundation staff member Christina Lee (李嘉明) provided the introductory land acknowledgement n both Cantonese and English. This gesture recognized the long history of diasporic Cantonese people in the lands known now as the Lower Mainland and the unique struggles they have faced as immigrants, but simultaneously acknowledged their complicity in settler-colonialism.
The talk's captivating storytelling and sharp, thoughtful analysis invited participants to explore the nuances of diasporic experiences. The panellists exposed personal stories of trying to navigate unfamiliar and complex systems of power, which are so often hostile to those who look and talk like their families do.
Harpo relayed the experience of parentification, a term used to describe situations where children must fulfil responsibilities that their parents are unwilling or, in the case of translator kids, genuinely unable to perform.
Many of the panellists remembered being described as "mature for their age." Though such comments were intended as compliments, they now see how this instead reflected how the lack of immigrant support services and other hardships forced them to grow up too fast — often leaving them struggling to relate to their peers due to the weight of the burdens they had to carry.
At the same time, the panellists were not afraid to use humour in their storytelling, with Nguyen remarking at one point that "you have to be willing to laugh at yourself" when reflecting on past hardships.
Some panellists described how the role of the translator kid can help erode the traditional cisheteropatriarchal power dynamics of the "family" as understood in the West, and many non-Western cultures as well. The role of translator can give children an agency and connection to their parents as peers that they often lack.
More than anything else, the experience of being a translator kid gave them a chance to more profoundly connect with and advocate for their family and even their wider diasporic community.
"Being able to speak is a very powerful thing," said Xiang.
Nguyen reflected both on her own experience as a translator kid, and on her polyglot father's multilingual advocacy for the rest of their family, which had fled Vietnam, when they lived in a refugee camp in the Philippines after first staying in Hong Kong. She spoke of the "radical and profound love that I feel when I am able to convey in my own tongue to my people who are important to me."
I myself would not consider myself to have been a translator kid, yet hearing the panellists' experiences made me see in a new light the occasional moments when I was relied upon — in generally lower-stakes situations — to provide translation. My experiences do not fall neatly into that of an immigrant or member of the diaspora, yet the discussion nonetheless helped me reach a new understanding of our shared experiences of constant negotiation between multiple cultures.
At one point I was moved to tears as Nguyen's words on the power of language, recalling both the ways that language allowed me to better connect with my family and heritage, and the ways in which has at other times created frustrating and even heartbreaking barriers to this connection. More than anything else, though, it was their compelling storytelling and knack for identifying and powerfully conveying the burdens and boons of being a translator kid that enabled me to empathize deeply with the experiences they shared.
Professor JP Catungal, who works with the ACAM program and Institute for Gender, Race, Sexuality and Social Justice, provided concluding remarks. Drawing on the panel discussion as well as his own research and lived experience as a translator kid himself, he discussed how the work of translating "never ends." Through this, he critiques notions of childhood by recognizing the "child as a relationality rather than a demographic" and that children are often denied the innocence that Western culture associates with them. Ultimately, he describes the work of translator kids as something which is "political, radical and life-giving."
The final send off of the event was an invitation for reflection addressed to the attendees: "Because you attended today, what changes tomorrow?"