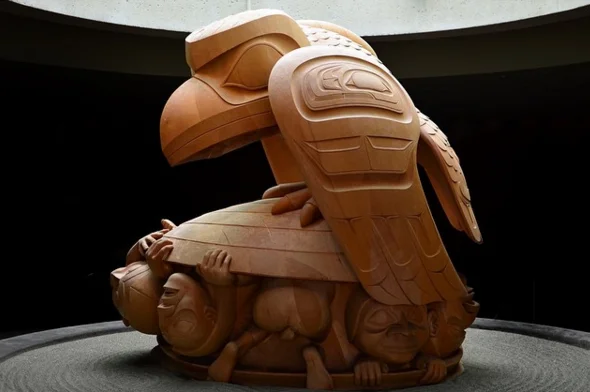 The third instalment of the collected series surrounding Bill Reid and his works have just been published by Douglas and McIntyre with an introduction by Martine J. Reid.
Martine Reid came from France to UBC for her doctoral degree in anthropology. She has curated several exhibitions in Spain and all over Canada, but perhaps her most significant works relate to her late husband, Bill Reid. 
She was married to Bill Reid for nearly 23 years, during which most of his famous works had been made. She has recently selected some of the works that would best showcase Bill Reid's experiential journey and discovery of his heritage to include in her book.
Bill Reid was of dual origin — his father was an American and his mother was of Haida descent. However, Bill Reid's mother raised her children to recognize themselves as white Western Canadians, withholding their Haida heritage from them. It was only at age 23 that Bill Reid was able to visit Haida Gwaii to discover his aboriginal roots and meet his grandfather. 
Bill Reid was described as a good orator and he worked for CBC radio before his interests shifted to goldsmith and jewelry techniques. Inspired by the bracelet his grandfather crafted for his mother and relatives, Bill Reid sought to incorporate his Haida culture into his works.
Before Bill Reid started crafting his sculptures and jewelry, he underwent extensive research about Haida art through museum collections and reading myths. However, there was not enough information about Haida and its art since most colonial forces have diluted the art.
Bill Reid has created close to 2,000 pieces of art, all recognized to be beautifully crafted and culturally significant. Martine Reid has described the book to chronologically present the evolution of Bill Reid's art. 
"The three phases, from the way I see it, include the pre-Haida phase, the Haida phase and the Beyond Haida phase," she said. 
The pre-Haida phase encompasses the time Bill Reid learned jewelry trade, how to solve design problems and most of the foundations for techniques. The second phase — Haida phase — spans through 20 years of Bill Reid's life wherein he came back to Vancouver with the intention of incorporating Haida art. 
He was also invited to design and build the Haida Village located at the UBC Museum of Anthropology. By the end of this second phase, Bill Reid was able to master most of the techniques to produce small and large pieces of art. In the last phase — Beyond Haida — the selected pieces included in the book demonstrate his mastery and full understanding of Haida art and the full bloom of his rekindled relationship with his Haida culture. 
"The Spirit of Haida Gwaii, the Black Canoe, the Killer Whale, these mythic message in this period represents the blossoming of his career," said Martine Reid. 
Perhaps the greatest accomplishment Bill Reid has achieved through his life's work was bringing back the standard and honouring the works of his ancestors by melding Western modernist conventions with Haida conventions, resulting in the harmonious blending of both that really characterizes his work.
The book launch will take place as a free public event at the Bill Reid Gallery of Northwest Coast Art on April 14, 2016.