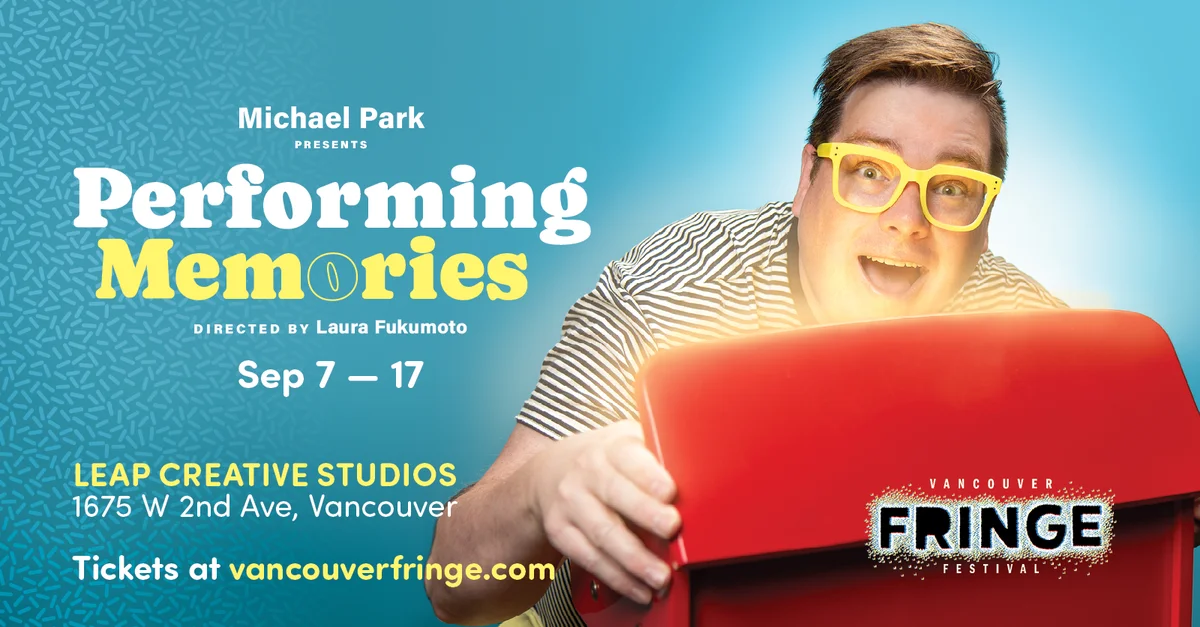 From their seat at the piano bench, musician Michael Park excavates memories they thought they'd forgot through family secrets they were never supposed to know.
Performing Memories is one of the plays in this year's Vancouver Fringe Festival lineup, directed by Laura Fukumoto and written and performed by UBC Doctor of Musical Arts alum Michael Park. The play follows Park on a journey of looking back on childhood memories.
A collection of vignettes, Performing Memories recounts seven instances in Park's childhood when they sought to uncover others' secrets — peeking inside pianos, jewelry boxes, side tables — then ultimately arrived at a point where they uncovered a secret of their own.
The set is minimal — aside from the piano, there are items to mimic Park's parents' bedroom. Although there are just a few props, the lighting and music shift in ambiance to suit each of the seven stories.
Recounting moments of curiosity, sadness and self-realization, the play is not simply Park retelling their life, but a form of uncovering the truth about themself through addressing suppressed memories.
Park describes the show as a form of self-exploration, as they've been on a "therapy journey over the last decade, and a lot of it sort of worked towards that cheesy moment of the first time I looked inside myself."
In this way, the play becomes an avenue for Park to look back on significant moments of their childhood, some of which had been actively forgotten — and explore what pushed them to neglect these memories in the first place.
"For me, I've always had a bad memory," they said. "But there's also an element of [living] with diabetes and growing up Queer, there's childhood trauma, and that affects how we actually build and access our memories."
Park combines this exploration of their childhood memories with the piano and conducts the play as a speaking pianist.
"It's a style that I've been working on a lot in the last five years, and I really found my voice through playing and storytelling together," they said.
Park chose specific inspirations and created original songs that related to a moment in time or person in their life.
"There's Music Box Dancer [which] is a favourite tune that my mom absolutely loves. That is basically the soundtrack of one of the movements where I opened her jewelry box. It's a sound-alike, so I've taken the idea of that piece and created my own version."
The music in the play contains countless references, allowing those in the audience who are familiar to stroll through the memories together. Park also put together an Easter Egg Hunt for the musical references in the show!
Performing Memories is a play that will encourage those witnessing it to embrace every aspect of their being — especially the aspects of ourselves that could have once been shunned by others.