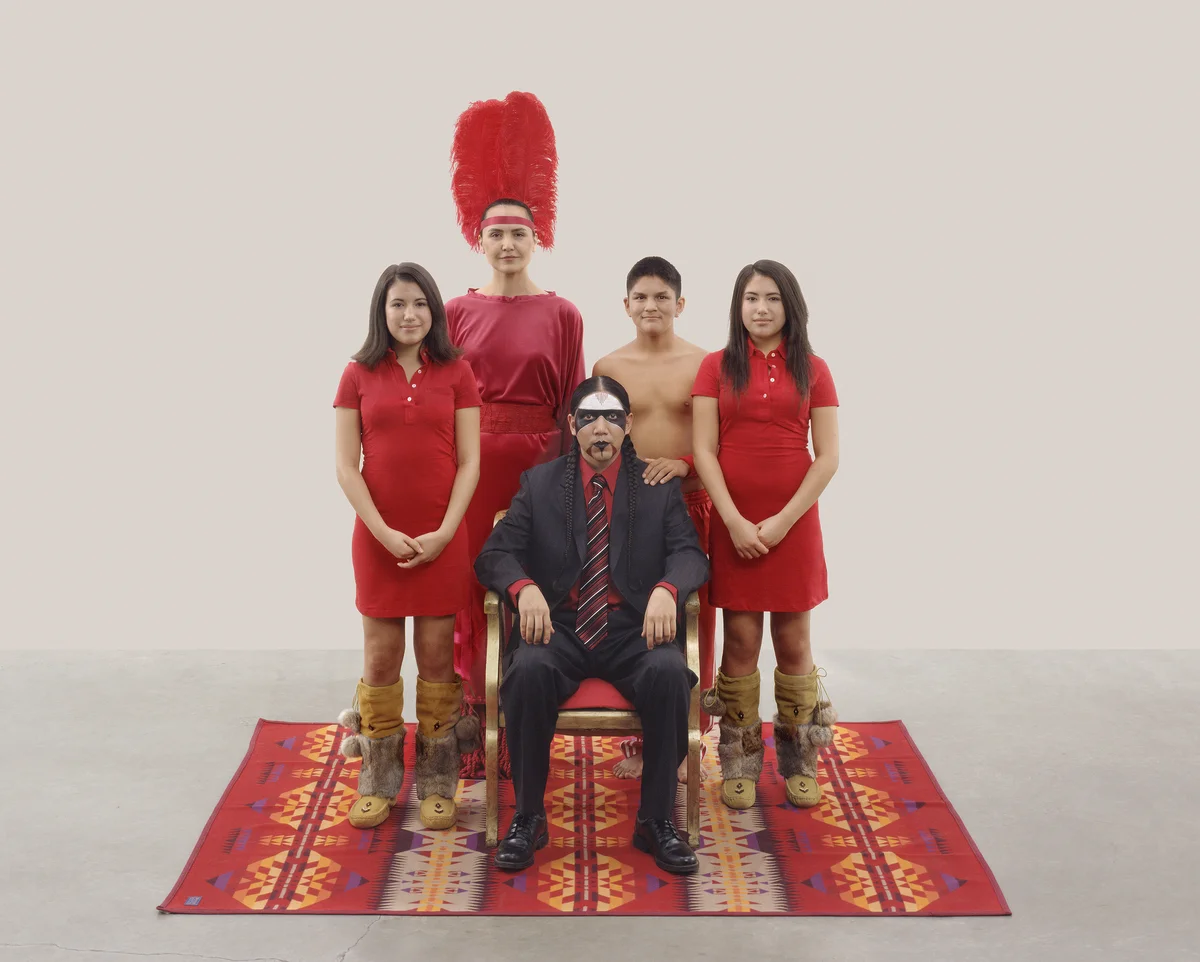 On a winter weekend, the first floor of the Vancouver Art Gallery is crowded with attendees enjoying Guo Pei's fashion exhibit. However, a walk up one flight of the gallery's marble steps leads viewers to a different world, far beyond the glittering display of pearls and opulence below.
Dana Claxton's Fringing the Cube is a wide-ranging collection that is more about thinking than seeing. Here, the ancient is nestled neatly alongside the modern, the straightforward borders the cryptic and the end result is something that is not only a display of Indigeneity, but also a cross-section of the artist who arranged it.
Claxton is a filmmaker, photographer and performance artist, and is currently on sabbatical from her position as an associate professor in the department of art history, visual art and theory at UBC. She is Hunkpapa Lakota, a descendent of Sitting Bull's followers who settled in southern Saskatchewan after the Battle of Little Bighorn in 1876.
This collection represents almost 30 years of her work, but not in a chronological order. It is an exhibit that is best wandered through, stopping whenever curiosity demands.
Some exhibits need more time, like Buffalo Bone China — a video installation with historic footage of wild bison is shown alongside a broken pile of china and interspersed with an Indigenous man sitting at an empty dinner table. NDN Ironworkers is equally literal and curious, showing proud Indigenous men standing in full ironworking gear, members of a proud legacy of tradespeople.
Not all pieces give their meaning this easily, with parts of the exhibit having no description or written reasoning.
When asked about why certain works are given detailed explanations and others are left bare, Claxton said that, "Art should always be open-ended. Even though artists go into it with some intentions, it's also really the magic and spirit of art-making [where] something happens."
This makes certain pieces challenging — you will either understand their aim, or you won't. Indian Candy is an example of this, featuring bright candy coloured portraits of wild buffalo, Geronimo and a warrant letter to arrest Sitting Bull. From afar, it just seems to be a collision between pop art and Indigenous symbols. To Claxton, it is a method of confronting negative portrayals of Indigenous people and icons, where every image was found by her launching a Google search for "Wild West." These candy-coloured pieces are meant to symbolize the consumption of certain stereotypes of Indigenous people that are more than relevant today.
A room dedicated to the American Indian Movement (AIM) adds a degree of shock value to the experience. Blown up images of government documents about AIM — who would go on to be referred to as "the shock troops of Indian sovereignty" — take up massive swaths of the wall. These images, with lines of text redacted and notes scrawled on the pages, tell a detailed story about a group that went far enough to be labelled "extremist" by the FBI in the 1970s.
"Part of my attention was really about aestheticizing a liberation movement," Claxton explained. "They were continuing to have autonomy, saying 'This is enough, you're not going to treat us like this.'"
Claxton's work is challenging and emotive. Every new piece asks a different question, and most portraits seem to stare powerfully into the viewer. And for every Buffalo Bone China, there is an Indian Candy — something deeply metaphorical that may not have its meaning explained in the gallery guide. It should stay this way.