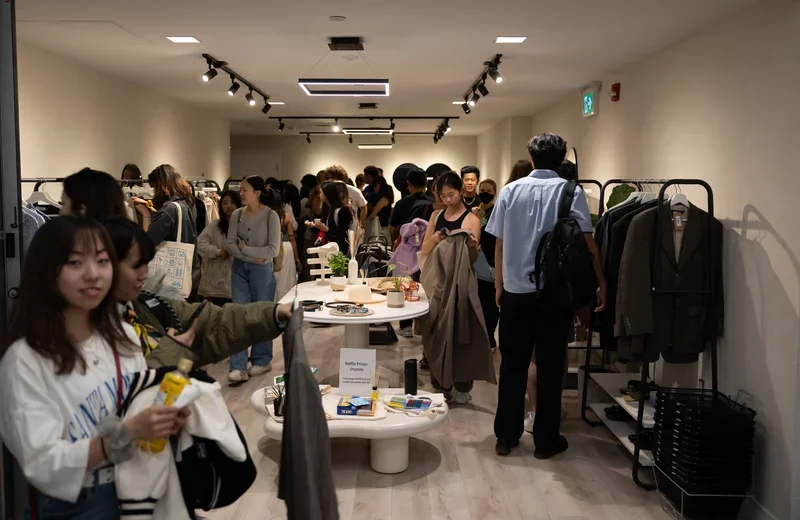 After three years of closures, renovations and negotiations, Get Thrifty is finally back and better than ever.
Located in the basement of the Life building, Get Thrifty is a curated thrift store designed and run by students, for students. The store is organized into three main sections — consignment items inside the store, donated items on rolling racks and free items in boxes.
In 2017, UBC School of Architecture and Landscape Architecture graduate and Get Thrifty founder Rain Chen was chatting about an empty Nest office space with a friend when she hatched her first visions for the store.
Chen had previously noted the lack of a thrift store on the UBC Vancouver campus despite its thriving secondhand economy, particularly through Facebook.
"UBC Secondhand, UBC Buy and Sell, UBC Textbooks — [they] all already exist, yet UBC doesn't have its own thrift store," said Chen. "[There is] no physical manifestation of such an economy, and I always found it really odd, because there's such a massive interest in it."
"We have the free store, all these clubs that do clothing swaps, but no one pushed it further."
Merging her interest in design and sustainability, Chen set out to create the first ever student-run thrift store at UBC. However, shortly after, she met her first roadblock after having her sixty-page thrift store proposal "ghosted" by the AMS.
Instead, Chen partnered up with the former Life Building manager and got herself a deal. The building manager agreed to lend her an office space as storage on the condition that Get Thrifty held a pop-up once a month. Chen agreed, and Get Thrifty officially launched.
Garnering massive support from the student body, Chen began looking into permanent options for the shop. In 2019, she decided to run a referendum called the Thrift Store Fund.
"We asked every single student in UBC if they would be willing to contribute 95 cents a year to the establishment of a permanent and physical thrift store," said Chen. "We passed with overwhelming support. I think the quorum was 4,000, and we had 7,000 votes. We gained effectively $50,000–$60,000 of funding per year."
After receiving the funding, Chen and her team began designing, building and knocking down walls. Drills ready and hammers in hand, Chen worked tirelessly to make her dreams come to life.
"I designed everything from scratch, I physically came in — drills and everything — to build out the space. It's really close to heart," said Chen.
Following several months of renovation, Get Thrifty opened in 2020. It was an instant success, but the shop had to close indefinitely due to the pandemic just three weeks later.
"I got really worried. I was like, 'I'm afraid people are going to forget Get Thrifty. We're going to lose all that momentum,'" said Chen.
In order to keep Get Thrifty alive and relevant, Chen and her team decided to open an online store where they uploaded all their products. On top of digitizing their store, they also began expanding and developing their professional relationships with external sponsors and vendors, with particular emphasis on promoting local businesses.
"They can make pottery, artists and crafts, soaps — whatever it is, they just have to be local and try to be as sustainable as possible," said Chen.
After a wildly successful reopening last Friday, Chen continues to encourage students to stop by and visit, volunteer or donate.
"We encourage people of all ages, genders, shapes and sizes, ethnicities, backgrounds to come and donate to us … [You can] get some awesome clothes, and make sure your clothes get a new life and go to someone else."