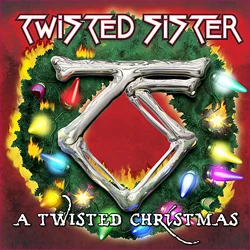 To get your exam-riddled brains full of the holiday spirit, The Ubyssey is prescribing a healthy, 12-day course of ridiculous music reviews. Enjoy, you poor souls!
I truly do feel that Christmas is the softest holiday. The whole yuletide season needs to harden the fuck up. There needs to be an injection of brash, youthful angst into the oppressive Christmas season — starting with the boring, old carol songbook. I'm tired of Bing Crosby, I'm sick of Bublé and I've had enough of Mariah Carey. There is one thing I want this Christmas — I wanna rock.
With their 2006 album, A Twisted Christmas, heavy metal band Twisted Sister has given Christmas music a necessary jolt. The album takes carols out of the antiquated 1950s into the out-of-date 1980s. You know that song "We're Not Gonna Take It"? Now imagine it exactly the same, but with the words to "O Come All Ye Faithful," complete with Dee Snider's signature growl. You've just imagined how gnarly this entire album is.
A Twisted Christmas is the album your drunk, leather jacket-wearing, chain-smoking uncle has been waiting for. The 80s hair metal icons perform songs about Santa Claus in a way you'd expect to see them back in the smoke-filled Whiskey a Go Go, or last fall at your local casino. Almost every track on the album is simply a heavy-metal rendition of everyone's Christmas favourites, whether "White Christmas" or "Silver Bells." But before the album is through, we are given a perfect rendition of "The 12 Days of Christmas," dubbed "My Heavy Metal Christmas." The many things gifted by Snider's true love include metal essentials — two pairs of spandex pants, four quarts of Jack, guitars tuned to 11 and of course, a tattoo of Ozzy.
The last-released recording by Twisted Sister proves to be their finest. Is there a bolder move than releasing an album pioneering not only hair metal, but Christmas carols as well? A bold move made bolder by releasing into the bleak, George W. Bush world of 2006. With A Twisted Christmas, Twisted Sister proves that they're not gonna take the same tired, old Christmas anymore.
I award 10 cans of hairspray out of 10 to the best goddamn Christmas album of all time.