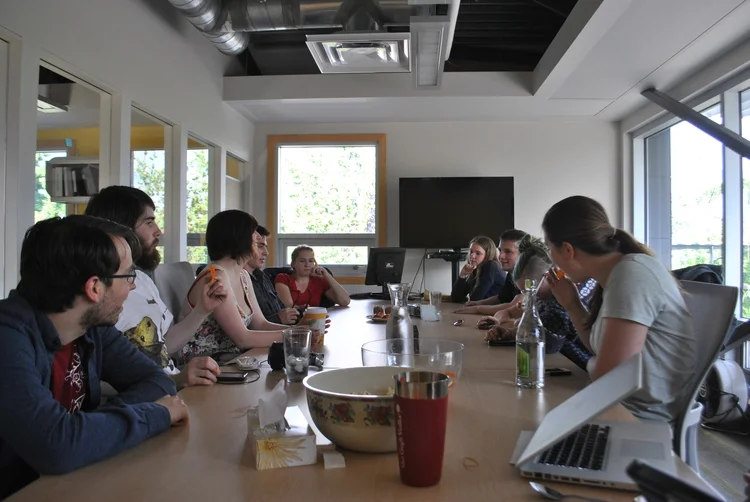 A group of youth in East Van is up to something — they call themselves The Panel.
IGNITE! Youth Panel invites young Vancouverites age 13-24 to join their Monday night meetings in the heart of East Vancouver. Located in the Cultch theatre, the motivated youth gather weekly to share their ideas and get a hands-on opportunity to produce the next annual IGNITE! Youth Arts Festival in May 2016.
"I love that we don't turn anyone away, we're super inclusive," said Anna Matthew, a fourth-year panel member. "It's an amazing group of youth."
The Panel takes charge in every aspect of the IGNITE! festival from the administrative duties such as budget drafting, sponsorship, marketing; to auditions, programming and designs. This season's panel meetings have begun in October. However, any youth between the ages of 13-24 can still join at any point throughout the year.
For Julien Buffavand, a fourth-year UBC student in the Department of Film and Theatre on his first year of exchange from France, this is the perfect opportunity to get involved in the cultural scene outside of UBC and meet people with different backgrounds and profiles.
"It's really about being curious," said Buffavand after reflecting on his experience with the panel this year so far. He believes that the panel allows youth to "show what you can do out of others' creativity … and what you think is worth telling people or showing onstage."
Panel members have the opportunity to take on a wide range of positions during the actual festival as well, particularly in the technical aspect. Matthew mentioned that the technicians in the performance venue become mentors during the festival where they spend a day walking the enthusiastic youth through the process of managing a technical rehearsal and running the show.
"And then [the technicians] would help us if anything like really, really messes up," said Matthew.
In addition to the youth panel, they are also calling for artists and performers of all genres to audition in February for their annual festival. The youth-driven, youth-oriented arts festival has taken place annually at the Cultch's historic theatre in spring and, for the first time last year, in the newly built York Theatre.
"We will shape the festival around the artists who perform. You can do whatever you want and then we will – if we think that you are good enough – find a spot for you in the festival," said Matthew.
"If you have something very different that you show, you don't have to be scared [that] it would be too weird or different," added Buffavand. "It's really about bringing something special and showing what you can do … what you can bring."
A "once in a lifetime experience," auditions take place on February 20 and 21 at the Cultch and may be extended to accommodate all auditionees. 
Interested performers can email auditions@igniteyouthfest.ca or submission@igniteyouthfest.ca for visual arts and film submissions. For information or inquiries about joining the youth panel, email info@igniteyouthfest.ca or visit their website.