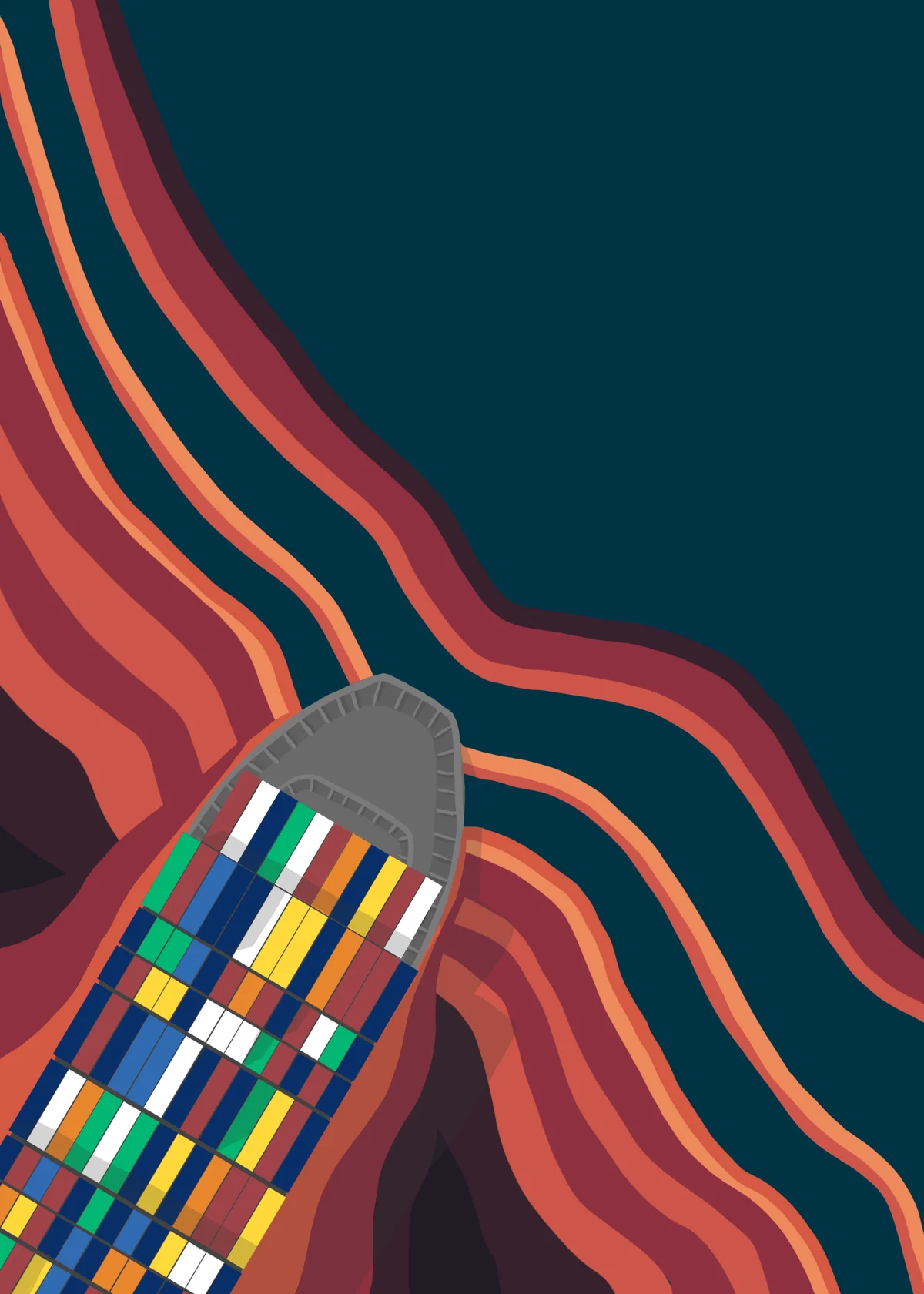 Temi Onifade didn't plan on being an environmental lawyer. But as he looked around Benin City, Nigeria, all he could see were injustices rooted in climate inaction.
"In a place like Nigeria, where the most vulnerable should be the ones that should have access to [sustainable development] resources, they do not have that access," said Onifade.
Onifade, a current Allard Law fellow, came to Canada in 2014 looking to learn more about climate policy and find opportunities to put climate justice into action.
"I want to be part of that change however I can," he said. "I'm not sure I have enough power, but the little that I have: my voice, my writings, my advocacy, I'd be happy to contribute."
But despite his connections to Canada — he applied for dual citizenship in 2020 — Onifade wants to do right by the nation that taught him the importance of climate justice.
Onifade grew up in southwest Nigeria's Oyo state, over 200 km away from Benin City.
Benin City sits along the Niger River Delta, which hosts oil extraction operations from multinational corporations like Shell, ExxonMobil and Chevron, among others.
But the oil industry, while an economic boon to some, has been detrimental to communities across the Niger Delta.
Oil spills taint drinking water and riverbeds. Fumes from fires and chemical-laden sludge endanger neighbors young and old.
All the while, multinational corporations continue to defer responsibility for their Nigerian subsidiaries and investors continue to reap profits.
Investors that include UBC's $1.99 billion endowment.
UBC is invested in ExxonMobil, Chevron, Royal Dutch Shell PLC, Eni Spa and Total SE which are all Fossil Fuel companies operating in the Niger Delta.
"There are so many other investors, but UBC being a leader or claiming to be a leader in climate action, should lead by example, right?" said Onifade.
UBC has said it will divest from fossil fuels by 2030. But what does that actually mean for students, communities and our climate?
Divestment at UBC
Since Onifade came to UBC in 2017, movements towards endowment divestment have gained significant traction.
The endowment, which provides funding for faculties, scholarships and campus facilities, is invested in a broad range of assets. The UBC Investment Management Trust (IMANT) splits UBC's billions between dozens of investment funds who pick and choose stocks, bonds and other investments on its behalf.
The Board of Governors (BoG) first rejected divestment in 2016. Members cited fiduciary duty — the need for investments to be profitable and financially secure — to donors and the university.
Instead, BoG created the fossil-fuel-free Sustainable Future Pool, which held $36 million as of March 2021.
Student pressure pushed BoG to endorse partial divestment in November 2019 and full divestment by 2030 three months later.
But even with Board approval and the legal go-ahead, it's taking time to actually divest.
In December 2020, IMANT announced that $34 million of the endowment had been moved to fossil-fuel-free funds. This past March, it committed to moving an additional $110 million of its total assets — which includes the endowment and staff pension fund — away from fossil fuels.
And while it has yet to discuss it publicly, IMANT told The Ubyssey in a written statement on August 9 that it intends to commit another $85 million towards a "Paris Aligned" investment that has more stringent requirements for lowering carbon emissions.
Currently, investments in fossil fuel companies and fossil-fuel-free funds are about even. The $110 million commitment was equivalent to around 2.6 per cent of IMANT's portfolio in March 2021, while an additional $85 million would be around 2 per cent. In contrast, fossil fuel extraction and distribution firms made up around 2.2 per cent of the endowment as of June 2020 and 2.5 per cent of the staff pension fund as of December 2020.
However, divestment hasn't always seemed certain.
In April, Vice-President of Finance and Operations Peter Smailes proposed eliminating the Sustainable Future Pool, citing high management costs. The BoG is slated to vote on this on September 8.
The idea comes as the Main Endowment Pool continues to invest tens of millions of dollars in fossil fuel companies, without a publicly-available plan for full divestment or public accountability for bad actors.
"UBC set itself a deadline of 2030 to fully divest — which is too late," said Anna Brookes, a coordinator at Climate Justice UBC. "UBC isn't really powerful when it sits on a board and tells people to do better, it's powerful when it uses its gravitas as a university to withdraw support from the fossil fuel industry."
Brookes pointed to Concordia University and the University of Guelph, who have committed to divesting from fossil fuels by 2025.
Groups also remain critical of the ethical and environmental impacts of UBC's investments.
"Really, what UBC is talking about is profit," said Britt Runeckles, fellow coordinator at Climate Justice UBC. "They want to make profit at the expense of marginalized people and the people that are most at risk [from] climate change's impacts."
To divest or not to divest?
Werner Antweiler, an environmental economics professor at the Sauder School of Business, thinks across-the-board fossil fuel divestment won't work because it doesn't hurt companies' bottom lines.
"It would take pretty much a concerted effort from everyone around the world to not invest in these companies," said Antweiler.
James K. Rowe, a professor of environmental studies at the University of Victoria, thinks divestment has its merits, financially and politically.
"The more that reputable institutions like universities, churches and pension funds divest, not only does that have some financial impact on the industry, it also just sends a signal that the population has grown tired of the antics of this industry," said Rowe.
Antweiler says divestment doesn't impact state-subsidized oil and gas firms but would penalize some companies who've already started funding renewable energy projects. He gave the example of Enbridge, a natural gas company based out of Calgary.
"Enbridge … is very much invested in fossil fuel activities and pipelines, but they're also invested in renewable energies and [wind farms]," he said. "If you divest from them, you divest from both."
Rowe noted that at Enbridge, renewable energy is only 7 per cent of its current business and 12 per cent of its future efforts. More than 65 per cent of Enbridge's future funding supports the expansion of its controversial Line 3 oil pipeline.
"We've got this 10-year window to avoid 1.5°C warming, and I think that necessitates a much more direct strategy than engagement at this point," Rowe said.
According to Antweiler, pushing politicians to place an adequate price on carbon emissions and impose stronger regulations — like the European Union's proposed carbon rules — would be more effective than divestment.
Fossil fuel companies may also overlook front-line communities, especially in developing countries.
Onifade explained how lobbyists in Nigeria watered down a long-awaited oil regulation law. Among these lobbyists were the Royal Dutch Shell Plc which UBC is invested in. Under the law, fossil fuel companies must use part of their profits to fund community needs like clean water, electricity and education.
"The allocation is 3 per cent, but [Southern Nigerians] were asking for 10 per cent," said Onifade. "It doesn't even meet them in the middle."
Antweiler is cautiously optimistic that investors and consumers will show that social and environmental issues matter to them. He thinks as "fossil fuel companies" transition to "energy companies," public pressure could force them to clean up their acts.
"For some companies who are really not willing to move, maybe divestment is sending them the right message at least in a sort of symbolic way," Antweiler said. "But [with] other groups we have to be more careful, because they may be part of the solution."
What does it mean to 'invest responsibly'?
In July 2020, IMANT signed on to the United Nations Principles for Responsible Investing (UNPRI). Since then, IMANT says it has been assessing investments for environmental, social and governance (ESG) factors, which include everything from pollution to labour standards to executive compensation.
IMANT's Responsible Investing Strategy was established in September 2020, and it committed to annually disclosing its publicly-held stocks last December. In July 2020, it released its first endowment carbon footprint report.
But Onifade worries that the focus on reducing carbon emissions forgets the other effects of environmental injustice, like the ones taking place in the Niger Delta.
Beyond destroying marine ecosystems, oil extraction and spills in the Niger Delta are stripping farmers and fishermen of their livelihoods. They also expose residents to a higher risk of developing diseases like cancer, diabetes, Alzheimer's and Parkinson's, while contributing to neonatal mortality rates twice the national average. UBC is invested in multiple companies extracting oil from Nigeria including ExxonMobil who was responsible for one million gallons of oil being spilled into the Niger Delta in 2010.
"Emissions reductions don't necessarily mean you're taking into account the impact on people," Onifade said.
Avocates add that emissions reduction targets are often incomplete. SFU350 co-president Abby Herd told The Ubyssey in a written statement that most targets don't account for scope 3 emissions — carbon released when we drive, fly, or dump trash into landfills. If neither fossil fuel producers nor consumers count their carbon emissions, climate advocates say there's no accountability.
What's more, fossil fuel companies may underestimate their carbon footprints. One recent study showed that fossil gas fracking in BC may release double the methane emissions than expected.
IMANT's portfolios are weighted more heavily towards the energy utilities that extract and distribute fossil fuels. Despite their flaws, these investments are often kept for their stable financial returns.
"I think the issue is really around there's no accepted methodology for collecting scope three emissions data, so that's where it becomes very difficult," said UBC Treasurer Yale Loh.
Transparency and community engagement loom large in climate advocates' minds
While UBC announced the beginnings of a renewable energy research hub and a Centre for Climate Justice, observers still don't know how its financial commitments are playing out.
Late last year, IMANT created an "ESG Scorecard" for fund managers — the firms that manage UBC's investments — to assess ESG performance. But despite Board member requests, the scorecard has yet to be made public.
"A draft of the Responsible Investing Scorecard was shared with the Board of Governors in February 2021," IMANT wrote.
Student BoG member Max Holmes called the draft "promising," but wants IMANT to consult with students and other community members.
"The very principles of responsible investing and ESG would tell us that we should be as transparent and open as possible with all of our investment strategies and tools," Holmes told The Ubyssey in a written statement.
In June, IMANT CEO Dawn Jia gave BoG a "Responsible Investing Roadmap" with IMANT's next steps. Unlike what's listed, the Active Ownership Policy is still being drafted; it's set to be presented to BoG on September 8.
The policy will detail IMANT's approach to proxy voting, where investors ask fund managers to vote on company boards and proposals on their behalf.
"Insights into the proxy voting reporting we receive from our public equity managers will be included in the Responsible Investing Scorecard provided to [BoG]," IMANT wrote.
Votes like these could reveal more about the political influence of fossil fuel companies in places like the Niger Delta.
"We genuinely just don't know [how IMANT is doing]," said Brookes. "Because we don't know what their ESG scorecard is, what their climate risk assessment measures are, what their active ownership guidelines are and who their [fund] managers are. So we kind of have no idea how much climate justice as a principle is showing up in any of those things."
Loh said that Smailes and IMANT are currently consulting on campus and outside experts about responsible investing.
However, that's left less time for student consultation.
"Now that we're more into [implementing] the carbon emissions and divestment aspects, we've been really focused on that, and we haven't really had any additional student-involved focus groups," said Loh.
Loh acknowledged calls for transparency from IMANT and the VP Finance Office. Loh and Jia have committed to quarterly updates before BoG.
Nonetheless, Loh noted that IMANT's first UNPRI report — which will provide more details on carbon reduction and advocacy efforts — won't be publicly released until next year.
"To be honest, it's not that we're trying to hide anything by not releasing [things]," Loh said, claiming that it's common practice to privately consult with UNPRI's accounting consultants before releasing an institution's first report.
In the meantime, climate advocates, the VP Finance Office and IMANT will challenge each other on how the divestment process should play out.
Climate Justice UBC told The Ubyssey that IMANT stopped disclosing the endowment's fund managers late last year. The group pointed to UVIC's and SFU's trusts, who disclose their managers and proxy voting policies.
The VP Finance Office claimed that managers asked IMANT to take the information down, citing 'competitive disadvantages.'
"If they are looking at our website saying 'Hey yeah, I can see what's in your investment pool' … we're giving away information to competitors," said Loh.
Although the fund managers for the $110 million commitment and Sustainable Future Pool are public, IMANT wouldn't disclose the manager of the $34 million investment.
Meanwhile, students like Onifade have no direct way to raise concerns regarding environmental destruction and potential human rights abuses within UBC's investments.
"Practically speaking, I'm not sure that there is a mechanism that exists for [students to raise concerns]," said Loh.
Loh claimed even if BoG raised concerns about a specific company, it might be difficult to convince every fund manager to take action. But as fund managers for the University of Toronto and the University of Victoria have confronted companies on their ethically questionable acts, there may be room ahead for future advocacy.
Climate action begins — and ends — with people
After a summer of historic heat waves, worsening wildfires and ongoing tensions over old-growth forests — climate action is on the minds of many.
But to groups who are disproportionately affected by extreme heat, out-of-control blazes and conflicts over land and resource management, calls for climate action have resonated much longer.
"There is a long list of vulnerable people in that category, including Indigenous peoples in Canada and internationally, children, the elderly and workers," said Onifade.
UBC's Climate Emergency Declaration acknowledged that climate change — in the form of rising heat, natural disasters, disease, famine and mass migration — will exacerbate existing inequities. However, acknowledging a problem isn't the same as addressing it.
While Onifade thinks the Climate Action Plan 2020 (CAP 2020) was a step in the right direction, he believes it lacked emphasis on equity, affordability and justice. He's hoping that the upcoming Climate Action Plan 2030 fills that gap.
"[CAP 2020] focuses mostly on technologies and economic strategies including energy efficiency — reducing emissions from old and new buildings — as well as vehicles and other sources of emissions," Onifade said.
"The emphasis is not on the people."
On occasion, UBC has engaged with climate-vulnerable communities when discussing sustainability.
But despite charters and coalitions urging "collective action" to address climate change, community members want to know how UBC's financial organizations will support the people who are most impacted by it.
Details remain scarce for now. IMANT's roadmap appears to place climate justice in the nondescript category of "Other Social and Governance Targets" slated for 2022.
Loh agrees that all stakeholders should have a seat at the table.
Climate Justice UBC says it wants to help, but it still doesn't know if past recommendations were heard. The group pointed to the Climate Emergency Task Force (CETF) report, which BoG endorsed in February.
"I think of UNDRIP [UN Declaration on the Rights of Indigenous Peoples] in particular that UBC prided itself on being the first North American university to sign on to [it]," said Climate Justice UBC coordinator Runeckles. "Yet in its current process of divestment, UBC is still investing in [companies] that harm Indigenous people."
Onifade thinks that UBC should advocate for climate justice beyond Canada's borders. His foray into environmental law began when he represented renewable energy entrepreneurs in southwestern Nigeria but couldn't find government organizations or companies who would invest in them.
"We know Nigeria is a resource[-reliant] country, and [I thought] getting incentives for renewables should be easy," said Onifade. "But even with the few incentives that we had, big corporations had more access to them."
Onifade still wants immediate divestment from fossil fuels, but he thinks that capitalist power structures have put UBC in a bind.
For now, Onifade suggests three "low-hanging fruit" for the university to pursue while committing to divestment.
First, Onifade wants universities to approach climate change as an intersectional issue.
According to Onifade, UBC could improve climate research by having its research ethics boards consider climate justice and potential impacts on Indigenous and climate-vulnerable communities. Researchers in fields ranging from environmental policy and earth sciences to business, forestry and mining would be asked how their projects minimize potential harm and benefit climate-impacted peoples.
"That would show that those researchers respect communities and respond to important climate justice concerns," Onifade said.
Second, Onifade wants the university to expand technical resources available to students, faculty and community groups on-and-off-campus.
Ideally, UBC would build connections with climate-vulnerable communities around the world for cooperative research. He suggested connecting efforts like the Sustainability Scholars Program with interdisciplinary groups like the Liu Institute Network for Africa to share knowledge and better understand regional issues.
Third, Onifade wants the university to bolster funding opportunities for student projects and volunteers in climate justice and equity efforts.
Loh acknowledged that despite best efforts, climate-related initiatives on campus may face inconsistent flows of funding from year to year.
"Largely, the reason we've had to cobble together one-time funding is that we've had to cobble together funding from somewhere else in the university to try and do that," Loh said.
And while Onifade knows that the "economics" of funding certain climate justice projects may be a tough sell, he says it's well worth the social, cultural, environmental and health benefits shared by the entire community.
"Some climate justice projects may not necessarily [profit monetarily] because the values and lessons of climate justice are bringing an additional lens to cover other values that are not prioritized by, say, technology or economics," he said.
All in all, Onifade wants those bracing for the brunt of climate change's impacts to not just have a voice, but have the means to create change — for the world, and for themselves.
"Some people would argue that it's just environmental injustice ... but this is what drew me to the justice part of climate policy. The Niger Delta's [story] also has to do with justice."
Britt Runeckles is a member of the Ubyssey Publishing Society's Board of Directors. The Board of Directors does not have editorial influence on the contents of the publication.