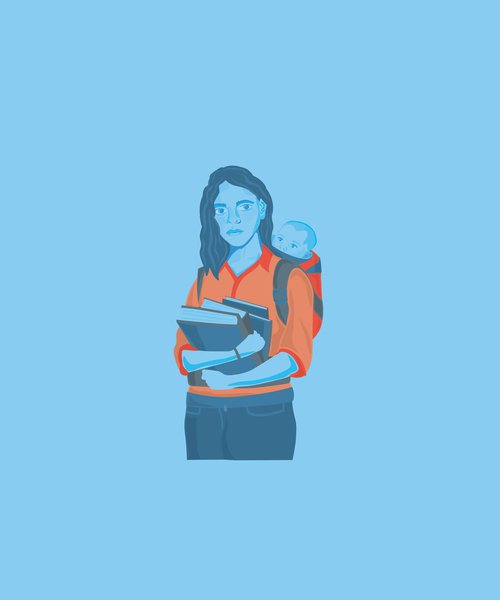 For Maxine Jackson, a fourth-year English literature and creative writing student and mother to a newborn daughter, one of the biggest challenges she faced upon returning to campus was finding on-campus breastfeeding spaces.
Sprawled across the university and often not open late at night, the spaces became a challenge to maneuver and soon an outright frustration.
Some consisted of hallways with doors propped open or multipurpose rooms used only on occasion. Others were bathrooms with walls to stand behind, giving a small semblance of privacy. One of the sticking points for Jackson was the absence of chairs in many of them.
"[With] a lot of the spaces I have had to resort to pumping on the bathroom floor or in public, so people are walking by or laughing," she said.
Breast-pumping in a sanitary space is crucial for health reasons and doing so in the bathroom often meant Jackson could not use the milk at all.
"The fact that it's super unhygienic means I can't give it to my daughter. I can't give the milk to my daughter after I pump, so I'm just throwing it away," she said.
Estefanía Alejandra Milla-Moreno, a forestry PhD candidate and student-parent, said she's helped direct breastfeeding mothers to her faculty building's breastfeeding space, which can be difficult to find.
"I've seen breastfeeding mothers and I direct them to that room, but at the same time, I feel that I don't want to make them feel that they have to hide," she said.
On a campus of over 54,000 students, UBC's student-parents make up a relatively small group of people. But despite their small number, the experience of every parent is unique.
Balancing being a university student and parent means they have to search out resources that are usually created with another experience or type of person in mind — breastfeeding spaces being one of them.
According to Michelle Berner, a managing director with UBC Human Resources (HR), the decentralized structure of the university means most breastfeeding-friendly spaces are developed by faculties or departments on an as-needed basis, usually for faculty or staff.
"When people come [to HR] with questions we encourage them to have a conversation with their facility manager in the case of faculty and staff, or their administrator from their department. And then for students, it would be more their faculty advisors," Berner explained.
"And so it's quite need-specific, and then they would try to understand what the person's requirement is, where they're situated and then make a branch locally."
According to UBC HR's website, private breastfeeding spaces should be equipped with a chair, a garbage can and electrical outlets. Other 'semi-private' spaces are not designed as single-user spaces but are supposed to have similar amenities.
"But it's not a comprehensive list because we don't know what all of the arrangements are in the various departments and faculties because they're quite local," Berner said.
But breastfeeding spaces are just one drop in an ocean of challenges student-parents must maneuver. With the demands of parenthood and academia coming together all at once, some expressed a struggle to find people with similar experiences as their own.
Finding community
For some student-parents, having peers with similar grievances is important for building support networks, but establishing those relationships proved challenging. The sheer amount of people on campus can make finding a community hard, especially in a group with so few members.
"One thing about being a student-parent — especially at my age — it's very lonely," said Jackson.
"When I was very upset with the whole fact that I had nowhere to pump. Nobody really got it, unless they've had a baby."
Milla-Moreno specifically found a community of student-parents in the Acadia Park neighbourhood, UBC's student family residence.
"When I go to my house, and I see people like me coming from pharmacy, from medicine, from engineering, with the kids on the playground. We can all complain about our work or our whatever it is, and I'm not the only one I can see."
According to Managing Director of Student Housing and Hospitality Services Andrew Parr, Acadia Park is designed to try and foster a community for student-parents.
"You're part of a community where everybody's in a similar situation to you," said Parr. "They're doing the difficult work of studying, and the difficult work of parenting and doing those two things together, it is a lot to ask, for sure. It's a big, big, big responsibility."
According to Parr, the "impromptu support" that can be provided by a community of student families who can help with babysitting or just providing peer support makes the Acadia Park unique.
"Probably one of the biggest things is just having your peers here. That everybody will have conversations with other students that are in similar situations and [the] support that each … family can bring to each other."
Building support
While there are very few students-parents at UBC, even fewer are single parents.
This is what Aurelia Kinslow discovered when she was trying to deal with the pressures of grad school and pregnancy after the death of both her father and her husband. Kinslow had originally started her PhD in curriculum and pedagogy in 2010 but took a leave of two years after her daughter was born in 2016.
In the wake of her personal tragedies, she found that despite UBC's offerings of concessions, leaves of absence and other general resources, it didn't have much in the way of specific resources to help her deal with the logistics of her new situation as a single parent.
To that end, Kinslow — who had previous experience teaching and working with the Young Women's Christian Association (YWCA) in her home on Hawai'i Island — reached out to Vancouver's YWCA, which had a Single Mother's Support Group program in several locations across the city. But none were close to campus.
Kinslow lobbied with Janice Lee, the manager of the YWCA Single Moms Support Group program, and played a central role in getting the UBC chapter started.
Kinslow set up a meeting with YWCA and the University Neighbourhood Association of Acadia Park and ended up with a place and time for the support group sessions as well as a facilitator from the YWCA to lead them every two weeks. By January 2017, the initiative had kicked off in earnest, with Kinslow attending in her capacity as a single mother, no longer having an administrative connection to the organization.
The groups have low attendance — averaging just six to twelve people per session — but this is intentional, according to Kinslow. The YWCA aims to have consistency and build authentic community between the participants, and Kinslow believes they are hitting that target.
To Kinslow, the connection found between student-parents through initiatives like the Single Moms Support Group is crucial when UBC's support systems may not fit the bill.
Making Space
Despite these campus services, some student-parents still found themselves slipping through gaps when trying to make space in settings where students aren't often considered as anything other than students.
Kinslow believes the reason the university doesn't have specific resources for student-parents, is because their version of a student is "typecast."
"They're not thinking about a student who might be 45-years old, a student who might be from a very impoverished community … [Or] about the fact that you may get married and have kids in the middle of your program … None of this stuff is accounted for," said Kinslow.
"It's sort of treated as the students' problem."
Jackson, whose due date coincided with UBC's exam season, faced challenges getting academic concessions for an exam that was scheduled three days after her due date.
"Somebody told me that because I knew that I'd be giving birth around that time, I should have planned my classes better," she said.
"I was worried around that time I'd be giving birth and I'd be in labour. I didn't want to go do an exam. So that was kind of tough to schedule."
But when she returned to school in January after giving birth in December, she said most of her professors were willing to accommodate.
Milla-Moreno who is an international student from Chile, quickly realized the labs where she conducted her research were not built with pregnant women in mind and working in a male-oriented field added to that challenge. On research field trips, some of her professors and peers were unsympathetic to her accommodations, like needing to use the bathroom frequently.
But when she moved from Chile to Canada for graduate school, she found more support, especially from her supervisor.
"My professor was like, 'Well, you know, I cannot comment on your private life,'" she said.
Affordability was also an issue for student-parents who were adding the costs of raising a child onto already tight budgets.
According to data from the Graduate Student Society's (GSS) 2019 Student Satisfaction Survey, about 8.9 per cent of respondents said they were a parent or guardian for dependents. Among that group, additional support for student-parents was their number one priority tied with "stipends and scholarships."
GSS President Nicolas Romualdi said funding remains a number-one priority for most grad students. For students with dependents, the additional costs associated with childcare makes funding critical.
"The percentages change a little. Sixty-six per cent of graduate students with dependents choose ... funding as one of their top five priorities versus seventy-eight [per cent] in the general population, because healthcare and particular things like childcare rise up for them," he said.
The GSS also has an emergency fund which Milla-Moreno has accessed in the past, but she also would like to see more scholarships for parents pursuing their degrees.
"I do feel that we're lacking scholarships for pregnant, not only moms, but parents," Milla-Moreno said.
"The fertility age matches that for a master's and a PhD. And if you don't do your master's and a PhD soon, then you're too old. So I feel that we have to adjust the facilities and the protocols and the scholarships. So we can have pregnant mothers that are doing master's and PhDs."
—With files from Alex Nguyen
If you are a faculty or staff member who would like to share your experiences with UBC Childcare for an upcoming story, please reach out to features@ubyssey.ca.
This article was updated on December 5, 2019 to better reflect comments made by Aurelia Kinslow.