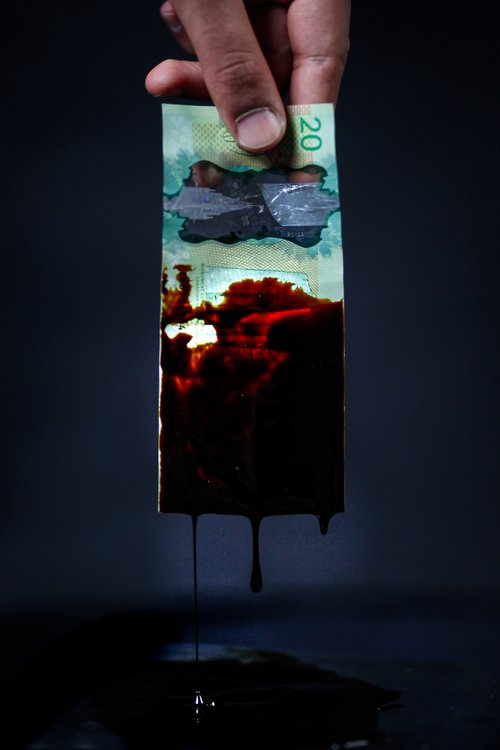 UBC has a clear mandate from students and faculty to divest its endowment from fossil fuels. But beyond modest changes, UBC administration seems to be digging in its heels.
Currently sitting at $1.75 billion, UBC's endowment is the second largest of any Canadian university. In 2016, The Sustainability and Education Policy Network estimated it to have the most endowment funds invested in fossil fuels — over $120 million.
Following a campaign led by UBCC350 and other groups, students voted for UBC to divest from fossil fuels in an AMS referendum in 2014 and faculty followed suit in 2015. But the university's Board of Governors (BoG) rejected the proposal in 2016.
Instead, the Board piloted the Sustainable Future Pool (SFP), a fund made up entirely of investments in sustainable initiatives. The fund is currently valued at $16 million or just under one per cent of the entire endowment.
But not much has changed since then. In a BoG Endowment Responsible Investment Committee meeting on September 18, UBC Treasurer Yale Loh and VP Finance & Operations Peter Smailes delivered the latest in a series of presentations about why the university does not view divestment as the best way forward.
Because of its conservative approach, the presentation sparked criticism from several governors, including BoG Chair Michael Korenberg.
"It's relatively uninspiring, and has a strong odour of status quo about it," said Korenberg. "... I think we're too wrapped up in how historically returns have been addressed."
In step with Korenberg, President Santa Ono asked those in the Finance portfolio and the Investment Management Trust (IMANT) — the independent organization in charge of investing UBC's endowment and other funds like the $1.82-billion UBC Staff Pension Plan — to follow the lead of the University of California, a close sustainability partner of UBC that had announced it will divest from fossil fuels the day before the meeting.
There are many facets to the discussion at UBC of whether it should divest. In 2016, The Ubyssey explained how it could cause fossil fuel companies to sever financial ties to UBC that fund research into sustainable technology and also hurt the chances of UBC graduates applying for jobs at those companies. It also served as a significant talking point in the AMS elections.
But in its case for the status quo, UBC administration had on September 17 relied on two main arguments, neither of which question the urgency of the climate crisis or its connection to fossil fuels.
As the divestment movement at universities in Canada and around the world builds momentum, unpacking the debate at UBC raises important questions about the role of fossil fuel companies as they grow obsolete and UBC's obligations as a public institution and investor.
Is divestment an 'effective strategy'?
According to Dr. Sumeet Gulati, a UBC professor in environmental and resource economics, the generally agreed-upon goal is to reach net-zero emissions by 2050. The benchmark stems from the Paris Climate Agreement, signed by 196 countries, that aims to cap the global temperature increase at two degrees Celsius above pre-industrial levels.
In order to reach this metric, countries around the world will have to transition from fossil fuels to renewable energy.
To put that into perspective, the world burns fossil fuels at a rate of the equivalent of 12 million tons of oil a year. By 2050, that energy will have to be replaced with renewable sources, and all the capital and infrastructure that were created for the extraction, transportation and consumption of fossil fuels will have to be destroyed or repurposed.
When you look at the sheer size of that task, it's easy to dismiss UBC's investments as only being a drop in the ocean.
At the last cycle of Board meetings in September, Loh contended in a proposed endowment responsible investment approach that fossil fuel divestment is not proven to be effective enough at reversing the climate crisis to justify its accompanying risks.
"... the Responsible Investing Principles clearly states that UBC does not believe that divestment is an effective strategy for addressing long-term and persistent ESG (environmental, social, governmental) risks," reads the proposal.
According to Christie Stephenson, executive director of the Sauder School of Business's Peter P. Dhillon Centre for Business Ethics, UBC is correct at first glance.
"Anytime an investor sells a security at a certain price, of course, another investor can come in and buy it at that price. And you know, it's a bit like the hot potato — as long as there's always another investor to buy in at the same price, then it isn't a particularly damaging strategy."
But she believes divestment can still make a statement and contribute to a political movement where there "suddenly is less investor appetite" for fossil fuel stocks.
Gulati agrees that fossil fuel companies are never "going away" because of divestment alone, but he thinks doing so will pressure other institutions to divest as well, which could lead to the adoption of more ethical policies.
"I do believe large enough divestment movements can put pressure on the fossil fuel industry to stop sort of doing the kind of things they do where they try to get subsidies, where they influence politics in their favour, where they knowingly deny climate change and things like that," said Gulati.
But according to economics professor Dr. Hadi Dowlatabadi, who published research on the efficacy of divestment in 2015, it's not worth it for the university to "impoverish" itself with a risky investment to make a political statement
Instead, he noted that the only way for big fossil fuel companies to lose their standing is for them to lose their customer base, and divestment would not substantially diminish the consumption of their products.
"Imagine there's only one energy supplier in the world and their name is Exxon Mobil and you want them to be 10 per cent of the size they are today," said Dowlatabadi. "That means your demand needs to be 10 per cent of what it is today."
Avoiding complicity
But for many people advocating for divestment, the issue is not necessarily about directly reducing emissions, but choosing not to be complicit in an industry that they view as harmful.
"The university is supporting this industry that is jeopardizing the future of all young people and of people in the most marginalized communities around the world, so it's a moral issue," said Michelle Marcus, a fifth-year environmental sciences student and UBCC350 member.
Dr. Charles Menzies, an anthropology professor and BoG faculty representative, compared it to investing in criminal activity just because it's profitable.
"Say Hells Angels had a joint-stock company running the club. I'm sure you could argue to UBC, 'I think we should invest! It's a great little start-up company, entrepreneurial spirit, innovative technology techniques and approach to things,'" said Menzies.
"[I'm] pretty sure they would tell you that that would be an inappropriate thing, even if they had a high rate of return."
But Gulati said he is wary of moral arguments because they can develop into focusing blame rather than finding solutions where every member of society is pitching in.
"Initially … I saw this whole divestment movement as very moral, and I had a problem with that and the sort of 'I'm not the problem. You in the fossil fuel industry are the problem' [argument], because eventually once you start pushing this logic, I am the problem too," said Gulati.
"I'm using the fossil fuel industries' different products in my everyday life … So once you start pushing the moral logic, you realize everyone's complicit."
This is why Dowlatabadi believes divestment will only be useful if it leads to regulation that pushes people towards choosing energy-efficient options.
"We're much more complicit in the way we consume than in the investments we hold, but the majority of people, they don't have equity in these gas companies," said Dowlatabadi. "If we could manage consumption, if we could change the nature of consumption [through regulation] we could address that."
Gulati added that the question of complicity forces climate-conscious investors to consider all the industries that don't deal directly with fossil fuels but still pollute heavily, like agriculture, concrete and chemicals.
"Once we start thinking about divestment, how far will it actually go? You keep pushing ahead and say 'Okay fossil fuels are bad.' Let's push ahead to the next industry which also is typically getting away scot-free."
The 'tool' of engagement
One way of addressing the practices of carbon-intensive industries without wholesale divestment is through engagement, the solution that was proposed as the best alternative to divestment by Loh in the last Board meeting.
Stephenson says engagement can look like starting conversations and cooperating with other shareholders to push companies towards renewable practices, or even proposing shareholder votes to change specific policies, a process known as proxy voting.
"There are examples around the world of investor coalitions going to companies with trillions of dollars and, believe me, it's pretty compelling for companies to have investors sitting across the table from them that own trillions of dollars and telling them that they need to take action, or there's going to be consequences [in the form of] divestment or proxy voting, publicity, etc."
While she calls divestment one of many "tools" in the socially conscious investor's toolbox, Stephenson said it causes a firm to give up its leverage as a shareholder, meaning it can no longer use other tools like engagement and proxy voting.
While Marcus is in favour of engaging with certain industries that could evolve to be more sustainable, she believes engaging with fossil fuel companies will only bring about marginal change.
"When it comes to the fossil fuel industry, that is an industry whose profit model is based on fueling the climate crisis," she said. "[It's] based on the assumption that they will be able to extract and burn all of their reserves, and scientists have said that 75 per cent of those reserves need to stay in that ground."
Another aspect of the problem, according to Marcus, is that IMANT has not been transparent about its efforts to engage with fossil fuel companies. This is partly because IMANT does invest directly, but through several fund managers.
In a statement to The Ubyssey, Loh said IMANT ensures its public asset managers are signatories of the UN Principles for Responsible Investment and are investing with ESG considerations in mind.
But IMANT is still working to figure out how to actually hold its assets managers accountable for engaging companies on "specific issues."
"... We are re-examining how UBC, through IMANT, can better understand how our external fund managers have been engaging with different companies and what their proxy voting has been relative to certain issues," wrote Loh. "The analysis will include a framework to identify which issues should be highlighted and how to improve reporting by IMANT on those engagement issues."
Legal barriers
UBC's second argument — which it developed with the reports of two outside legal firms, Koskie Minsky in 2016 and Pushor Mitchell in January 2019 — is that it wouldn't legally be able to divest its endowment if it wanted to.
According to Loh, only 20 per cent of the university's main endowment pool is actually made up of its own money earned from land revenue and unrestricted donations. For this portion of the endowment pool, UBC's fiduciary duty is only to "act in the best interests of the university," as is mandated in the BC University Act.
In the past, UBC has argued that divesting its revenues from fossil fuels would mean less funding for students, faculty, research and campus projects.
But the tide of opinion among members of UBC's Board of Governors seems to be turning.
In their meeting on September 18, Korenberg suggested Loh and IMANT should work to divest that 20 per cent.
"The degree to which there's money in the endowment that is not encumbered by a donor request, but is instead there because it was created through the development and other work of the university — it strikes me that you've got a much larger investable piece than you've ever contemplated in the context of our Sustainable Future Pool," he said.
Ono was quick to echo Korenberg in support of the idea, which would increase the SFP by over 2,000 per cent — from $16 million to $366 million.
Loh and Smailes said they will take the recommendation under consideration and bring a revised responsible invest plan to a future meeting.
"UBC is currently reviewing all the potential challenges and steps associated with moving funds from land revenues that were originally endowed to the sustainable futures pool," wrote Loh in a statement to The Ubyssey.
He did not make a clear commitment to the proposal.
As for the other 80 per cent of the endowment pool, it comprises charitable donations that were invested in specific agreements between UBC and its donors. The donations are invested as charitable purpose trusts, making UBC the money's trustee and binding the university with a provincial law called the Trustee Act.
The Trustee Act has a stronger standard of fiduciary duty than the University Act does. It calls on trustees to handle investments with prudence, which university counsel defined as "the diligent managing" of investments such that financial risk is minimized at all costs.
But the act also stipulates that the university can only invest according to the specific terms that the donor specified in their agreement.
Most of the donations in the endowment were made decades ago, before investing responsibly on climate issues was a prevalent concern, so UBC would have to track down its donors to have them add non-financial considerations to their agreements.
Many donors are also no longer alive, so the terms of their agreement are difficult to revise.
The high standard of fiduciary duty is also held up by the UK common law case of Cowan v Scargill, which ruled that trustees can only use donated funds for the original purposes that they were given for.
But the Office of the University Counsel did specify in its own interpretation of the trustee duties that socially responsible investing based on non-financial matters could be allowed if it is "aligned with the best interests of the beneficiary."
In a 2016 Ubyssey op-ed, Allard Law professors Dennis Pavlich and Jocelyn Stacey used this reasoning to argue that the university's primary obligation as a trustee is to its students and faculty. Since preserving the climate is in their long-term benefit, it is the university's fiduciary duty to divest from fossil fuels.
"If anything, the duty can be stretched to cover only those actual persons who are the beneficiaries of the purposes of the charitable trust — students and faculty. Donors and other stakeholder individuals outside the purview of the declared purposes of the trust (for example, scholarships and areas of research) are not, from a legal perspective, beneficiaries under the charitable trust," wrote Pavlich and Stacey.
Neither professor was available to be interviewed for this article.
Marcus believes that if UBC were to explore fossil fuel divestment options under the guise of fiduciary duty, it could set an important legal precedent.
"Universities are supposed to be innovators, on the leading edge — that's part of the strategic plan. And if [UBC] were really committed to doing that, they could find ways. They could go as far as challenging this common law case," said Marcus.
"This can be huge. If UBC really wanted to take serious action on climate change, they could set a precedent for all other institutions in Canada and other countries as well."
Is divestment financially prudent?
But rather than proving divestment's practical benefits or reinterpreting the law, BoG student representative Max Holmes believes the argument that will find the most success is that divestment is, in fact, financially prudent.
"It's more powerful, I think, in a way to say that it's a financially prudent decision to divest as opposed to just saying, 'This is a political statement,'" said Holmes.
"Because ultimately, the more people who say it's a financially prudent decision to go forward, the more that this is a movement that more financial institutions can join … so I think that the movement can bring in more people."
The history of divested funds at universities is relatively young, but there's evidence that seems to suggest divesting from fossil fuels will be profitable going forward.
The University of California divested its $13.4-billion endowment on the basis that the energy sector posed a financial risk.
Shortly after, UBC's Peter Wall Institute for Advanced Studies announced that it would work to ensure that 100 per cent of its $40-million endowment is fossil fuel-free, but Loh said there is a potential for increased financial risk.
Yet, sustainable investments at UBC appear to be thriving. According to IMANT's 2019 Annual Report, the Sustainable Future Pool had its best year in 2019. Since the SFP was established in 2017, it has outperformed the five-year return of the main endowment pool, 8.0 per cent to 7.7 per cent.
Since the AMS divested in 2018, the AMS has seen investment return increase from $178,000 to $626,000, according to AMS President Chris Hakim.
"There's a belief that divestment for sustainable investing doesn't provide you with the same amount of returns as investing within fossil fuel companies and that belief is false," said Hakim.
But financial institutions need to see more than a few years of good returns to conclude that divestment is the least risky option.
When Dowlatabadi researched divestment in 2015, he wrote about how buying into new technology too soon can cause similar financial losses to buying too late. But he's not sure that the same risk is present four years later as sustainable energy becomes increasingly financially secure.
"The challenge of the time was that renewables were a tiny, tiny fraction of all available equities in the energy sector, and if you took your money out of something which is a huge sector and then tried to put it into a small fraction of the same sector, that part of the economy is overpriced," said Dowlatabadi.
"So the consequence of doing that would be that you would be selling low and buying high."
Currently, UBC Finance is working on a revised edition of its endowment responsible investment approach that will be ready for the Board's next cycle of meetings in late November and early December.
"Ultimately it is the Board's decision and the Board needs to work on this," said Holmes. "But it is just as important, if not more important, that the administration is fully committed to this — led by the president, showing that they're coming forward with proposals with information, engaging with IMANT, showing that they're just as committed."
This article was updated to clarify UBC Treasurer Yale Loh's stance on the Peter Wall Institute's financial risk after it made its investments fossil fuel-free.