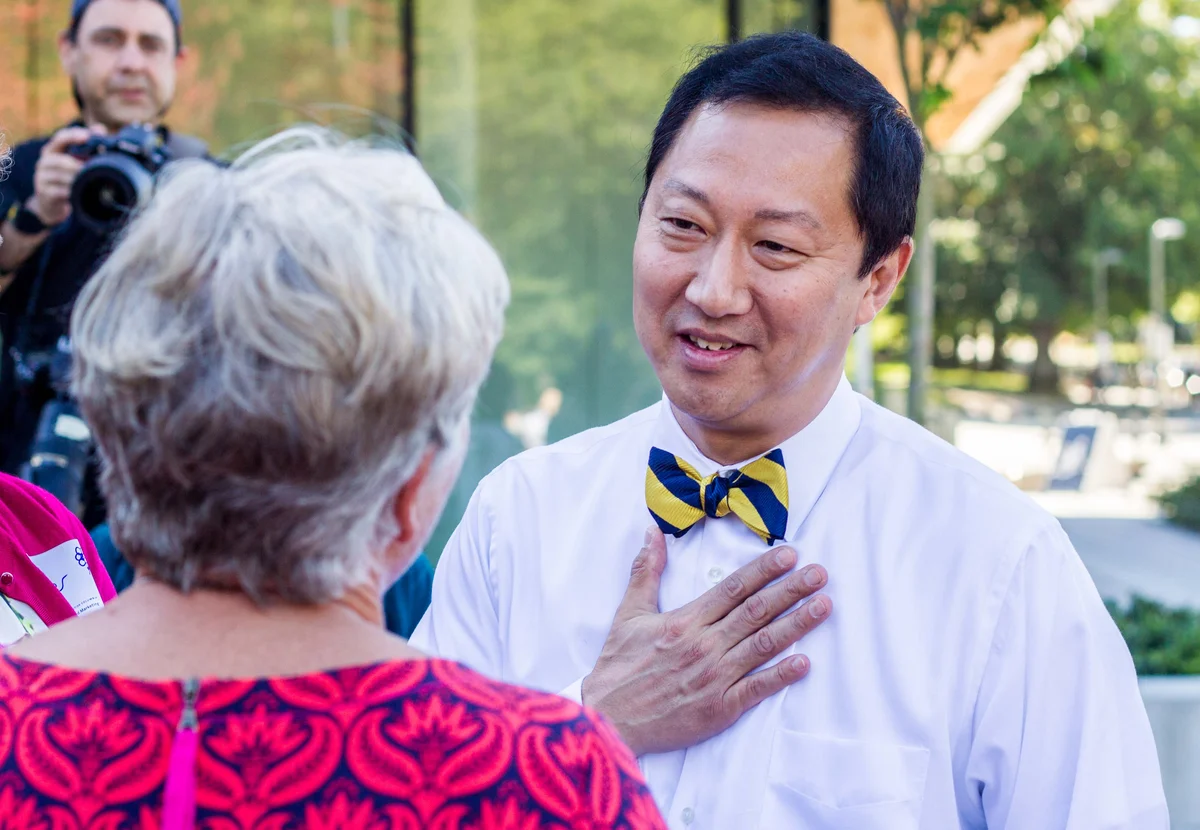 Sunrise, sunset. Swiftly fly the years and now that 2017 has begun, I've compiled a list of the top six Our Campus stories of 2016. From a cello-loving president to the chef hitting the refresh button at UBC, here are some of last year's best-written, most-read and most undeniably beguiling articles.
By Arianna Leah Fischer | January 12
The English department approved a Game of Thrones seminar for the 2015/16 academic year and The Ubyssey met with Robert Rouse, the professor leading the much anticipated course. We learned that the seminar focused on the texts rather than the HBO series, and that Rouse sees medieval literature as a reflection of its contemporary context. This year, the majors seminar was converted into a second-year course, which Rouse taught again in the first term. According to the English department's website, this rendition of the course did require students to watch all six seasons of the HBO series. They have yet to confirm if a similar course will be offered in the 2017/18 year, but fans of fantasy can still enroll in a second-term seminar which will focus on the works of J.R.R. Tolkien and Ursula Le Guin. The only prerequisite for the second-year seminar is six credits of first-year English.
By Vassilena Sharlandjieva | March 8
At the end of the annual AMS Elections media rush, our then-features editor Vassilena Sharlandjieva sat down with the newly elected AMS President Ava Nasiri. We learned that despite her success in student politics, she initially felt out of place at UBC, and found her niche by volunteering with the AUS, thereafter getting involved as a student politician. Nasiri herself led the discussion at the AMS AGM when she pitched the idea of buying a school bus for commuter students. If you have any questions about her or the AMS in general, feel free to ask Nasiri herself. "I would love for anyone who has any questions about the AMS to pop by and say, 'hey,'" she said.
By Sophie Sutcliffe | April 11
Last summer, a record number of UBC students went to compete at the Rio Summer Olympics, which has led to the athletics department starting to call UBC a "sports school." We learned that Olympic-level student-athletes lead a double life, and carry out training regimens so taxing that they may only attend "two weeks total of class" during an Olympic year. Despite the challenge, attending the Rio Olympics was the fulfillment of a lifelong dream for many UBC students and with Overholt earning a 4x200m freestyle relay bronze medal, UBC students now have an Olympic champion as their peer!
By Olivia Law | June 15
One of the biggest news stories of the year was the appointment of Santa Ono for the role of president at UBC. Our then-features editor Olivia Law found Ono to be "just as engaging and likeable as he appears on paper." He has not disappointed his Twitter followers, continuing his strong online presence at the handle @ubcprez. In the Our Campus piece, Ono said he "plans to be extremely visible throughout his time at UBC" and he has certainly lived up to that promise with lively cello performances at the Imagine Day pep rally and his inauguration. With Ono being officially installed on Nov 23, some questions remain. Most importantly, will he Storm the Wall? Only time will tell.
By Leo Soh | October 4
This past year, we've had to say goodbye to many public figures. On campus, this has been no exception, with SASC Manager Ashley Bentley leaving her role to work as the sexual assault intervention and prevention advisor for UBC. From 2013 to 2016, Bentley oversaw the SASC's rapid growth, and played a large role in making UBC a safer place. Despite her accomplishments at the SASC, Bentley said that sexual assault is an epidemic. With more and more people accessing its services, the newly hired SASC manager, Shilo St. Cyr, will have her work cut out for her. As Bentley put it, "In terms of creating that cultural change and making sure that survivors and people who have caused harm are getting the support they need — we do need more."  
By Leo Soh | October 7
One of the goals of the Our Campus section is to offer exclusive insight into the lives of UBC's hidden stars. Without a doubt, chef Steven Yzerman fits that mould. He was hired at the beginning of September to update and manage the food trucks and catering divisions of Student Housing and Hospitality Services, and he's already changed what you'll be eating for lunch. With the exception of the Dog House and It's About Thai, which will update in January, the food trucks now boast reworked — and in our opinion, improved — menus.