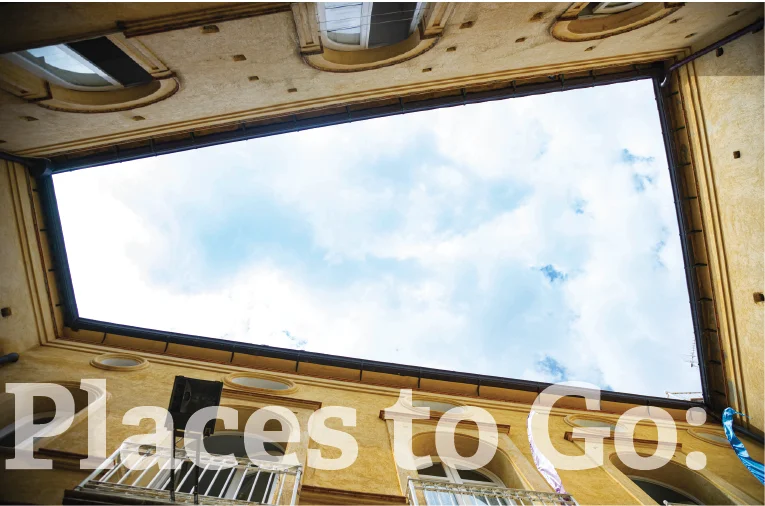 My nonno, or grandfather, Carmelo Barillaro risked a lot in his life.
He refused to fight for Mussolini and the Axis in the Second World War, opting instead to spend four brutal years as a prisoner of war in Germany. When the Nazis surrendered, he walked all the way through the Alps to Florence and down to the southernmost province in the Italian Peninsula: Calabria.
Carmelo wasn't alone in refusing to join the army under Mussolini. Over 300,000 Calabrese-Americans joined the Allies in fighting the Nazis in the latter part of WWII. The regional dissent was rooted in the inherent historical and contemporary differences between the northern and southern provinces of Italy.
It's why Carmelo risked his life again to come to Canada and work as a railroad builder in northern Quebec and Labrador, though he eventually returned to Calabria and to his home in the comune, or village, of Mammola.
Despite the fact that many families around them were packing up and leaving for cities like Toronto, Montreal and Philadelphia, my nonna, or grandmother, was adamant on staying put. Like Carmelo, all she knew was Mammola.
Eventually, she yielded at the behest of my aunt and they arrived in Halifax's Pier 21 on December 14, 1960. A fresh blanket of snow along Ferguson Cove was my mother's first sight of her new life.
Despite this being an article about going places, there's only been talk of leaving so far. That's because while my family physically left Calabria, they maintained a decent chunk of Calabrese and Mammolese culture in their new home of Montréal.
From making homemade wine to hanging up sopressata and capocollo meats in garage to cure over the winter, my family brought Calabria and Mammola with them to Canada. There were so many immigrants from Mammola in Montréal that there's still a yearly Mammolese cultural festival each summer.
Just because my mother's family immigrated to Canada doesn't mean they left Calabria forever. Once they were able to afford it, they would make the trip back every few years, almost exclusively in the summer.
I first went to Mammola in 2006. Unfortunately, as a nine-year-old runt, I couldn't appreciate it as much as I would have now and my focus was generally steered towards two things: cheering on Italy in the 2006 World Cup or, for some god-forsaken reason, watching Spider Man 2 on my PlayStation Portable.
In 2018, I went back to Mammola a second time. This time, I went with my mother, two of my uncles, my aunt and a bunch of extended family who had moved to Lazio, the central province home to the capital city of Rome.
Instead of being an annoying nine-year-old, I was a much more mature, refined and just as annoying 21 year-old history major. In the lead up to the trip, I was determined to take the opportunity to learn more about my heritage on my mother's side and learn more about what life was like in Calabria.
I met my mother in London and, after a horribly expensive taxi to Heathrow and a bit of arguing with Alitalia staff who seemed determined to make us miss our flight, we boarded our flight to Milan.
After a short layover, we boarded a much smaller plane to take us down the peninsula to Lamezia Terme, next to the province's capital city of Catanzaro. From there, it was a short 90 minute drive to Mammola.
This might seem like a lot of travelling for one day, but getting to Mammola today is a hell of a lot easier than it used to be. The trip from the port or the airport used to entail a six- to eight-hour car ride snaking through the mountains. The benefit today is that there's a new highway connecting most of the province: the Autostrade 3 (A3).
The A3 took over 50 years to be built due to a number of different delays, most pertaining to corruption involving the local mafia syndicate: the 'Ndrangheta. There's even a weirdly placed curve in the highway because a local 'Ndrangheta boss didn't want it to get too close to his property.
Mammola from afar looks like a picturesque Italian village nestled into the mountains. Getting into the actual village area, the first thing you notice is the number of abandoned apartments. Mammola used to have a population of around 30,000. Today that number sits at just under 3,000.
Despite that, we couldn't find a single parking spot in the town square as we'd shown up at the end of August, right before the feast of the saint. Something to know about Calabria is that every village has their own patron saint and a day of feasting to celebrate them.
For Mammola, that saint is San Nicodemo and the feast falls somewhere in the first few days of September. While I had to leave town before San Nicodemo's feast, I did manage to go the feast of San Rocco in the neighbouring town of Gioiosa Ionica.
Not a soul stayed home as thousands packed the town square, witnessing the statue of San Rocco get marched through the narrow streets. Kids sat on their parent's shoulders as dozens of drummers herded the statue and the crowd into the village center.
It was the biggest event the town would see all year, just like Mammola's feast of San Nicodemo. The second it ends, the exodus of Calabrians back to their new homes begin and the comuni returns to emptiness.
It's why most of the restaurants and businesses in Mammola operate exclusively in the summer. Crowded along the street leading up to the apartment my family owns, there's half a dozen shops selling local specialties. These shops will make almost all their profit in the few weeks around the feast.
A big local food is stocco, a style of cod prepared by curing it in salted water from the local streams. While delicious, my personal favourite food from Mammola is 'Nduja, a spreadable pork salume packed full of Calabrese chilli peppers.
But even more enjoyable than overindulging myself on amazing food and wine was being able to do so with my family. I found myself actually able to keep up with their conversations in the Calabrese dialect which, in all fairness, might be closer to Spanish and Portuguese than Roman Italian.
Every meal was always an occasion, be it at a restaurant in the hills next to Mammola or in our own apartment. But it didn't feel any different than going to my aunt's house on a Sunday back in Montréal. The way we'd all talk and laugh with each other was the same as back home.
In a way, there wasn't anything for me to learn about life in Mammola. When my nonno Carmelo brought my family to Canada, they didn't stop being Calabrese all of a sudden. Mammola and Calabria have always been a big part of my family's identity, from generation to generation.
Mammola isn't just a village in Calabria — it's the culture associated with it. Regardless of where I live, home is always going to be Mammola.